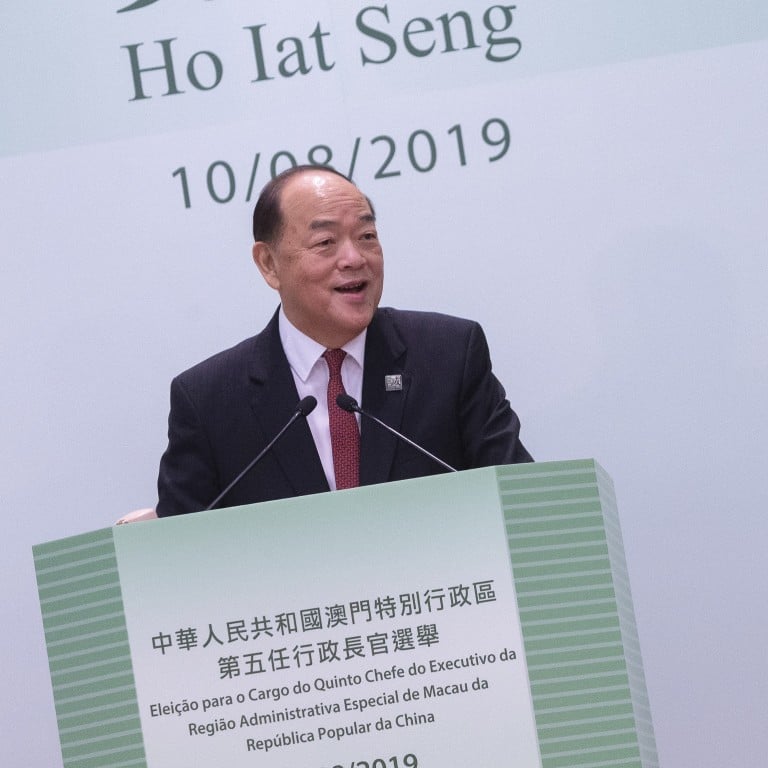 Opinion
Editorial
by SCMP Editorial
Editorial
by SCMP Editorial
Challenges ahead for next Macau leader
Ho Iat-seng faces an economy that has slipped into recession, falling casino revenues, slow economic diversification and fears Hong Kong's political unrest may spread
Macau's next leader, Ho Iat-seng, was chosen with little fuss and no opposition. But when he takes office in December, on the 20th anniversary of the city's return to Chinese rule, he is guaranteed a challenging job. The economy has fallen into recession, casino revenues are down, economic diversification is progressing slowly and there are fears the political unrest in neighbouring Hong Kong could stir young people similarly worried about a bleak future. He has unsurprisingly accepted his position with a pledge to safeguard prosperity and social stability.
Ho has the right credentials to be the city's chief executive; he has strong mainland connections and is a legislator and businessman. There are concerns among some people that he lacks administrative skills, but that obviously was not a factor for the 400-member election committee, which gave him 392 votes of support.
Macau is more politically conservative than Hong Kong, its population of 623,000 vastly smaller, half of its people mainland-born compared to 20 per cent, and its economics markedly different. But it shares similarities in unaffordable housing and sluggish growth. Generous annual cash handouts have placated citizens, but with the downturn in revenue from the gaming industry and fewer mainland visitors, efforts have to be made to prevent a spillover of the Hong Kong discontent.
The solution lies in deepening economic diversification. Beijing has long called for the economy to move away from gaming, which still accounts for half of revenue and most tax income. Under the Greater Bay Area development plan, the city is slated to be the region's tourism and leisure centre. Casino operators have taken the lead and are helping introduce more family-oriented entertainment along with art festivals and business conventions. The model would seem to be Las Vegas, which Macau overtook as the world's biggest gaming centre in 2006; 60 per cent of its revenue comes from other sources, compared to Macau's less than one-fifth.
Attaining the target of 40 per cent of revenue from non-gaming sources will be challenging. But Ho, with his business background and connections, may hold the key.
This article appeared in the South China Morning Post print edition as: Challenges ahead for next Macau leader