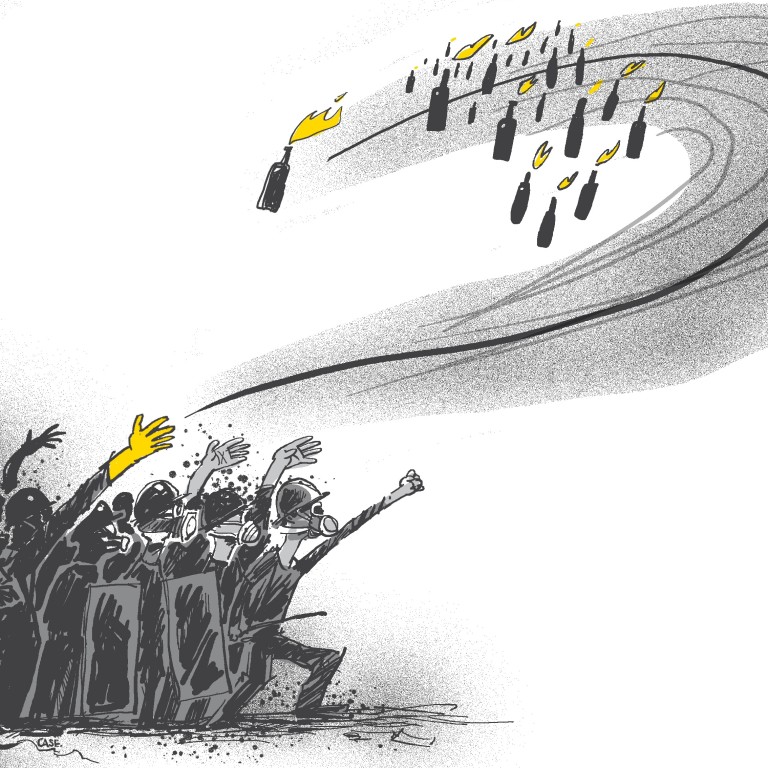 Opinion
Opinion
by Victoria Tin-bor Hui
Opinion
by Victoria Tin-bor Hui
Hong Kong protesters must renounce violence to keep US support for democracy and human rights
Hongkongers lobbying for US support should be aware that when police are stabbed and home-made bombs set off, it weakens their case and could play into the hands of agents provocateur looking for an excuse to crack down
Hong Kong protesters are engaged in a teenagers-vs-superpower struggle. The movement needs international support to tilt the balance. To mobilise international support, protesters should refrain from violent escalation.
Hong Kong people have been lobbying the US Congress to pass the Hong Kong Human Rights and Democracy Act. The act was passed by the House of Representatives on
Tuesday
. It remains uncertain when and if it will be passed by the Senate.
Yet, when US Senators Ted Cruz and Josh Hawley visited the city last weekend, they were greeted by news of a police officer being
stabbed
in the neck and the
detonation
of a home-made bomb for the first time. Both senators
urged
protesters not to respond to police violence with their own violence.
Protesters should heed this advice. The act, when signed into law, would impose sanctions against police officers and government officials who violate human rights in Hong Kong. Its passage would help rein in police brutality.
This is probably what the authorities – whether Beijing leaders or Hong Kong's Chief Executive Carrie Lam Cheng Yuet-ngor – want them to see, to undermine international support for the protests.
Why have riot police beaten up protesters in plain view of live-streaming media, if not to incite such "backfire"?
Research on political movements shows that confrontations with a high-capacity authoritarian regime, like in Hong Kong, usually ends in bloody repression. The way to beat the high odds is not to fight the police when they enjoy an overwhelming superior advantage, but to use nonviolent means to render lethal weapons useless.
What brought a negotiated transition was not violence, but consumer boycotts that compelled white business leaders to put pressure on the regime.
Hong Kong people ask that the US Congress stand with Hong Kong because they stand for universal values. It is therefore important for protesters to uphold those same universal values in their goals and methods.
Victoria Tin-bor Hui, a native of Hong Kong, is associate professor in political science at the University of Notre Dame