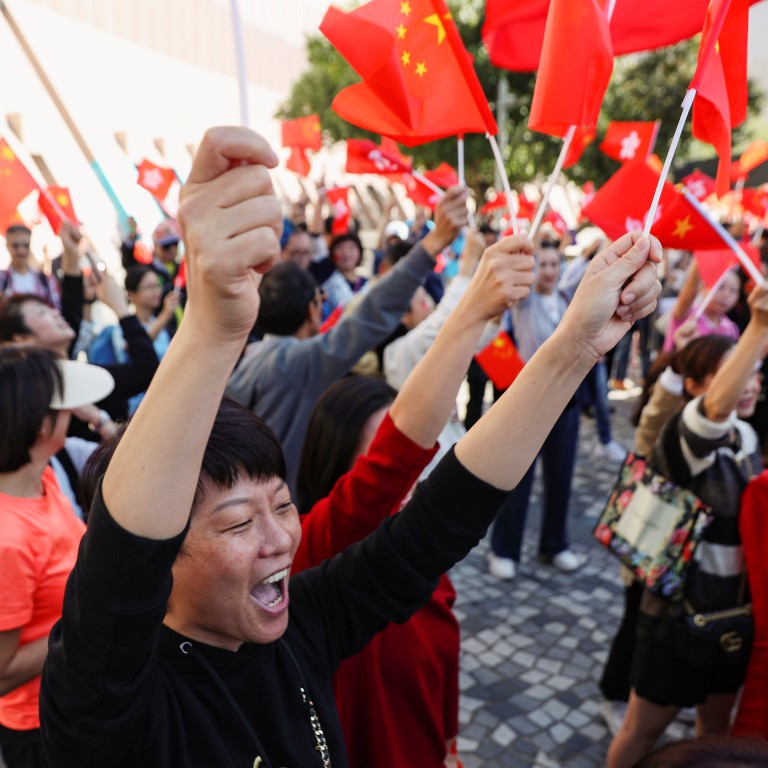 Opinion
Opinion
by Chiu-Ti Jansen
Opinion
by Chiu-Ti Jansen
Did Beijing's echo chamber render it deaf to Hong Kong's distress?
Beijing's shocked silence at Hong Kong's election results suggests that it had succumbed to an echo chamber of its own making and completely misread the situation. The question is: is Beijing asking itself how it got it so wrong?
The pro-democracy camp's landslide win at Hong Kong's district elections on November 24 sent a shock wave through the Hong Kong and Beijing establishments. Despite Chief Executive Carrie Lam Cheng Yuet-ngor's stated resolve to
reflect
on the result, will Beijing get the right message?
Hong Kong's government had counted on the so-called
silent majority
to side with the establishment and turn their back on the spiralling street violence. In the days leading up to the election, Chinese state media had expressed confidence that an election focusing on district-level affairs would bypass political dissonance.
In the run-up to the election, People's Daily ran a series of articles with titles such as "Hong Kong citizens' view: 'District councillors should serve the people more, not just shout political slogans'", "Hong Kong's political circles say: Community livelihoods the focus of district elections, votes should be used to say no to violence and rioters", "Hong Kong communities want district elections to focus on improving people's livelihood".
In August, the
Post
reported
that a Hongkonger approached by "mainland researchers" with questions on Hong Kong's unrest could not help but ask them instead: "How could you have got things so wrong?" More than five months after the
first
mass anti-extradition law demonstration in June, we still have no answer. But now the question is whether Beijing is asking the same.
At the recent election, the pro-establishment camp collectively won
1.2 million votes, against 1.6 million
accrued to the pro-democracy camp. As a result of the first-past-the-post electoral system, 17 of the 18 districts went to the pan-democrats. The 2.94 million turnout is a record, representing 71.2 per cent of registered voters, up from 47 per cent in 2015. While both camps garnered additional votes, the impact of young voters pushed pan-democrats' vote share from 40.2 per cent in 2015 to
57 per cent
.
China's state media have downplayed the election results. They have failed to acknowledge that,
contrary to their prediction
, political identity, rather than livelihoods, determined the outcome.
As the district council election became a de facto referendum on the central government, I expect Hong Kong politics to increasingly play out what Hang Lung Properties chairman Ronnie Chan Chi-chung called the "Taiwanisation" effect. For years, Taiwanese elections, particularly for the president, have turned more on candidates' positions on China than their qualifications. The
election
slated for next January is shaping up to continue this trend.
The Hong Kong protest is also first and foremost
information warfare
, with pro-Beijing and pro-democracy camps in Hong Kong as well as in the rest of the world taking polarised views about basic facts. Fearing its spillover effect on the mainland, Beijing is tightening its grip on civil discourse.
In an echo chamber, sycophants' voices drown out dissidents'. This compromises the process of getting to the bottom of the social disaffection, integral to any effective governance. I have long held that the
housing issue
, while of paramount importance, is just another red herring in understanding Hong Kong's youth discontent.
Last month, Washington-based Freedom House issued its Freedom on the Net 2019 report, placing China, for the
fourth consecutive year
, at the bottom with a score of 10 out of 100 (most free).
But China disagrees.
In November last year, China's Vice-Minister of Foreign Affairs Le Yucheng defended China's record at the United Nations Human Rights Council meeting: "There are more than 800 million internet users in China, 12,000 newspapers and periodicals, and 30 billion pieces of information generated by internet users every day. China produces the largest quantity of information and the most diversified and most active ideas in the world. A country like this is criticised for no freedom of speech. How does it make sense? Does it mean that only anti-government statements and separationist and terrorist expressions could be seen as freedom of speech?"
Point taken. But given the population in China, counting the sheer quantity of information generated is meaningless, especially if publicised opinions on current affairs tend to be monotonous. Perhaps the greatest irony is: despite its reportedly extensive operation of information gathering, Beijing seems to have missed the political signals plainly in its sight.
The cyber police and army have created an illusion of uniform chorus in support of the establishment's characterisation of the protests as separatist schemes cooked up by foreign "
black hands
". But this cannot substitute for the quality of information, requiring application of analytical minds, which counts.
Beijing and its supporters have argued that, even without universal suffrage, the government has other effective tools to gauge, and answer to, people's needs. But this channel is increasingly closed off.
The Great Firewall does not only impose a chilling effect on communications, it also creates an "alternative reality" that reinforces skewed preconceptions. As a result, the Hong Kong problem has morphed from a "
black swan
" into a "
grey rhino
".
Since no political regime is infallible, the last thing any administration wants is its opponents of different convictions united by their distrust in the government. The net effect of an echo chamber resulting from the insulation of information flows is that players are blinded from reality. Letting them eat cake, as Marie Antoinette supposedly said, would not deliver popular support, nor does, at this point, letting them have houses.
Chiu-Ti Jansen, with advanced degrees from Yale and Columbia, is the founder of multimedia platform China Happenings and a former corporate partner of international law firm Sidley Austin