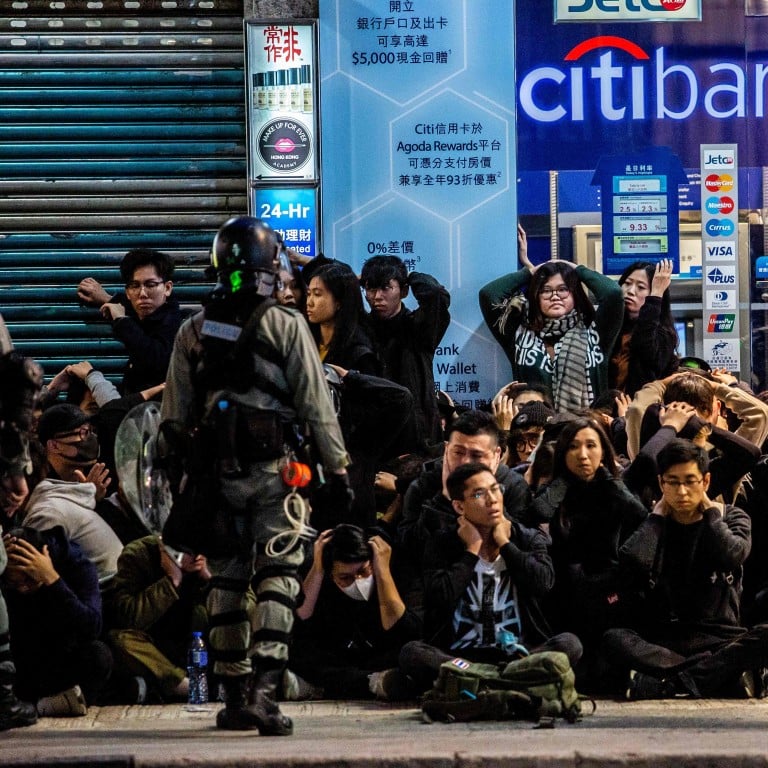 Hong Kong police aren't even doing their real jobs any more. Carrie Lam must restore discipline in the force
Mistrust of police is widespread as Hong Kong enters a new year. The chief executive believes she can restore order and win over the public again with the support of the central government and police. She's very much mistaken
The political turmoil resulting from the extradition bill has lasted more than six months. Chief Executive Carrie Lam Cheng Yuet-ngor has officially withdrawn the bill, but still won't set up an independent
inquiry
into police conduct during the protests. Obviously, it is due to the strong opposition of the police, who fear liability for their violence.
As police brutality continues, so the government continues to fall out of favour. According to the latest poll, only 12 per cent of respondents would vote for Lam if they could, while 81 per cent would not. Clearly, police are Lam's last instrument of control. Hence her reluctance to go against them or green-light an investigation into their actions.
In fact, the government could have borrowed a solution from former governor Murray MacLehose, who handled the conflict between police and the Independent Commission Against Corruption back in the 1970s by granting a
partial amnesty
to officers involved in corruption cases before a cut-off date. The current administration could have done something similar, with regard to protesters and police.
But it didn't, and that ship has sailed. After months of intensifying police brutality and complaints of unreasonable arrests, the public is in no mood to accept an amnesty for police. Some protesters have even declared that they would rather go to jail than allow police to get away with brutality.
In this climate, it is no surprise that some Hongkongers believe the worst about police. Some of the public even believe arrested protesters have been "disappeared", or killed by officers. Even though there may be no evidence to back up such claims, it is disturbing that many Hongkongers no longer trust the police.
Lam mistakenly believes her "stop the violence, restore order" strategy can wear down Hongkongers' resistance to the government. She thinks she can win the battle with the support of the central government and the police. However, the public has only become more sympathetic towards protest violence.
Lam is looking more like a lame duck. She should at least rectify the police situation and restore discipline. Allowing police to wear masks on duty is absurd. Even more nonsensically, at least one plain-clothes officer has been intercepted by police. Considering the recent spate of crimes in the city, are police even doing their jobs any more?
Hong Kong is in urgent need of a cure. Lam must realise that she has no hope of restoring social order without stopping police violence.
Albert Cheng King-hon is a political commentator