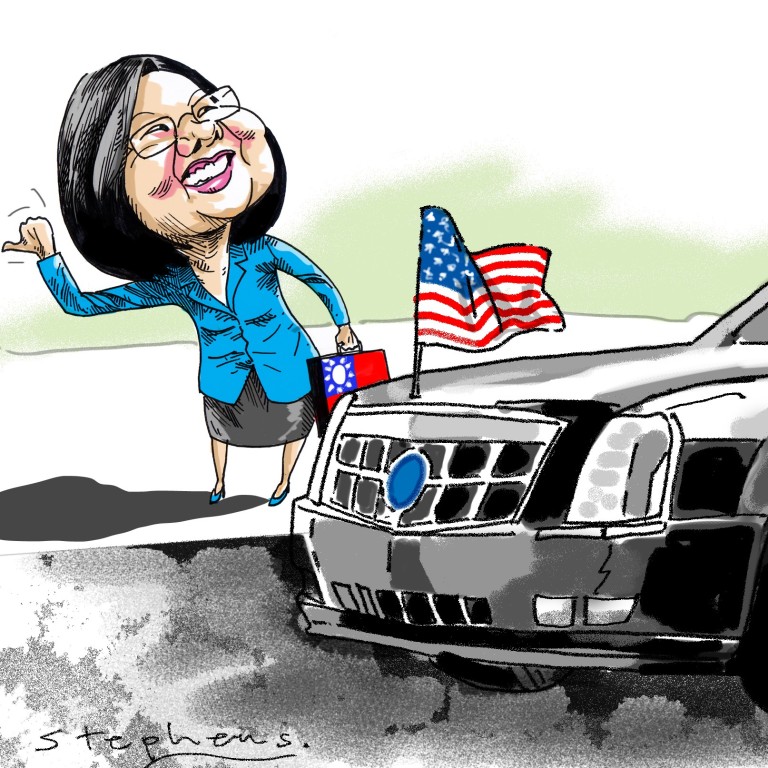 Opinion
Opinion
by Ross Darrell Feingold
Opinion
by Ross Darrell Feingold
Tsai Ing-wen's election win buys Taiwan precious time to deepen US relations in trade and security
Tsai's to-do list is long: restart free-trade talks with the US, propose an extradition treaty, offer to join any multilateral action in the Middle East, and tighten up national security
In return, the US can offer more political support, such as inviting Tsai to Washington or even a Trump visit
With Taiwan President Tsai Ing-wen's re-election and her Democratic Progress Party (DPP) preserving a parliamentary majority, strong relations with the United States will continue to be a priority for her government, even as relations with China will be tense.
Weeks after his 2016 election, Trump accepted a
congratulatory phone call
from Tsai, setting off a frenzy in Taipei over how the call was arranged, and anger in Beijing that it violated the
one-China policy
.
White House adviser Michael Pillsbury later
told
the
Post
he advocated for no more Trump-Tsai phone calls. Still, US-China relations survived the phone call and moved on to disputes over
trade
, human rights, the
South China Sea
and, more recently, developments in
Hong Kong
.
Taiwan appreciated the
congratulatory tweet
from US Secretary of State Mike Pompeo post-election, but it is no substitute for a congratulatory phone call from Trump – consistent with the precedent of Tsai's call to Trump in 2016.
Members of US Congress have repeatedly
proposed
that Tsai address Congress, and despite the usual concerns about the impact on US-China relations, such an address is now appropriate. Until it happens, however, Tsai should consider ending the tradition of congressional meetings or telephone calls with congressional leaders when transiting cities outside Washington, as her willingness to accept this substitute makes it easy for US policymakers to refuse a Washington visit.
Taiwan's de facto ambassador in Washington has publicly called for a senior US cabinet officer to attend Tsai's inauguration. The US can go further with a visit by President Trump. A refuelling stop in Taipei – should Trump attend the
Apec leaders' meeting
in Kuala Lumpur, Malaysia, in November – is a possibility.
There are precedents for presidential visits to territories with no formal US diplomatic relations, including president Bill Clinton's visit to Kosovo in 1999, and Trump's visits to the West Bank in 2017 and
North Korea
last year. As with the transitory stops in the US by Taiwan's president, Air Force One can announce a refuelling stop in Taiwan.
Actions that show political support for Taiwan can proceed separately from the economic and security issues, for which Taiwan must show greater initiative, and which requires Tsai to spend some of her newly acquired political capital.
There is bipartisan support in the US Congress for a free-trade agreement with Taiwan, but Tsai must first do more to address the
US goods deficit
– US$15.5 billion in 2018 (although services trade had a US$1.6 billion surplus) – as well as Taiwan's tariff and non-tariff trade barriers. This includes a ban on US pork containing ractopamine, an additive approved for use in dozens of countries worldwide.
Taiwan also needs to crack down on the
repeated violations
of US sanctions on North Korea, and on transnational narcotics trafficking, a problem serious enough for the US Drug Enforcement Administration to have a presence in Taipei.
To complement the mutual legal assistance agreement, Taiwan can propose an extradition treaty with the US to end the problem of wanted criminals in Taiwan fleeing to the US. This might prompt other countries to sign similar agreements with Taiwan, and prevent third countries from extraditing Taiwanese to mainland China in cases of disputed jurisdiction.
Amid growing tensions with Iran, Taiwan should offer to join any multilateral action, as it did with the global coalition against Islamic State. It would give Taiwan's navy much-needed experience and would simply follow a similar decision by
Japan
, which, like Taiwan, is a recent customer for Iranian oil.
Finally, Taiwan must demonstrate a greater commitment to its security, beyond last year's
changes
to its national security laws, especially after Tsai's campaign played up the China card. Public lethargy and a lack of confidence in the military must be addressed by Taiwan's political leadership before the US should expand its commitment to Taiwan's defence, such as by offering a
US navy port call to Kaohsiung
.
After Tsai's election in 2016, some predicted that Beijing had no desire to turn the screw and threaten stability across the Taiwan Strait. This assessment was, and still is, wrong.
It may be coincidence that Liu He leads a delegation in Washington this week for the signing of the US-China
phase-one trade agreement
. But it will certainly detract from media coverage of Tsai's re-election. Her administration needs to be attuned to how little time it has to strengthen Taiwan-US relations to improve Taiwan's political and economic security.
Ross Darrell Feingold (@RossFeingold) is a Taipei-based political analyst who advises multinational corporations on political risk in Asia and is host of Storm Media's Taiwan Hashtag programme
Purchase the China AI Report 2020
brought to you by SCMP Research and enjoy a 20% discount (original price US$400). This 60-page all new intelligence report gives you first-hand insights and analysis into the latest industry developments and intelligence about China AI. Get exclusive access to our webinars for continuous learning, and interact with China AI executives in live Q&A. Offer valid until 31 March 2020.