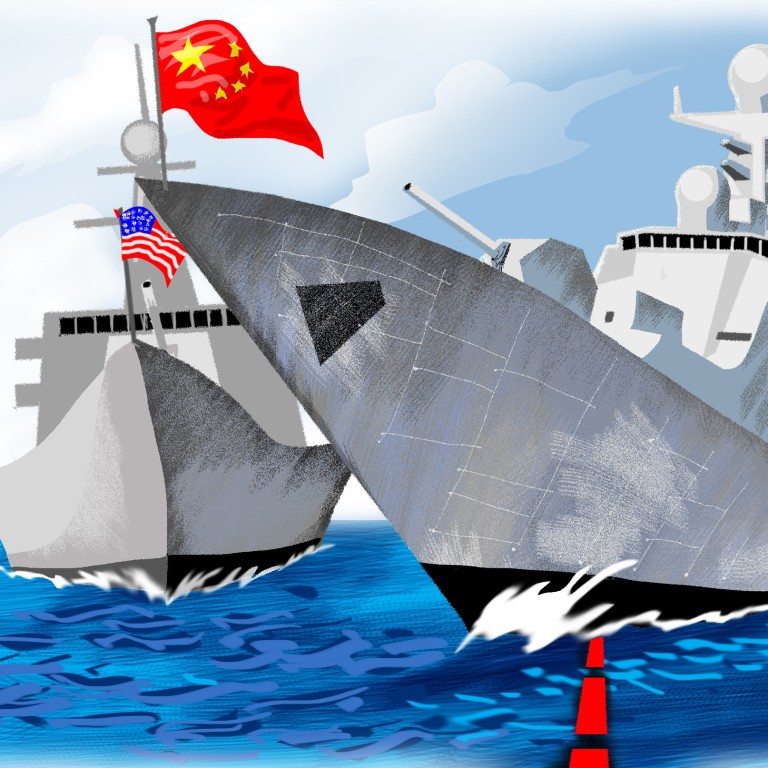 Opinion
Opinion
by Bonnie Glaser and Jeff W. Benson
Opinion
by Bonnie Glaser and Jeff W. Benson
Conflict prevention in the South China Sea depends on China abiding by the existing rules of navigation
US freedom of navigation operations do not, in and of themselves, raise the risk of a maritime incident
From the 1972 'Rules of the Road' to the 2014 bilateral agreement on the rules of behaviour, the protocol exists for peaceful engagement even in disputed waters
If China truly wants to coexist and compete peacefully in the Indo-Pacific, it must comply with international treaties and agreements.
This includes international accords that apply to the disputed waters of the South China Sea, where the risk of an incident is growing, not only between the US and China, but also between China and its neighbours. China's flouting of international rules in the South China Sea may spark a future maritime incident.
Some Chinese charge that the United States is increasing the potential for a dangerous encounter by sailing navy vessels close to rocks or artificial islands controlled by China. That argument was made by Senior Colonel Zhou Bo, an official in China's Ministry of Defence, in a recent New York Times column.
Such US operations are part of the Pentagon's global freedom of navigation programme, which is aimed at preserving freedom of navigation by sailing in areas where states have made excessive maritime claims or are imposing illegal restrictions on freedom of navigation. China was among
26 claimants
challenged in 2018, three of which were US treaty allies.
US Navy
freedom of navigation operations
, do not ipso facto raise the risk of an accident. Rather, it is Chinese actions that contravene international law that increase the potential for a collision.
For example, when the US Navy destroyer USS Decatur conducted a freedom of navigation operation in the vicinity of Gaven Reef in the South China Sea in September 2018, the Chinese Luyang II destroyer Lanzhou
approached the US destroyer
on its port side and closed dangerously within 41 metres (45 yards).
In accordance with the convention, the Decatur was required to maintain course and speed and the Lanzhou, the overtaking vessel, was obliged to "keep out of the way" of the Decatur.
A
video of the incident
shows that the Chinese warship disregarded the Rules of the Road. In fact, the crew placed fenders out in preparation to potentially shoulder (briefly collide) with the Decatur.
In 2014, China and the US agreed to the use of the Code for Unplanned Encounters at Sea (CUES), which is a basic format for navies to communicate navigational safety.
For example, if a warship intends to launch a helicopter while another ship is nearby, the warship simply states in English over bridge-to-bridge radio communications "Alpha Victor Sixteen Tack Three."
Later that year, the US and China signed a bilateral agreement on the
Rules of Behaviour
for the Safety of Air and Maritime Encounters that requires both sides to abide by the Convention of the International Regulations for Preventing Collisions at Sea and implement CUES in good faith, in addition to other provisions.
However, the Chinese navy does not use CUES in the South China Sea. There are two possible reasons for this – one, orders have been given to Chinese navy ships not to use CUES or, two, ship personnel aboard Chinese warships do not receive adequate training in how to properly use CUES. Regardless, China is not abiding by the multilateral and bilateral agreements aimed at maximising safety at sea.
The Chinese navy is not alone in dismissing rules. Chinese coastguard vessels, maritime militia and fishing boats frequently operate illegally inside other claimants' exclusive economic zones. From December to mid-January, Chinese fishing boats and coastguard vessels trespassed inside
Indonesia's exclusive economic zones
in the northern Natuna Islands.
Beijing views the waters as part of its "traditional" fishing grounds and the area as within its "
nine-dash line
", but both claims have no legal basis under the 1982 United Nations Convention on the Law of the Sea and the July 2016
arbitral tribunal ruling
.
China also frequently makes deliberate incursions in
Vietnam's continental shelf and exclusive economic zone
, bullies its fishing fleet, harasses Vietnamese
oil operations
, and interferes with foreign energy companies conducting oil exploration and drilling inside Vietnam's waters in an effort to assert administrative control within its nine-dash line.
Last year, a Chinese survey vessel, the
Haiyang Dizhi 8
, surveyed a large area of the seabed near Vanguard Bank off the coast of Vietnam, escorted by the Chinese coastguard and maritime militia, to signal its opposition to drilling by Russia's energy company Rosneft.
The legality of Vietnam's continental shelf rights guaranteed by UN Convention on the Law of the Sea had remained unchallenged by China for decades, but now Beijing has signalled it will not allow new unilateral or gas activities by its neighbours anywhere inside the nine-dash line.
Zhou Bo asserts that the US and China will need to put more rules in place, not only in the maritime realm, but also in outer space, cyberspace and artificial intelligence.
While we agree with him that more confidence-building measures are useful to avoid a future maritime incident, China isn't following the bilateral agreements and international rules that already exist.
How would more rules help? If China is serious about avoiding a future maritime incident, the Chinese Navy should start following the rules already established. Otherwise, they are not worth the paper they are written on.
Bonnie S. Glaser is a senior adviser for Asia and director of the China Power Project at the Centre for Strategic and International Studies (CSIS). Commander Jeff W. Benson is a military fellow with CSIS and commanded the USS Stethem (DDG-63), forward deployed in Japan, from 2017 to 2019. His views are his own and do not represent those of the Departments of Defence or the Navy
Purchase the China AI Report 2020 brought to you by SCMP Research and enjoy a 20% discount (original price US$400). This 60-page all new intelligence report gives you first-hand insights and analysis into the latest industry developments and intelligence about China AI. Get exclusive access to our webinars for continuous learning, and interact with China AI executives in live Q&A. Offer valid until 31 March 2020.