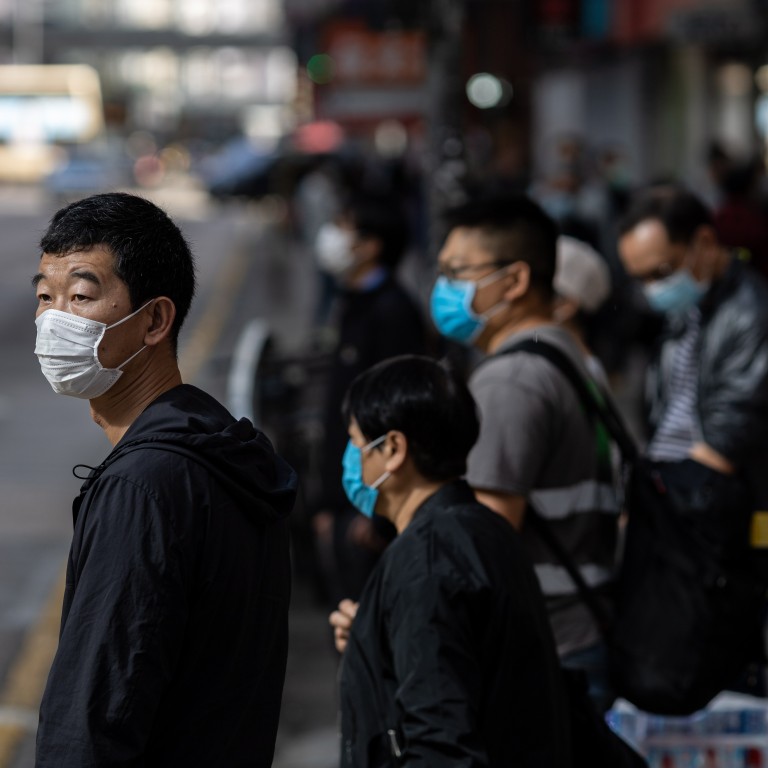 Face masks are scarce in coronavirus-hit Hong Kong. Let's spare them for the people most in need
The government and private sector are doing their best to boost supply but there just aren't enough masks to go around
The advice for all to wear a mask when outside, based on the idea that it's better to be safe than sorry, is not feasible when supplies are limited
Singapore's Minister for Trade and Industry Chan Chun Sing became famous in Hong Kong last week for his
leaked comments
calling people here "idiots" for panic buying rice and toilet paper as fear of the coronavirus spread.
Hopefully, we can see the funny side of his remarks. He was talking to a Singaporean audience and was concerned that what happened in Hong Kong could happen there too. Indeed, Singapore did experience some
panic buying
.
After the severe acute respiratory syndrome outbreak in 2003, it is understandable that Hong Kong people are nervous about the new and little-known disease. It does not help that, after the unrest of last year, the government does not enjoy as much confidence as it should.
The good news is that toilet paper and rice now seem to be back on supermarket shelves. However, we continue to have a
shortage of face masks
.
Although people like to blame the government, the fact is that it is simply not possible for all of us to use surgical masks without creating a severe shortage. If we all use them, we would need a minimum of 200 million a month.
That is for a city of 7 million. Think about how many masks other places with outbreaks might need. Italy, for example, has 60 million people. Iran has 80 million. China, as the Singaporean minister mentioned, is going through hundreds of millions of masks a day.
The whole world is now burning through disposable face masks. Globally, it is a seller's market for these items.
A well-run government bureaucracy is at a serious disadvantage. It cannot risk bidding for products of unknown quality, through possibly untrustworthy intermediaries.
The private sector can skip formalities and use connections. I have been involved in efforts to source masks from Thailand, but the country has now barred exports. There is even a limit of 30 pieces for individuals leaving the country – as with cans of milk powder for everyone leaving Hong Kong.
Some members of the Hong Kong business community have been looking for supplies in places as far away as Turkey, Algeria and South America. Others are setting up factories to make them.
One of the lessons the world will probably learn from the coronavirus alarm is that governments need to treat face masks and similar products as strategic commodities that should be stockpiled and controlled. It may be necessary for Hong Kong to build up its own mask manufacturing capacity. It would not be a very profitable operation, but perhaps it is the sort of thing a social enterprise could do.
In the meantime, we should really pay attention to how we use face masks.
In Hong Kong, most people seem convinced that a mask gives them protection. There is also a feeling that people who are not wearing a mask when they leave home are in some way antisocial and putting everyone else in danger. The chief executive herself has come in for criticism for not wearing a mask at all times.
Some health experts here advise that everyone should use them whenever they are out. The idea that it is better to be safe than sorry would be fine if supplies were limitless. But, as we have seen, we simply cannot get enough. This is a recipe for a severe shortage for those who need them most.
In Singapore, the leaders have made a point of not wearing masks. In his leaked comments, minister Chan said Singapore would run out of masks for health workers if everyone wore them. He also implied that the government's handout of a few masks to each family was a one-off measure to calm people's nerves. The Singapore authorities released a
video
assuring citizens that masks are not necessary for people who are healthy.
This may not be a popular opinion, but it would be best if all of us in Hong Kong could get over the idea that we must all wear masks whenever we are out.
Think of it this way: every time importers or manufacturers make one million masks available, Hong Kong will have used them up a few hours later.
Many of us do not wear them properly anyway. It is far better to wash your hands frequently – and properly – and try to keep clear of very crowded places. Let's give priority to people who are elderly or unwell, people whose work involves close contact with large numbers of others, and of course to frontline health care staff.
Bernard Chan is convenor of Hong Kong's Executive Council