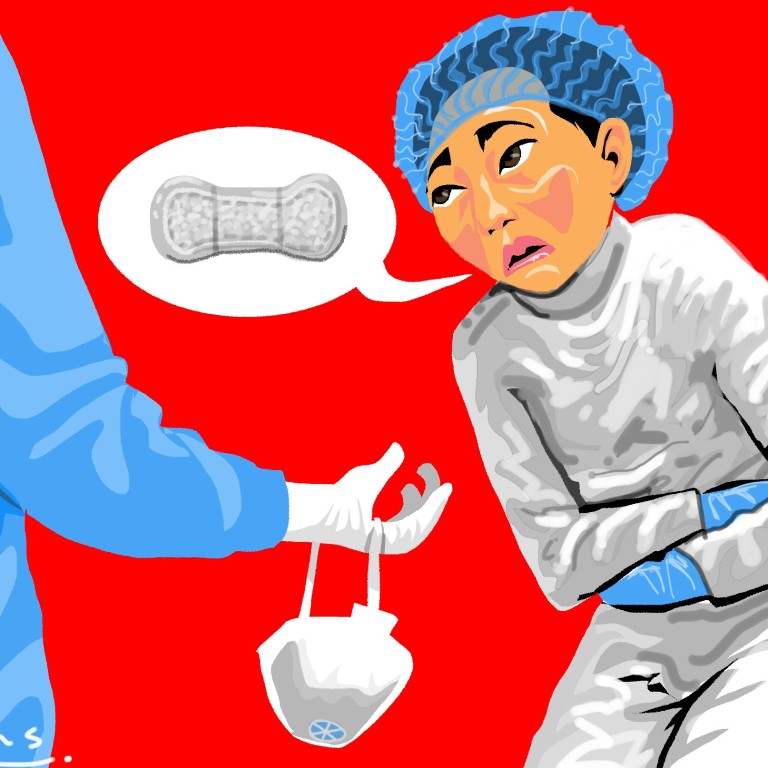 Opinion
Opinion
by Audrey Jiajia Li
Opinion
by Audrey Jiajia Li
How China's coronavirus health care workers exposed the taboo on menstruation
Women make up more than half the doctors and 90 per cent of nurses battling the epidemic in Hubei, yet have been forced to forgo sanitary supplies as they were not deemed 'critical'. Thankfully, after an online outcry, this is changing
Overworked and exhausted, Chinese doctors and nurses fighting the coronavirus epidemic face a daunting task, caring for an increasing number of patients while
risking infection
due to a shortage of protective gear. They avoid eating or drinking during their long shifts, and many wear
diapers
to minimise bathroom breaks so as to make the most of their precious masks, suits and goggles.
For women, there is the additional issue of periods. Due to a drastic lack of sanitary products, often their "urine and blood flow together" into the diaper, one doctor said in an interview.
In cold and rainy Wuhan, the centre of the outbreak, it is difficult to prepare enough dry and warm clothing, so during menstruation, some women have to skip underwear under their protective plastic coats, and work with visible blood stains.
A recent controversy highlighted this, and also provides a glimmer of hope for a much-needed change in attitudes.
Another commentator asked: "Does anyone care about female health-care providers' needs for sanitary pads and disposable underwear? Donations of these items have been rejected."
What is more, male managers at Hubei hospitals reportedly refused to accept sanitary supplies for women when answering donation calls, as the items were not considered critical.
In this vicious circle, the veil of silence around menstruation contributes to sexism and gender inequality, holding women back. A 2015 survey found that almost 80 per cent of women in China thought menstruation put them at a disadvantage in society.
According to local media estimates, as of mid-February, there are more than 100,000 female medical professionals working in Hubei, accounting for half of the doctors and more than 90 per cent of the nurses. State media have repeatedly hailed their sacrifice as a positive inspiration in the hope that people will be moved by their heroism.
Also, many found disturbing the television footage of female nurses weeping while their heads were shaved to "help prevent the spread of the disease", in what appeared to be coercion for propaganda purposes but which hospital management claim was completely voluntary.
These hot-button debates on the internet help to raise awareness of women's needs and rights, and have also attracted attention from men, some of whom admit to a lack of knowledge about menstruation because of the tacit taboo.
A satirical article titled, "In men's eyes, menstruation is blue, only lasts one day, and can be held back like urine" has been read more than 2 million times. Trending hashtags "#I too refuse to be ashamed of menstruation" and "#I am a woman and I have periods" have garnered over 1 million and 16 million views on Weibo respectively.
As calls for society to pay greater attention to women's needs grow, rights activists and volunteers are bringing about some impressive improvements. Women medical workers are openly talking about their specific needs, and sanitary towels are finally being treated as essential goods in Hubei.
Authorities and manufacturers have sent supplies of disposable underwear designed for periods as well as sanitary pads to hospitals, and have promised to continue doing so.
As reassuring as these first steps are, it is still too early to be optimistic. Transforming attitudes and practices demands a broad coalition of policymakers, professionals and advocates as well as ordinary men and women in China and beyond, during this crisis and afterwards.
In a post on a WeChat account registered by volunteers campaigning for the benefit of the female health-care givers, they said: "We expect, when this is over, that the natural bodily function of half of our population will no longer be characterised as something 'special', and menstruation will no longer be shameful. We don't need to bring it up every day, but we hope the days of the subject remaining taboo are numbered."
Audrey Jiajia Li is a nonfiction writer and broadcast journalist