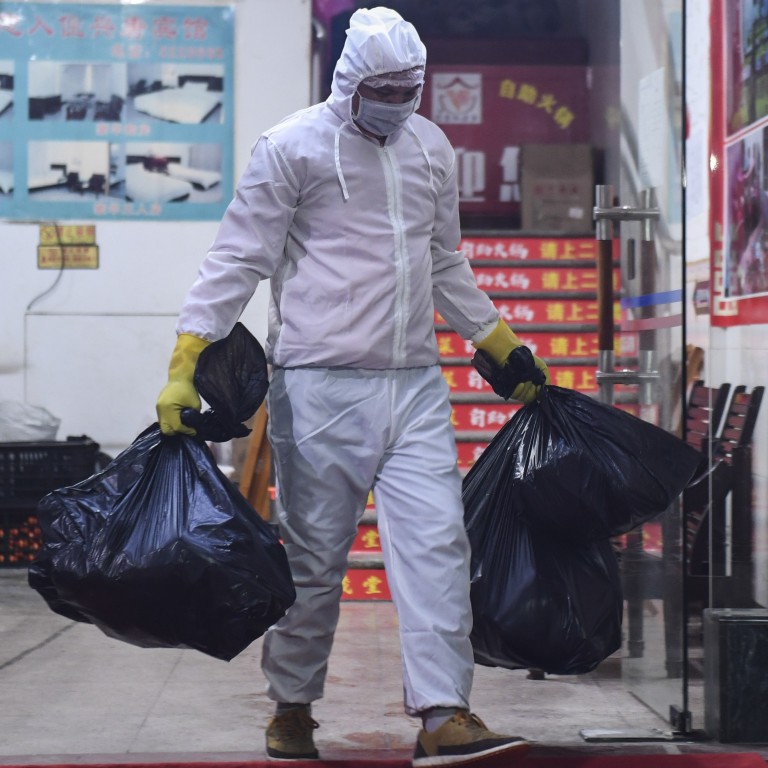 Opinion
Editorial
by SCMP Editorial
Editorial
by SCMP Editorial
The disposal of face masks and medical waste is a crisis in the making
There are dangers that the coronavirus will be spread to garbage collectors and others if waste that may carry the infection is not handled properly
China has not faced a health crisis as major as that involving the
coronavirus outbreak
for decades. But the challenge goes far beyond testing, quarantining and treating people in a medical system unused to an epidemic on such a scale; there are also mountains of clinical waste that have to be properly disposed of.
 An insufficient number of the type of incinerator needed to destroy such waste has heightened the risk of the infection spreading, while the environmental impact of improperly discarded face masks poses a further threat. As the disease rapidly makes its way around the world, other governments are being confronted by similar difficulties and need to promptly come up with solutions.
Masks and other protective gear used by infected patients and the medical staff treating them should be sterilised and incinerated at high temperatures in dedicated facilities. Although the number of incinerators used for such waste in mainland China is not made public, experts believe it has been largely unchanged for the past decade.
 Making the problem worse, the Ministry of Ecology and Environment last year said that most of the facilities, built in response to the severe acute respiratory syndrome (Sars) epidemic in 2003, were nearing the end of their operating lifespan. There are dangers that the coronavirus will be spread to garbage collectors and others if waste that may carry the infection is not handled properly.
The huge amounts of clinical waste being produced dramatically heightens the risk. Wuhan, the city of 11 million people that has been the focus of the disease with 75 per cent of all the nation's deaths occurring there, is reported to have produced 200 tonnes on February 24 alone, four times the amount the city's only dedicated facility is able to handle each day. The nation generated 2 million tonnes of medical waste in 2018, but has yet to put in place a specific pollution control standard for its disposal.
But masks are considered essential protection against Covid-19 – the disease caused by the coronavirus – and demand is overwhelming and increasingly so as the infection makes its way around the world. Single-use masks are made of plastic and a thin strip of metal and are often not being disposed of properly. Across Asia, they are being strewn on footpaths and roads. Environmental groups have found thousands of them littering beaches and hiking trails in Hong Kong, where they pose a threat to marine, animal and bird life.
That some masks could have been used by infected people adds an especially worrying threat. The infection can live for hours or even days in moisture and could be transferred should a person touch it and then their face. Governments confronting the coronavirus need to be alert and prepared as much for the virus as the medical waste.