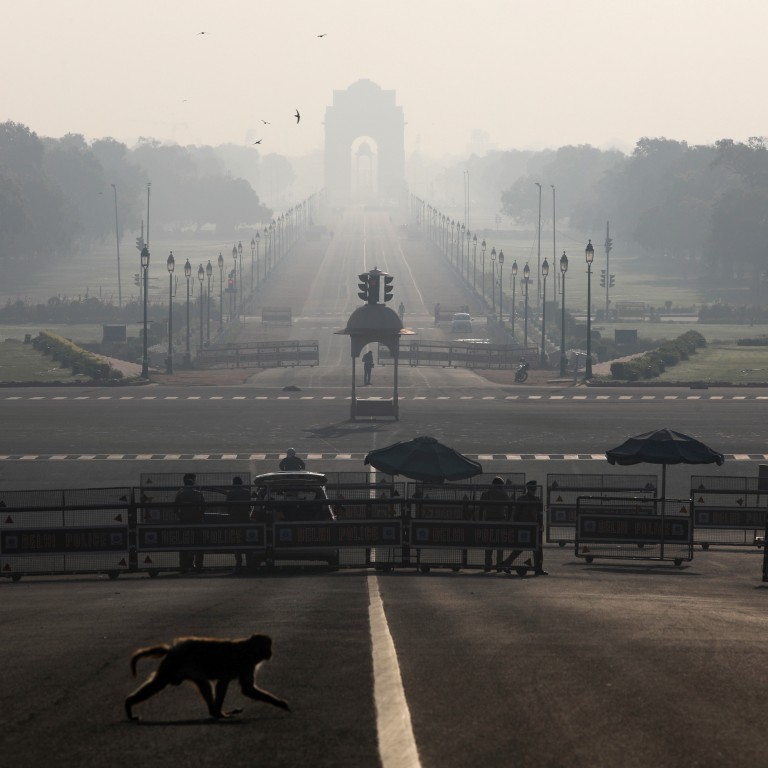 Opinion
Opinion
by C. Uday Bhaskar
Opinion
by C. Uday Bhaskar
After Xi's China and Trump's America, Modi's India is stepping up to battle the coronavirus
Modi has declared a 21-day national curfew and started a South Asian emergency fund, displaying leadership when global coordination against Covid-19 is lacking
India's success could help disprove the idea that authoritarian regimes are better placed than democracies to tackle a pandemic
India has taken an unprecedented and tectonic step to deal with the Covid-19 public health crisis. A nation-wide
21-day curfew
has been imposed that will affect almost 1.3 billion people. In a televised address on March 24, Prime Minister Narendra Modi said: "There will be a total ban on venturing out of your homes."
The decision was taken following a spike in coronavirus infections that has now reached 562 cases, and 10 deaths. The numbers, alas, are climbing by the hour.
Panic buying of food and essential goods has ensued across India since Modi's announcement and given the vast number of Indians at the poverty line or below it, considerable social unrest is expected.
While the government has sought to allay fears that there will be no shortage of essential services, the next few days will be critical. Will the coronavirus be the bigger threat to citizen safety or the curfew?
Earlier, in a remarkable display of national solidarity to avert the public health crisis triggered by Covid-19, more than a billion citizens complied with Modi's appeal to remain indoors as part of a
janata (people's) curfew
on Sunday.
Resolute and calm political leadership is what citizens seek globally, and for now, Modi has stepped up to the plate in an impressive manner. Most experts agree that India had to take such a draconian step – though how it will be implemented effectively remains opaque.
Modi's leadership was also in evidence when he convened a March 15 video conference of regional South Asian leaders under the South Asian Association for Regional Cooperation (SAARC). He proposed a modest regional Covid-19 emergency fund, with an initial contribution by Delhi, and this has been welcomed.
His call for a regional Covid-19 effort is pertinent, given that South Asia is home to 1.8 billion people, or a fifth of the global population, but has very inadequate public health infrastructures.
The region has not (yet) been severely affected by the pandemic but leaders and experts agree that if the virus balloon goes up, the collective security of millions will be severely endangered.
India's effort to catalyse a regional/global effort to address a trans-border, collective security issue is a work in progress, but it illustrates a global leadership void in relation to the Covid-19 challenge.
For now, Western democracies have been found to be less than effective in dealing with Covid-19. The cognisance of what constitutes collective interest is a significant determinant.
Along with China and the US, India is one of the world's three most populous nations and the next 21 days will be critical in determining which coronavirus scenario will play out in the world's largest democracy.
Whether India can play the role of an effective sherpa apropos of Covid-19 is moot, given its domestic vulnerabilities. But it merits recall that almost 70 years ago, a fledgling and newly independent India was a valuable mediator in the Korean war, between Washington, Moscow and Beijing.
The coronavirus challenge needs the major powers to cooperate and pool their resources and expertise. Perhaps Modi can catalyse a constructive Trump-Xi pandemic dialogue devoid of a vituperative turn of phrase.
Commodore C. Uday Bhaskar is director of the Society for Policy Studies (SPS), an independent think tank based in New Delhi
This article appeared in the South China Morning Post print edition as: Modi's leadership contradicts the authoritarian theory