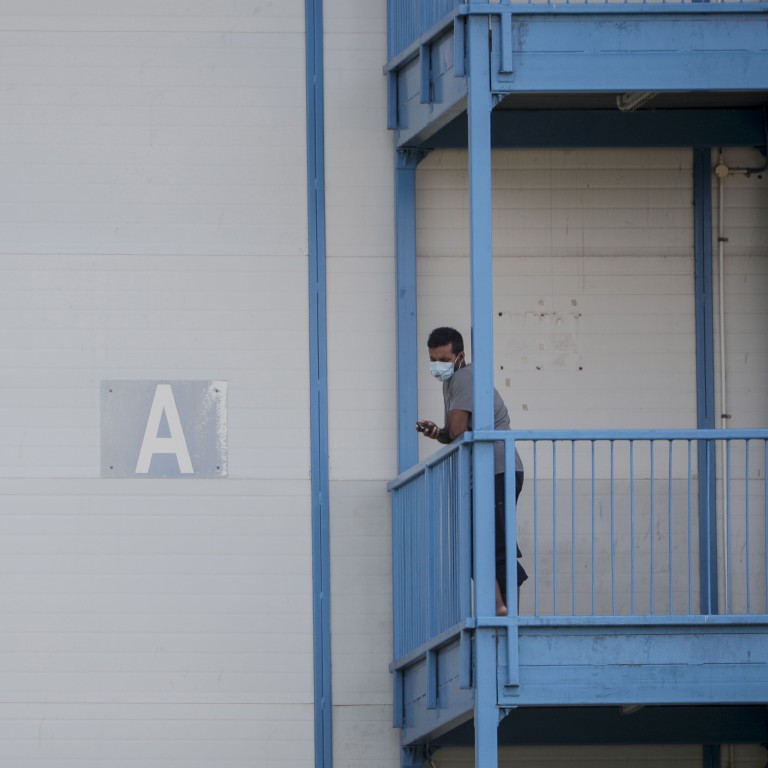 Opinion
Opinion
by Balli Kaur Jaswal
Opinion
by Balli Kaur Jaswal
Rise in coronavirus cases brings to light Singaporeans' racist attitudes towards foreign workers
The spread of the virus among its migrant workers living in cramped conditions has touched off a wave of blame and scapegoating in society, never mind that Singapore owes its success to this huge low-paid workforce providing many essential services
Even as far as WhatsApp chain messages go, this one was egregious: "20,000 foreign workers are now quarantined in several large dormitories. If only 2 per cent are infected, they will infect onwards their maid girlfriends. We're talking 400 infected households."
The calculations continued exponentially to prophesise a catastrophic spread of Covid-19 in Singapore's schools, workplaces and churches, all starting with foreign workers.
The message, circulating among my relatives a few weeks ago, made no predictions about the living conditions that would lead to a crisis of this proportion. The focus was on social habits rather than the cramped dormitories, where 20 men reportedly sleep in one room and safe distancing is not an option.
Singapore owes much of its economic success to a low-paid workforce from countries like India and Bangladesh, who build our glittering centrepieces but live on society's periphery. As the pandemic places a grim spotlight on these workers, prevailing racist attitudes are also on full display.
A letter published in the national Chinese-language broadsheet squarely blamed foreign workers' living habits for spreading the virus. "Many of them come from backward countries," the writer claimed. "They like to gather and have poor personal hygiene. Aren't migrant workers themselves responsible for this state they're in now?"
Home Affairs and Law Minister K. Shanmugam slammed the letter for being insensitive and xenophobic. "We are bigger than the sentiments expressed in that letter," he said. But you only have to dip your toe in the shallow waters of social media to see that such sentiments are common here.
When the coronavirus first arrived in Singapore in late January, the culprits were also outsiders. A taxi driver cheerfully told me he was no longer picking up passengers with mainland Chinese accents. The bias shifted fleetingly to European tourists after Italy and Spain began reporting record numbers.
The distinction between foreign workers and citizens has always existed in our systems, but the deepening societal divisions are worrying. Recently, several neighbours chided our nanny for letting my toddler take off his face mask while they were out on a walk.
"Ask them to try to keep a mask on a two-year-old then," I said. She is known to sharply face down this kind of citizen policing – last year, a woman threatened to report her for negligence because my son was running around outside barefoot. "What would the mother say?" the woman asked, to which our nanny replied, "She would tell you to shut up."
This time though, she just cut the walk short and hurried home. "Nowadays," she said, "it's better not to argue."
Balli Kaur Jaswal's novel Sugarbread, a multigenerational story about racism in Singapore, was shortlisted for the Singapore Literature Prize in 2018