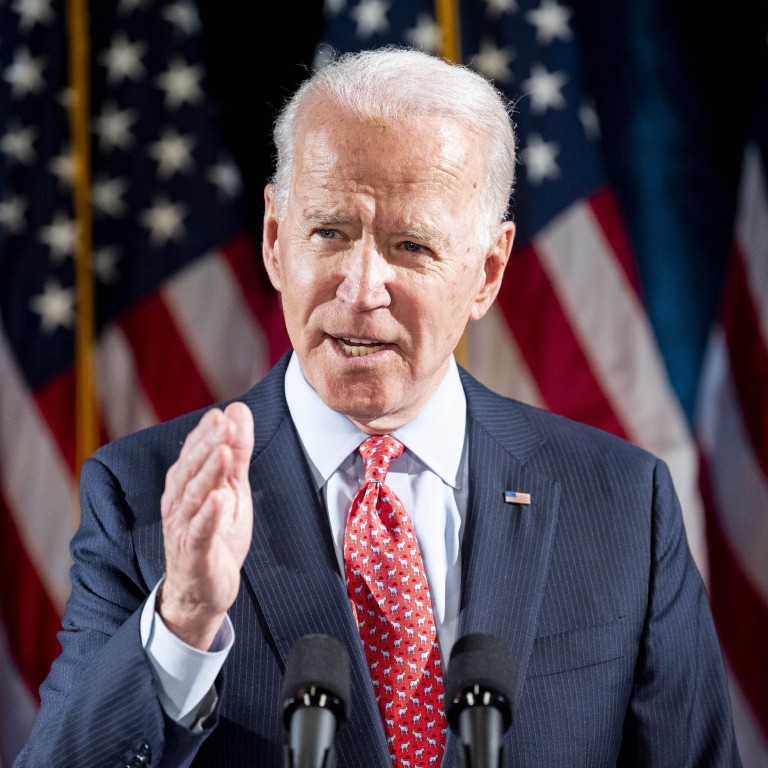 Opinion
Editorial
by SCMP Editorial
Editorial
by SCMP Editorial
If Trump bodes ill, a Biden victory could be even worse for China
Unlike his Democratic rival, Trump, for all his faults, at least understands the need to keep open high-level channels of communication by refraining from criticising the Chinese leadership
Donald Trump's chances of being re-elected the American president appeared ironclad in February, having easily shaken off an impeachment bid by opposition Democratic Party lawmakers. But a perception that he has mismanaged the Covid-19 crisis and a severe economic downturn have harmed his prospects. Democratic candidate and former vice-president Joe Biden's fortunes have also turned and with the withdrawal from the race and backing of Bernie Sanders, he is now his party's presumptive contender for the country's top job. But the outcome of elections in November will have little bearing on the United States' relations with China; anti-Chinese sentiment is so rife across the political spectrum that the rivalry and tough policies are bound to continue.
The US is struggling to contain the pandemic, having more infections than anywhere else in the world and stretched medical resources. Trump's management of the crisis is widely perceived as ineffectual, erratic and politically biased. There is a growing perception that his mishandling will not stand him well on election day. Biden's chances of winning the White House are improving the more the death toll mounts, the economy shrinks and jobs are lost.
But his taking the presidency would not mean a significant shift in foreign and trade policy towards Beijing. Holding a hard line against China is one of the few issues of bipartisan consensus among US lawmakers. Together, Republicans and Democrats have introduced more than 150 bills in the current congress with an eye to pushing back against the Chinese government.
Trump would seem to have been tough with China on numerous fronts from trade to technology, but opposition Democrats and some within his party contend he is not going far enough. He has been accused of being soft on human rights and criticised for praising President Xi Jinping. Biden, who has vastly more experience in dealings with China as a senator and vice-president for eight years under Barack Obama, has taken on Beijing on issues including human rights, Taiwan and trade.
Biden has far greater understanding of China than Trump, but there are signs that as president, he could be even more troublesome for Beijing. In primary debates he was especially critical of Xi over the treatment of ethnic Uygurs in Xinjiang and handling of the protests in Hong Kong, referring to the president as a "thug". He said the US should not tolerate China's alleged human rights violations and should be moving 60 per cent of its sea power to the Western Pacific to "protect other folks". That would bode poorly for relations should he be elected. Trump, for all his faults, at least understands the need to keep open high-level channels of communication by refraining from criticising the Chinese leadership.
This article appeared in the South China Morning Post print edition as: If Trump bodes ill, a Biden victory could be even worse for China