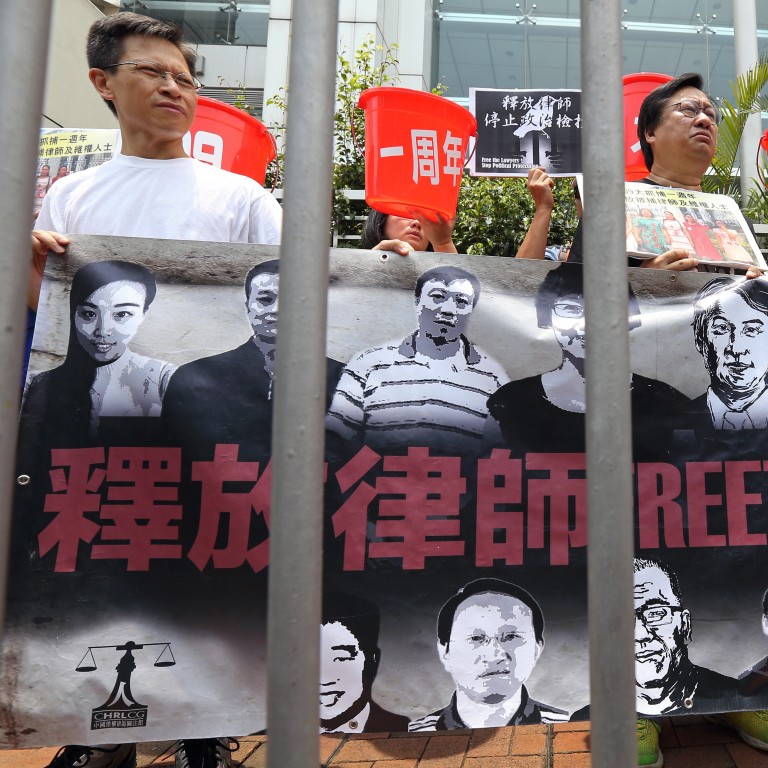 Opinion
Opinion
by Jerome A. Cohen and Eva Pils
Opinion
by Jerome A. Cohen and Eva Pils
A decade after Chinese human rights lawyers Tang Jitian and Liu Wei were disbarred, much has changed – for the worse
Despite the coronavirus pandemic, liberal democracies and lawyers around the world must advocate for persecuted human rights lawyers in China, who are subject to arrests, prison sentences, disbarments and enforced disappearances
When his licence to practise law was revoked 10 years ago,
Tang Jitian
was embattled, but far from defeated. The human rights lawyer movement in China, in which he played a central part, presented one of the most meaningful challenges to the Chinese Communist Party's authoritarianism.
That is why the government has gone all-out
to crush
it over the past decade.
Tang, a gifted and dedicated person, started as a successful prosecutor from a rural background in China's northeastern province of Jilin. He resigned because he could not bear being part of a deeply flawed criminal justice system.
He had been obliged to witness executions – sometimes horribly botched – and was upset by the lack of dignity with which bodies of the executed were treated.
Tang became a lawyer, originally practising in southern China. He was attracted to online reports of a small community of "rights defence" lawyers, many based in Beijing, who resisted abuses of the party-state by challenging prosecutions. He moved to Beijing, befriended those lawyers and began taking on vulnerable and persecuted clients.
As criminal defence lawyers, Tang and others were frequently frustrated by interference from government judicial bureaus, police, party-run lawyers' associations and other officials.
In one 2009 case, for example, described in He Yang's documentary Disbarment, Tang and his colleague, Liu Wei, defended a member of the spiritual group Falun Gong at his trial for "evil sect" crimes. They argued that their client had done nothing but manifest his faith, an activity protected under the Chinese Constitution and international human rights law.
Moreover, police had tortured him, like so many
Falun Gong members
. But the presiding judge seemingly followed a previously-scripted trial process plainly destined for conviction.
Exasperated by the judge's frequent interruptions of their attempted defence, which made them feel complicit in a farcical trial, Tang and Liu, in dramatic protest, submitted their written defence statements and walked out of the courtroom.
Chinese lawyers like Liu and Tang realised that the only way of changing odds so badly stacked against criminal defenders would be through broad institutional reforms. They believed that change might begin within the legal profession.
They hoped that, if the governing bodies of the national and local lawyers associations could be democratically elected by their membership, these hitherto party-controlled groups would become more autonomous and better able to fulfil their duty to protect lawyers' rights.
That would improve prospects for reforming the judicial process and vindicating the country's human rights. This was the aim of the democratisation campaign that they launched, especially in the Beijing Lawyers Association. It won significant support among their colleagues and drew attention in the international community.
The Communist Party, however, even under the comparatively less repressive leadership of 2010, could not tolerate such insubordination. Tang and Liu were promptly disbarred, ostensibly as a disciplinary measure against their 2009 courtroom protest.
This was widely interpreted as retaliation against their lawyers association democratisation campaign and provoked strong condemnation from foreign observers.
The disbarment was a severe blow to these courageous lawyers. At the time, it seemed things could hardly get worse. Yet they soon did. Tang became the first lawyer to be forcibly "disappeared" during the 2011 "
jasmine revolution
" crackdown on human rights lawyers.
Thugs placed a black hood over his head, drove him around in a heated car, and then took him to a hotel where, in the cold winter of Beijing, they removed most of his clothes and placed him under an air conditioner for hours.
He was arbitrarily held for 2½ weeks, during which he was subjected to more severe torture. On release, he was diagnosed with an antibiotic-resistant strain of tuberculosis and has been struggling with its after-effects ever since.
Liu Wei was also persecuted; she left mainland China for Hong Kong and then New York, as it was clear that she would never be able to practise her profession again. Tang stayed and, although no longer a lawyer, continued to work with colleagues in increasingly difficult circumstances.
In 2014, having taken part in an effort to use the law to liberate clients held in one of China's many infamous, extralegal "
black jails
", he was detained and tortured again: this time, his captors broke several of his ribs, a devastating injury given the incurable tuberculosis he had contracted earlier.
On the 10th anniversary of the disbarment of Tang and Liu, China's human rights lawyers seem in dismal shape. The notorious "
709 crackdown
" on them that began soon after July 9, 2015, led to many more arrests, prison sentences, disbarments and enforced disappearances. Chinese President Xi Jinping's dictatorship is increasingly entrenched, and its human rights abuses are
more widespread
than ever.  
Rights communities in China are silenced by terror. Will liberal democracies and the international legal profession, preoccupied with the coronavirus and other major distractions, take note? Tang Jitian and his surviving colleagues in China try to remain hopeful. Are they right?
Jerome A. Cohen is an NYU law professor, founder of its US-Asia Law Institute and adjunct senior fellow at the Council on Foreign Relations. Eva Pils is a professor of Chinese law at King's College London
Yu-jie Chen, a Global Fellow at Hong Kong University Law School and affiliated scholar at NYU's US-Asia Law Institute, also contributed to this article