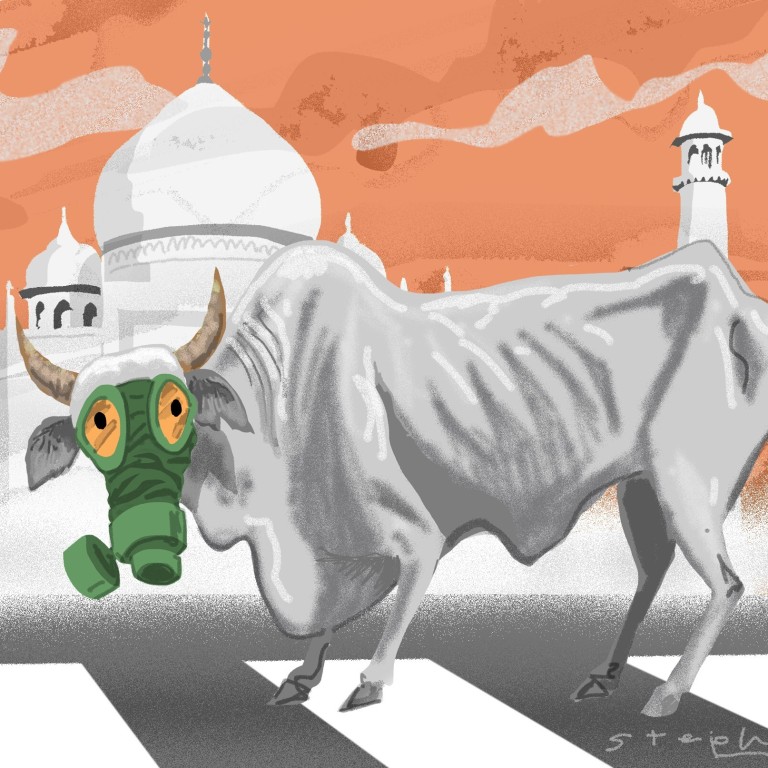 Opinion
Opinion
by Asit K. Biswas and Kris Hartley
Opinion
by Asit K. Biswas and Kris Hartley
India can learn from China's resolve to clean its urban air and help lead the world to a brighter future
Tragic though they may be, Covid-19 and the ensuing lockdowns offer a glimpse into an alternative future in which air is safe to breathe
How India and China, as rising powers, manage the by-products of industrialisation and agricultural practices will shape this future. Millions of lives can be saved
The Covid-19 crisis is drawing attention to respiratory health, and in cities with severe air pollution, people may be
more vulnerable
to the virus. While the world is focused on crisis mitigation, it is important not to lose sight of recurring challenges such as
air pollution
and environmental degradation. These issues influence society's ability to adapt to unexpected public health threats such as Covid-19.
The economic downturn inversely illustrates the devastating effects of unfettered industrial production and fossil fuel dependency. For example, India's nationwide lockdown has led to a
reduction
in air pollution levels of 90 per cent or more – even in its smog-choked capital Delhi. Similar reductions have been seen in China, according to Nasa data.
Covid-19 is a profound tragedy for the many lives lost and devastating economic impact. The good that the world can take from the crisis, if anything, is that it provides a glimpse into an alternative future in which air is safe to breathe.
How
India and China
, as rising powers, manage the by-products of industrialisation and agricultural practices will shape this future. Millions of lives per year can be saved.
Twenty-one Indian cities, a majority in the Indo-Gangetic plains, were among the top 30 cities with the worst air pollution in the world last year. According to 2016 data, Indians lost 5.3 years of life expectancy as a result of air pollution (and a staggering 12 years in Delhi). India's air pollution problem is a public health and economic emergency, but policy efforts have been middling and ineffective.
Although Punjab and Haryana both provide subsidies to help farmers transition to environmentally friendly stubble management practices, farmers complain that paddy-disposing equipment is unaffordable and that there is no place to dump the residue.
The states' efforts to target offending farmers – including threats, police action and withdrawal of subsidies – are proving largely ineffective.
The visibility of air pollution implies that the problem is not a lack of awareness but a lack of government capacity or concern. The National Clean Air Programme, launched last year, offers a road map and some hope, but faces structural roadblocks such as poor coordination and status-quo obstructionism.
At a higher level, air pollution mitigation requires an existential reckoning about the costs of economic growth. Meanwhile, India's ad hoc solutionism continues to fail a suffering public.
Nevertheless, progress is hard won and intermittent. While only two Chinese cities were among the top 30 most air-polluted last year, 14 were among the top 50.
This initiative targeted a decrease from 2012 levels of 25 per cent in the Beijing-Tianjin-Hebei region, 20 per cent in the Pearl River Delta region, and 15 per cent in the Yangtze River Delta. Beijing adopted its own PM2.5 reduction target of 34 per cent from 2013 levels.
China's top-down efforts to control pollution are supported by a centralised political-administrative structure. In India, politics is contested; electoral outcomes are determined by often slim voting majorities. For fear of tipping a delicate electoral balance, India's leaders are hesitant to adopt policies that burden one constituency more than another.
While the party in national power may support reducing crop burning in Punjab and Haryana, local party representatives have an interest in appeasing farmers. As with the Covid-19 response, policy consistency is crucial in addressing air pollution.
To paraphrase economist Alfred Marshall, the mysteries of healthy environments are no mysteries, but are literally "in the air" – as seen in recent photographs of crisp landscapes and sunlit skylines.
If India is interested in cleaning its urban air and closing the pollution progress gap with China, radical structural shifts must be considered. Weak action will only perpetuate the growing crisis, with tragic consequences for humanity and the environment.
Asit K. Biswas is Distinguished Visiting Professor of Engineering at the University of Glasgow. Kris Hartley is an assistant professor of public policy at The Education University of Hong Kong