Opinion
Opinion
by Ariela Levy and Patrick Wilcken
Opinion
by Ariela Levy and Patrick Wilcken
End the abuse of tear gas for the sake of peaceful protesters in Hong Kong, the US and everywhere else
The misuse of tear gas at protests in Hong Kong and in the US after George Floyd's death is part of a worrying trend that is escalating across the globe
As the UN looks to control goods that could be used for torture or other ill-treatment, it is vital that tear gas is included, while states must also impose their own curbs
A year ago today, in a chaotic response to a largely peaceful demonstration, Hong Kong police fired volleys of tear gas in and around
Citic Tower
as trapped protesters broke into the building to escape the toxic fumes. In the following months, police fired tens of thousands of tear gas canisters at protesters, in a futile effort to quash the demonstrations.
Hong Kong is only the most visible example of the widespread
misuse of tear gas
which has escalated across the world. Even before the recent rise in its use in cities
across the United States
, the past year has seen demonstrations in dozens of cities in all regions of the world being doused in what are euphemistically called "chemical irritants".
Amnesty International
has been researching this phenomenon, primarily through videos posted on social media platforms such as Facebook, YouTube and Twitter. Using open-source investigation methods, the organisation verified close to 500 videos of some 80 events in 22 countries and territories where tear gas has been misused, confirming the location, date and validity of events.
Alongside interviews with protesters, the analysis exposes a disturbing global trend of widespread, unlawful tear gas use.
Tear gas has been fired through the windscreen of a car, inside a school bus, at a funeral procession, inside hospitals, residential buildings,
metro stations
, shopping centres, and, strangely, in virtually empty streets.
Police have fired canisters
directly
at individuals, leading to fatalities, as well as from trucks, jeeps and drones. On the receiving end have been climate protesters, high school students, medical staff, journalists, migrants and other human rights defenders, such as members of the
Bring Back Our Girls movement
in Nigeria.
A Sudanese doctor in Omdurman, outside Khartoum, described how tear gas was fired inside a hospital accident and emergency department, injuring 11.
Protesters in Abuja told Amnesty International that the types of tear gas used on peaceful protests led to many collapsing and having to be taken to hospital; they noticed that exposure to a chemical agent used in water cannons was burning holes in their banners and clothing.
In Caracas, several videos show police firing canisters directly at people, causing severe injury and at least one death.
The impact of tear gas can be so severe that Amnesty International has joined Nils Melzer, the United Nations Special Rapporteur on Torture, in concluding that in certain situations, it amounts to torture or other ill-treatment.
Given the widespread abuse and clear public health impact of tear gas, you would expect these weapons to be tightly regulated, with agreed standards on their chemical composition, design, export and use.
However, tear gas is in a regulatory grey zone, traded relatively freely across the world. Canisters come in all shapes and sizes, containing different types and amounts of
toxic chemicals
, and are launched from a wide variety of devices, including multi-barrel launchers designed to fire dozens of canisters simultaneously.
In many cases, it is difficult to even know what
precise chemical cocktail
is inside a canister, and whether or how its safety has been tested before sale.
Tear gas is manufactured around the world by largely unregulated companies – some are small businesses with scant trade data and no published policies on ethics or human rights. Some countries do, in theory, apply risk assessments to tear gas exports, but wave through all but the most obviously controversial exports.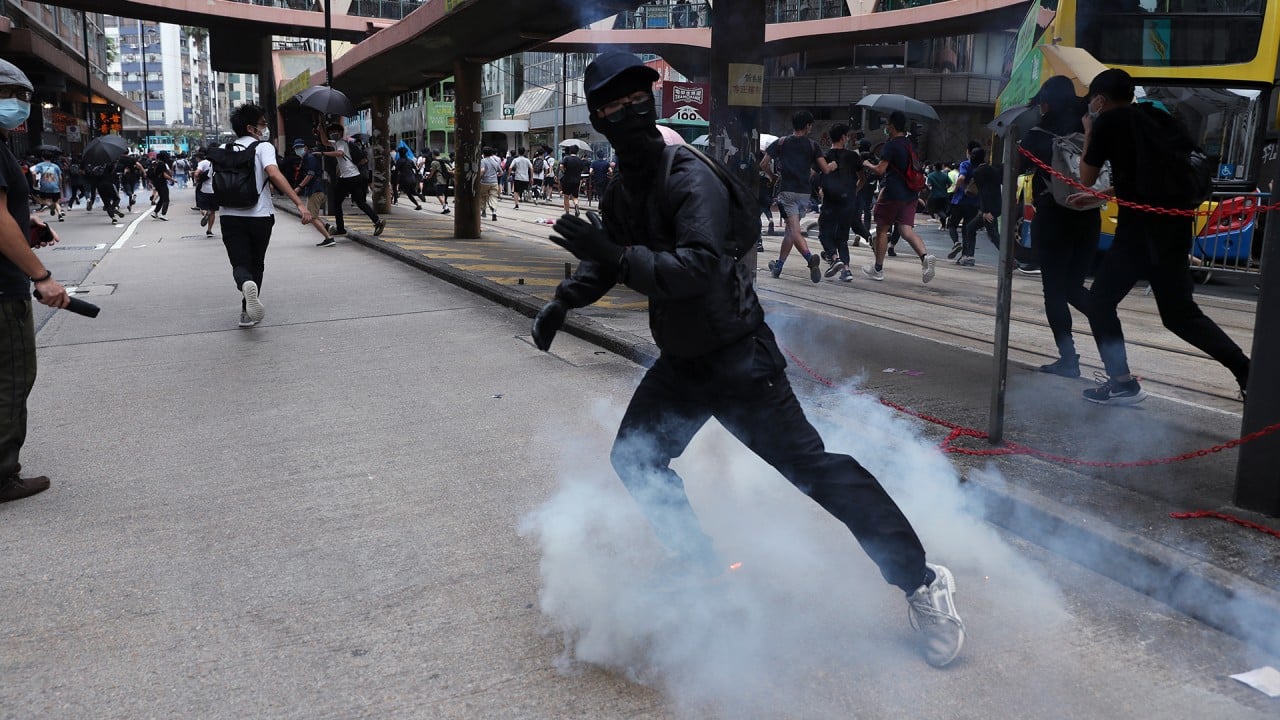 04:52
Tear gas fired as thousands protest Beijing's planned national security law for Hong Kong
Tear gas fired as thousands protest Beijing's planned national security law for Hong Kong
Different police forces adopt different
rules of engagement
, many falling well short of UN standards and guidance. If they actually followed best practice, they would rarely use tear gas.
Tear gas should only be used to disperse a crowd in situations of more generalised violence, and only when all other means have failed. It may not be used in a confined space or where exit routes are blocked. And canisters must never be fired directly at individuals, as that risks severe, life-changing injury or death.
Part of the reason for this regulatory ambiguity is that tear gas is an awkward orphan of efforts to control chemical weapons and arms more generally. Even though explicitly prohibited for use "as a method of warfare" by the
Chemical Weapons Convention
, riot control agents (including tear gas) are permitted for use in law enforcement "as long as the types and quantities are consistent with such purposes".
However, since the convention does not define "law enforcement" nor give any guidance on appropriate "types" and "quantities", it is left to individual states to interpret it as they see fit. The upshot is a patchwork of often poorly applied national control regimes.
But amid the regulatory disarray, there is a glimmer of hope. The UN has begun consulting on international measures to control the trade in goods that could be used for torture and other ill-treatment. It is vital that
riot control agents
, including tear gas, are covered in this framework.
While international regulation is discussed, states must impose their own restrictions, barring the trade in tear gas where there are clear human rights risks, and strictly controlling its use at home.
As Hong Kong braces for a fresh wave of protests, and the police force prepares for new crackdowns, international regulation of tear gas – its composition, manufacture, trade and use – is more vital than ever.
If we are to put an end to the abuses seen in Hong Kong and around the world, tear gas needs to be addressed for what is it is: a potentially dangerous – even lethal – weapon which is being recklessly traded and deployed across the world.
Ariela Levy is on the Crisis Evidence Lab at Amnesty International, where Patrick Wilcken is a researcher on arms control, security and human rights