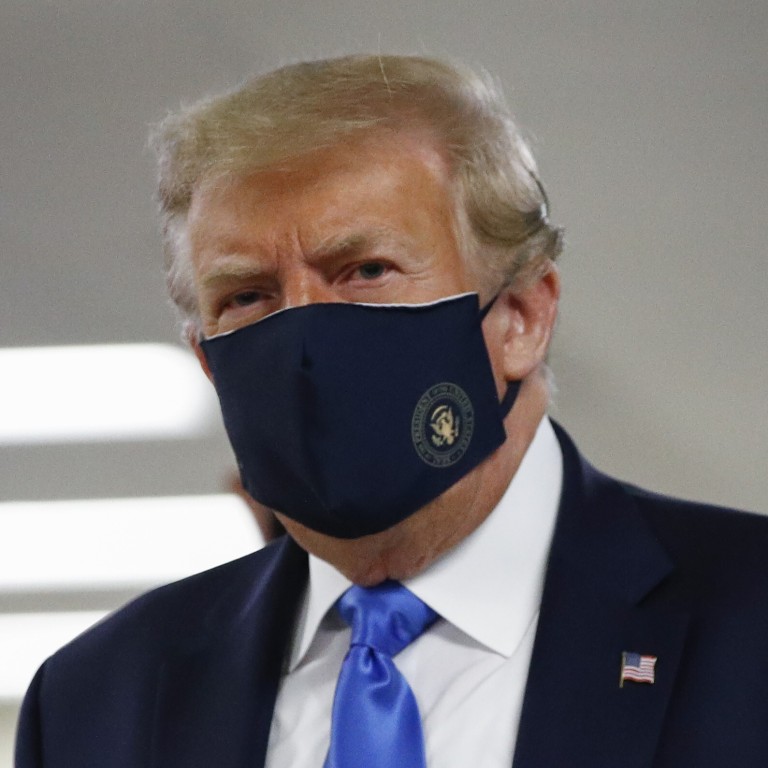 America's polarisation over face masks a symptom of deeper culture war
The pandemic and the protests of recent months should serve as a reminder of a simple truth: a mask is just a mask. What matters for democracy is not whether people cover their faces in public, but which people do so and why
For the past month, the United States has regularly broken its daily record for new Covid-19 cases, registering more than
4.2 million cases
overall and nearly 150,000 deaths. Although other developed countries seem to be containing the spread, the US has gone in the opposite direction: Arizona has as many cases as the entire European Union, which has 60 times the population.
What went wrong? Part of the answer is certain states reopened too soon. California, an early success story, experienced a 90 per cent increase in cases in recent weeks and has reimposed some lockdown measures. Florida's daily count of new cases – around 5,000 in the last week of June – had more than doubled a month later.
Perhaps the biggest culprit is the deep division over face masks, which have become another front in the
US culture war
. A recent Pew survey found only 49 per cent of conservative Republicans said they wore a face mask most of the time in the past month; that figure was 83 per cent among liberal Democrats.
America's polarisation over face masks began at the top. Since the onset of the pandemic, US President Donald Trump has steadfastly refused to wear one in public, mocking a reporter who refused to remove his as being "politically correct". Many Republican officials, including state governors such as Florida's Ron DeSantis, followed Trump's lead.
During his now-infamous Tulsa rally in June, masks were
few and far between
. Only in late July – with his poll numbers plummeting and massive outbreaks raging in states he must win to be re-elected – did Trump endorse wearing masks.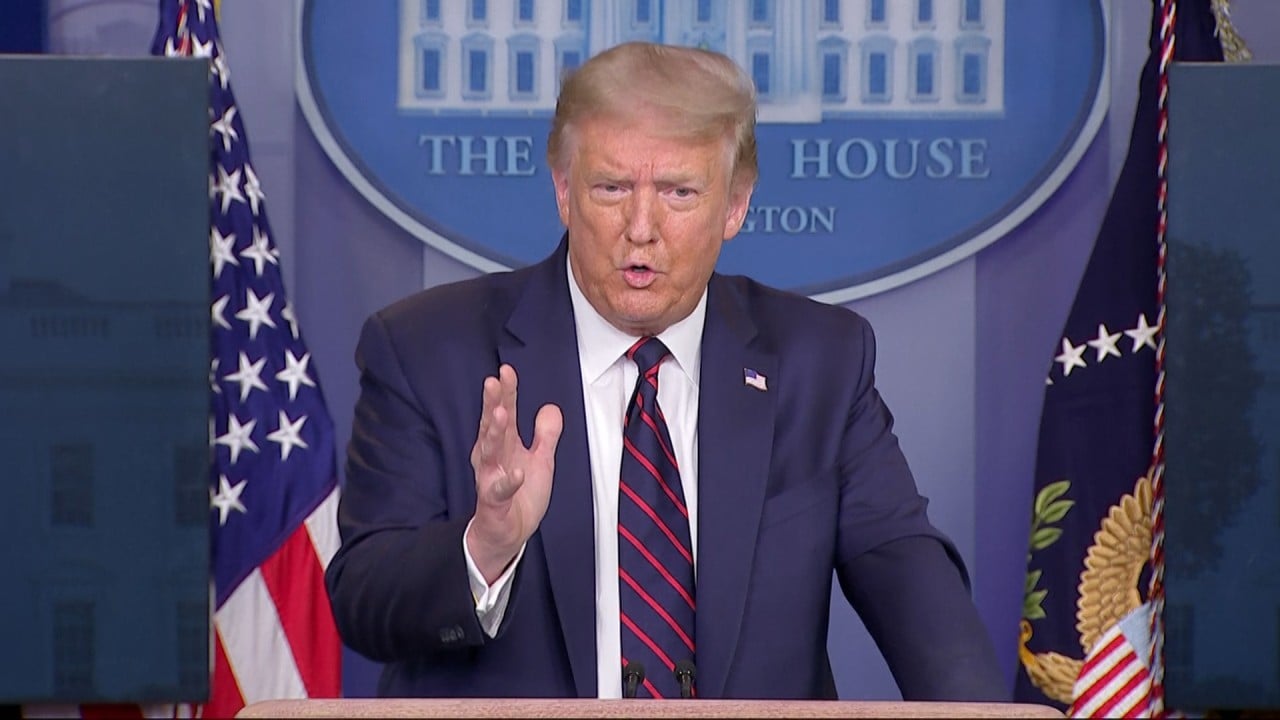 02:00
In first Covid-19 presser in months, Trump shifts tone and reverses stance on masks
In first Covid-19 presser in months, Trump shifts tone and reverses stance on masks
By contrast, Joe Biden, the presumptive Democratic nominee, appears regularly in public with a mask and adheres to social distancing guidelines. Biden has said that if he were in Trump's place, he would "do everything possible to make it required that people had to wear masks in public."
At the popular level, alongside the zealous libertarianism underpinning many Republican voters' view that masks are "muzzles" on personal freedom and choice, there is a strong religious undercurrent to resistance to face masks. One Florida resident protested that wearing a mask was throwing "God's wonderful breathing system out the door". For fundamentalist Christians, there is a deeper logic to opposing masks: Christians wear crosses, while it is Muslims who cover their faces.
The link between Islamophobia and hostility to face covering is a long-standing one. Two years ago, British Prime Minister Boris Johnson compared veiled Muslim women to "
letterboxes
". In 2011, French President Nicolas Sarkozy introduced the controversial "burka ban", prohibiting Muslim women from wearing full-face veils in public.
If the intention of Sarkozy's law was clearly discriminatory, it wrapped itself in a more noble justification for appearing unmasked in the public sphere. Rejecting the courtly politics of the Ancien Regime marked by the aristocratic bals masques , philosophers such as Jean-Jacques Rousseau argued that governance in a republic should be perfectly transparent – those who participate in the public sphere should be able to see and be seen.
Rousseau's idea was that democratic citizens would engage with one another publicly, which would compel them to take responsibility for their views. However, two recent developments have challenged that democratic space.
The first is technological innovations such as facial recognition, which states use to
monitor and control
their populations. This is why pro-democracy protesters in Hong Kong, for example, didn't wait until the pandemic to cover their faces.
Second, the mask mandates that many Western countries have introduced in response to Covid-19 make the transparency Rousseau had in mind difficult to achieve. When the Black Lives Matter protests began in June, participants who normally would have demonstrated "open faced" often, as good citizens, covered their faces.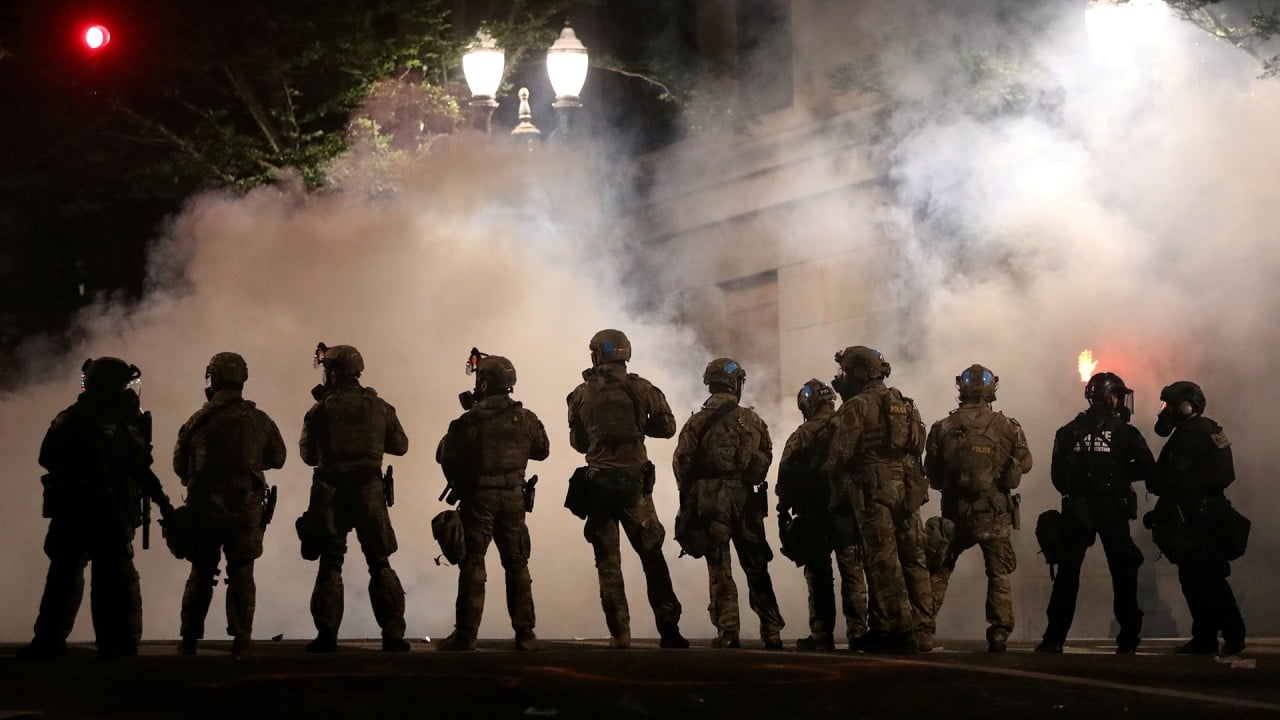 03:08
Protests in Portland and other US cities continue, as Trump answers with 'surge of federal agents'
Protests in Portland and other US cities continue, as Trump answers with 'surge of federal agents'
This lack of transparency can be amusing or frustrating for demonstrators who cannot recognise friends and comrades. When it happens on the other side – when security forces remove or obscure their official insignia, effectively giving them impunity for violence against peaceful protesters – the threat to democratic public space is fundamental.
These concerns have come to a head with Trump's deployment of federal paramilitaries to repress
protests in Portland
, Oregon, and his willingness to do the same in other cities.
Ultimately, the pandemic and the protests should remind us of a simple truth: a mask is just a mask. What matters for democracy is not whether people cover their faces in public, but which people do so and why.
Hugo Drochon, assistant professor of political theory at the University of Nottingham, is the author of Nietzsche's Great Politics. Copyright: Project Syndicate