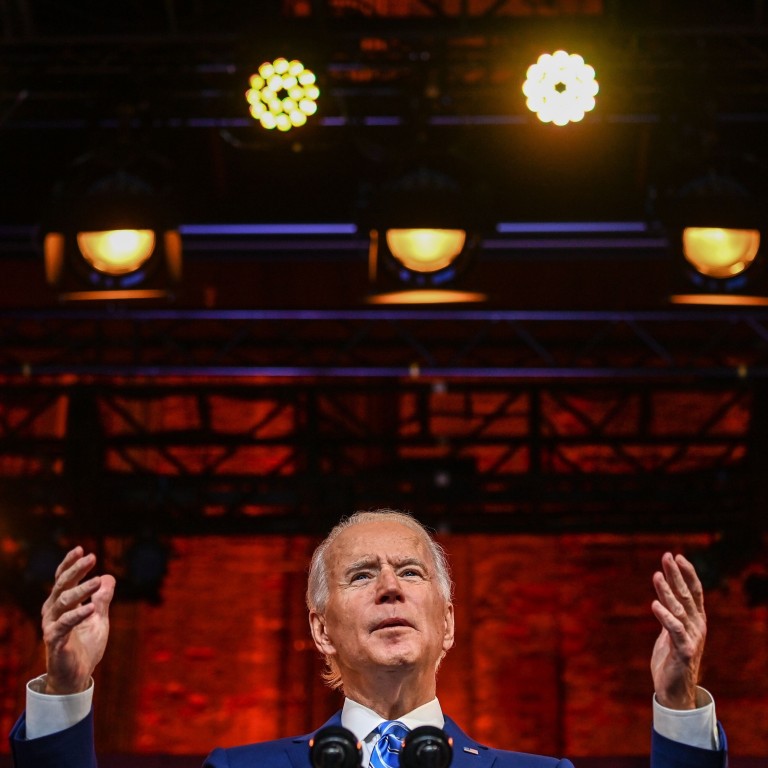 Opinion
Editorial
by SCMP Editorial
Editorial
by SCMP Editorial
Biden faces great deal of repair work as Xi offers congratulations
US anti-Chinese sentiment is bipartisan and has deepened under outgoing leader Donald Trump, but at least Beijing can look forward to a return to diplomacy and cooperation in areas of shared interest
President Xi Jinping and Vice-President Wang Qishan did not follow the lead of Western leaders in rushing to congratulate Joe Biden and his running mate Kamala Harris for winning the
United States' November 4 presidential election
, instead judiciously waiting for this week's official confirmation. But despite the hopeful sentiments expressed, Washington is not going to dramatically change its policy when the new administration takes office on January 20.
Anti-Chinese sentiment is bipartisan and has deepened under outgoing leader Donald Trump. But while Beijing cannot hope for a swift reversal, it can at least look forward to a return to diplomacy and cooperation in areas of shared interest.
Xi said it was in the interests of both countries to
promote the healthy and stable development
of ties and global expectations. China can at least expect greater certainty about relations with the US, the people so far allocated top jobs in the Biden administration having a wealth of experience in government, moderate views and being pragmatic.
Among those so far named and well known in the Washington establishment are Antony Blinken, one of Biden's closest advisers, to be secretary of state; former secretary of state John Kerry to be in charge of climate policy; and Linda Thomas-Greenfield to be ambassador to the United Nations. Former Federal Reserve chairwoman Janet Yellen is expected to be Treasury secretary and Michele Flournoy is tipped to be defence secretary.
04:35
'Welcome back America': world leaders react to Joe Biden's victory in US elections
'Welcome back America': world leaders react to Joe Biden's victory in US elections
Senate confirmation still has to be navigated, but approval is only the beginning; Trump and the hawks in his team surrounded themselves with ideologues who little understood diplomacy and statecraft and rebuilding what has been eroded will take time.
Blinken will have an especially difficult task, foreign policy under Secretary of State Mike Pompeo and Trump's "America first" approach having disrupted trade and supply chains. Diplomacy with rivals and allies alike are in tatters, important agreements such as the Paris climate change accord have been withdrawn from and multilateral organisations shunned.
Relations with China are arguably in their
worst shape in 40 years
. While under Biden there will continue to be competition and a tough line on trade, technology and intellectual property, a practical and pragmatic approach will be adopted. The high temperature in ties will likely be lowered through resumed bilateral dialogue on challenging issues while cooperating on ones of shared interest, the most pressing being climate change and defeating the Covid-19 pandemic.
Biden and his choices believe in globalisation. That is good for China, the US and world. But Trump has made the US frailer and less trusted. The president-elect and his team have much to do to repair the damage.
This article appeared in the South China Morning Post print edition as: Biden faces great deal of repair work as Xi offers congratulations