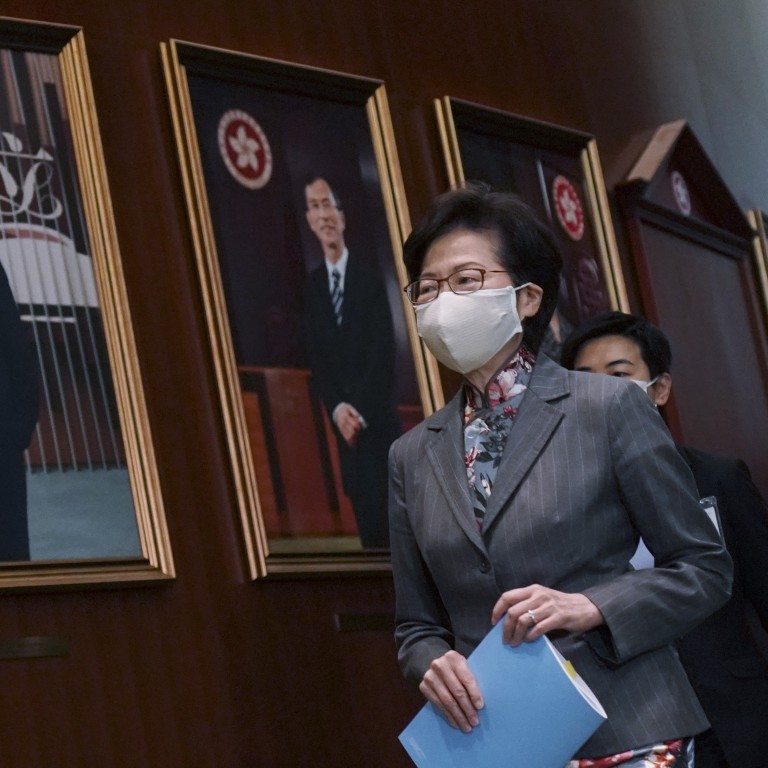 Opinion
Editorial
by SCMP Editorial
Editorial
by SCMP Editorial
Carrie Lam treads fine line in Legco approach
Hong Kong leader is expected to work with everyone, not just her allies in a legislature that lacks opposition, and behave less arrogantly
It says something when Carrie Lam Cheng Yuet-ngor admits she is upbeat about the prospect of her policies breezing through the Legislative Council following the
mass resignation of pan-democrat lawmakers
in protest against Beijing's move to oust four allies deemed to have threatened national security. Speaking for the first time in a chamber devoid of opposition this week, the city leader seemingly could not hide her contentment.
In one go, she read out the names of nine pro-Beijing members and their proposals that became government policies, saying they were good examples of how the executive and the legislature could cooperate while maintaining checks and balances. We do not know whether she would have had such good news for pan-democrats had they been there. A Legco without opposition may be a welcome change for Lam and those who are tired of filibustering and other theatrics, but it is not in the city's best interests.
Lam must realise that there is more to governance than just tweaking policies and services as demanded by her allies in the chamber. If Legco does become pragmatic and rational as a result of the resignations, the government should push proposals that have a beneficial impact on society, such as standardising public holidays for workers and dropping the offsetting mechanism for Mandatory Provident Fund and severance payments. But she should realise the pro-establishment camp will not necessarily rubber-stamp everything, especially on livelihood matters.
Lam once pledged to "connect" with the people and said she would learn to be more humble. Unlike last year when she appeared to be apologetic over the extradition bill fiasco, she has recently become more self-assured, if not arrogant. She has reneged on her pledge to appoint an independent review into last year's social unrest, saying she knows the underlying issues well. She has also said she will not act to merely please the people. The embattled leader may want to be seen as tough and strong, but there is a fine line between confidence and arrogance.
By giving up on those who are dissatisfied with her, she risks alienating herself even more. As the chief executive, she is not just expected to work with her allies, but with society as a whole.
This article appeared in the South China Morning Post print edition as: Lam treads fine line in Legco approach