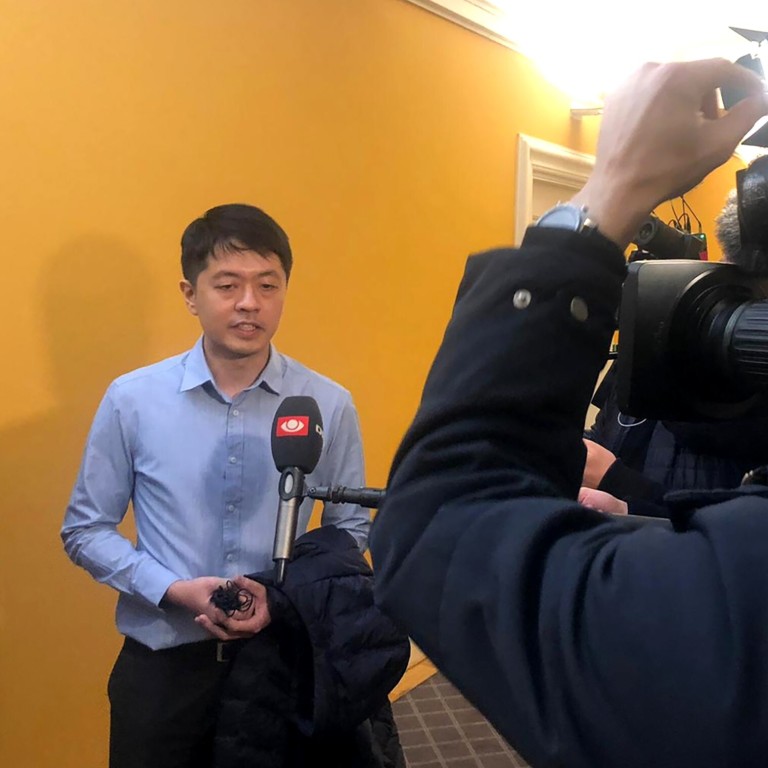 Opinion
Editorial
by SCMP Editorial
Editorial
by SCMP Editorial
Questions at home over Ted Hui's flight to exile
Move by former Democratic Party lawmaker has renewed concerns overseas about Hong Kong's freedoms and fuelled speculation in the city as to how the authorities will react
Yet another opposition figure has fled amid growing political tension in the city. Former Democratic Party legislator Ted Hui Chi-fung
says he has opted for
self-imposed exile
in a move that renews overseas concerns about Hong Kong's freedoms and the fate of opposition politicians and activists.
It also puts the spotlight on cases to come and those who may be at risk of absconding.
Hui has his reason to flee.
He faces nine charges
, including criminal damage at a protest and offences in connection with a rowdy meeting under the Legislative Council (Powers and Privileges) Ordinance.
Speaking from Denmark where he attended a meeting on climate change, the 38-year-old confirmed he would be joined by his family to settle abroad.
"We have fallen into the darkness of tyranny," he said, referring to the imposition of the national security law. Beijing has said the legislation is a necessary step to restore order and stability following months of social unrest, but critics say it undermines the governing principle of "one country, two systems".
Hui is not the first to believe that they can continue to serve Hong Kong by speaking up for freedom and democracy overseas.
Former student leader and lawmaker Nathan Law Kwun-chung went into self-imposed exile in London days after the national security law was put in place. Whether speaking out abroad will help the city is open to question.
The opposition believes international pressure can keep Beijing in check. However, if developments over the past year are any guide, the Beijing and Hong Kong governments only take a tougher approach after what they see as foreign interference. Criticism from overseas is also likely to have less of an impact as days pass.
The handling of criminal cases involving opposition figures may also come under closer scrutiny. Pro-Beijing politicians have hit out at the court decision to let Hui leave for Europe, raising concerns whether the granting of bail will be tightened in future.
Whether there is need to take these fears into consideration is up to the courts to decide. Political pressure is futile as courts are required to deal with cases based on their own legal circumstances.
The image of the city is bound to suffer in the wake of Hui's actions, but it would be a shame if the judiciary is singled out for blame as a result.
This article appeared in the South China Morning Post print edition as: Questions at home on Hui flight to exile