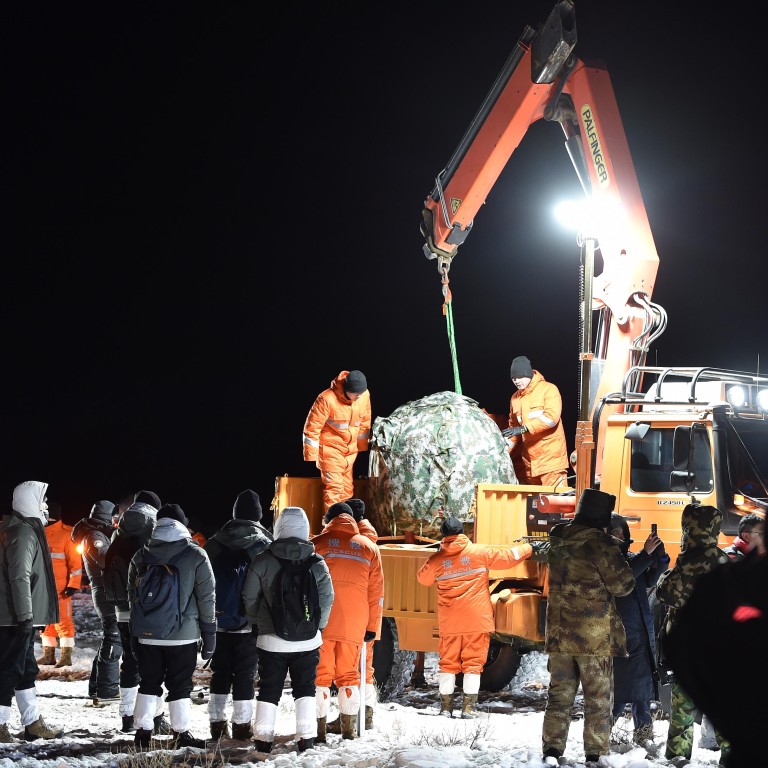 Opinion
Editorial
by SCMP Editorial
Editorial
by SCMP Editorial
Giant steps by China in science another reason for its rise
Successful lunar mission is just one project to celebrate as country also shows way in technology, quantum supremacy and replicating nuclear fusion process
Any doubts about China's ambition to be the world's pre-eminent scientific powerhouse should have been laid to rest by recent events. Capping achievements in just the past few weeks, the
Chang'e 5 lunar mission successfully returned
to Earth on December 17, landing in Inner Mongolia with its 2kg haul of rocks and dust, making the nation only the third to attain such an accomplishment.
Chinese scientists have also declared quantum supremacy and replicated the nuclear fusion process that occurs naturally in the sun and stars. When it comes to science and technology, the country is on a roll.
Not for 44 years has a nation brought moon samples back for study. There is understandable excitement given that unlike previous missions by the United States and Soviet Union, these come from the near side which is believed to contain younger geological material. President Xi Jinping congratulated those involved in China's most complicated space mission to date, saying it would deepen "understanding of the origin of the moon and evolution history of the solar system".
Chinese scientific research largely has state-directed policy, long out of fashion and criticised as wasteful in the US, to thank. Quantum supremacy means building a quantum computer capable of carrying out calculations trillions of times faster than the most powerful supercomputers. While it is still a proof of concept, as applications to real-life problems are a way off, it is a highly contested field.
Dubbed the "artificial sun", the HL-2M Tokamak, China's largest and most advanced nuclear fusion experimental research device, has been powered up to achieve nuclear fusion that can potentially provide almost infinite clean energy.
While research in fusion has stalled internationally because it is considered too costly and risky, China is doubling down in what it hopes will be commercially available by the middle of the century. Meanwhile, it has been developing next-generation nuclear reactors that will produce less radioactive waste and help reduce reliance on fossil fuels.
Once Beijing has identified a scientific field or sector as significant for economic development and or national security, it is willing to make a huge investment that may not generate economic returns for years. This commitment is carried out at bureaucratic, economic, academic and civic levels by rallying the resources of state and society. Talented researchers are enticed with promotions and their own laboratories. Private companies, entrepreneurs and investors are encouraged with tax breaks, direct subsidies and other state cooperation.
China's rise is as much about science and technology as trade and geopolitics. Beijing understands that better than anyone.
This article appeared in the South China Morning Post print edition as: Giant steps by China in science another reason for its rise