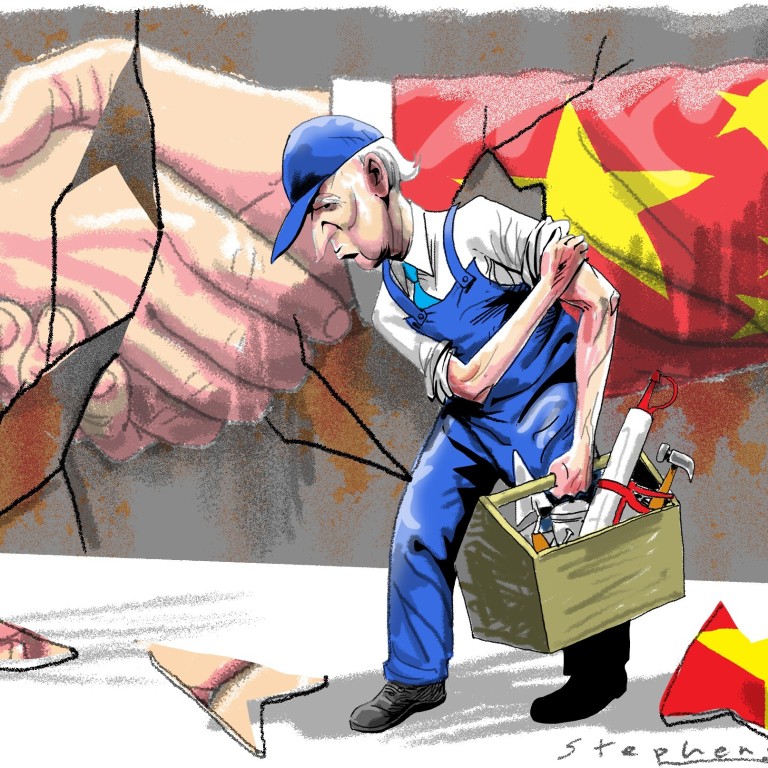 Opinion
Opinion
by Stephen Orlins
Opinion
by Stephen Orlins
How Joe Biden's America and China can turn the page on a rocky relationship
From visas to tech bans, Biden should undo Trump's needlessly confrontational damage – on condition that China takes equivalent steps back
The deep causes of US-China friction will remain but an easing of tension will give both governments space to re-engage
US-China relations are at their worst since the Tiananmen Square protests in 1989. There is plenty of blame to go around. In China, the
centralisation of power
under President Xi Jinping and the
controversies
over human rights in Xinjiang and democracy in Hong Kong have contributed to increasingly
negative perceptions of China
around the world.
In the United States, even before President Donald Trump took office, the consensus in Washington was moving towards scepticism of Chinese power in the world. But the Trump administration took needlessly confrontational positions that have set back American interests.
A reversal of these policies on January 20 would immediately benefit Americans and improve the tone of the bilateral relationship. There are many areas – in education, diplomacy, trade, technology and public health – in which small, positive steps can make a difference. If the new administration takes constructive action, the Chinese government might well reciprocate.
First, all US executive orders in the
lame duck period
should be repealed. The departing Trump administration enacted them with a view to constraining the new administration's options on China. Joe Biden's administration should immediately begin consulting Congress to determine which of these, if any, should be reissued or proposed as legislation.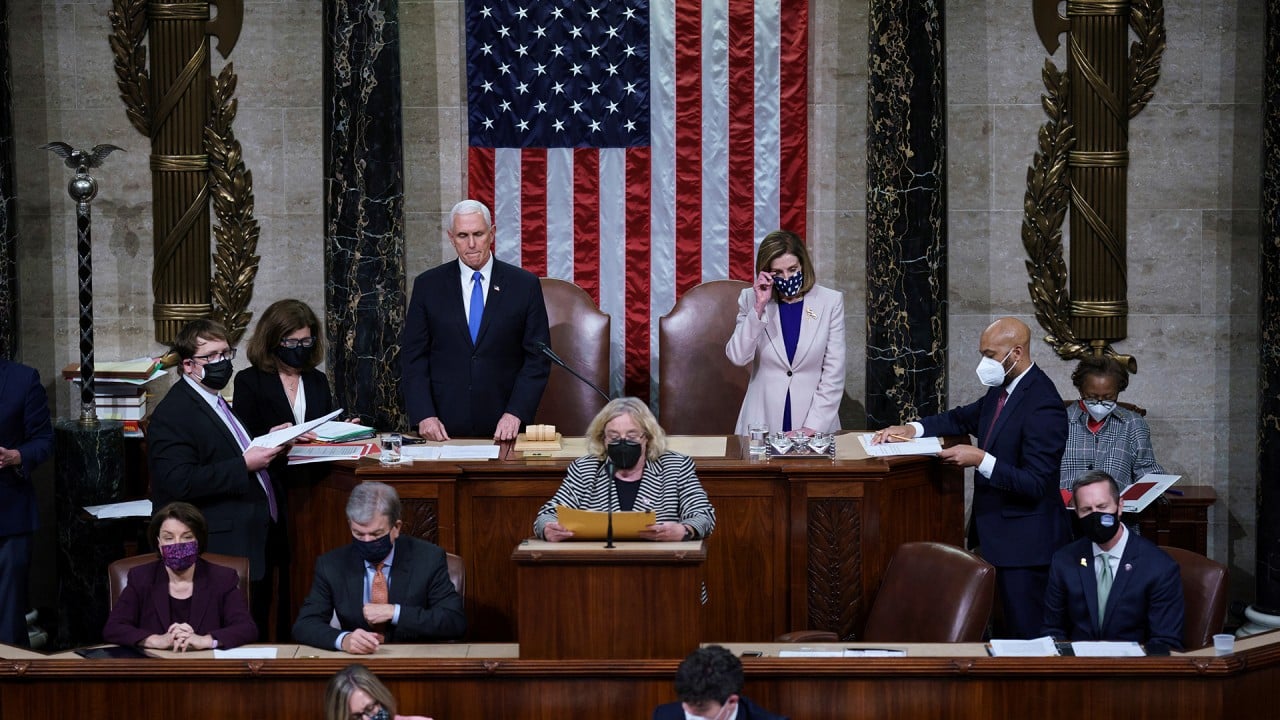 06:35
US Congress certifies results of presidential election after Trump supporters storm the Capitol
US Congress certifies results of presidential election after Trump supporters storm the Capitol
Second, education. The Trump administration tightened
F-1 student visas
and
H1B visas
for skilled workers under the xenophobic pretext of keeping out Chinese spies.
The changes hurt American universities and businesses, and damaged our reputation internationally. The new Biden administration should rescind these nationalistic regulations, while stating that Chinese students (who are vetted like all other foreign students) are welcome to study in the US.
Similarly, it should restart the Fulbright Programme in mainland China and Hong Kong, which was
cancelled
in the wake of Beijing's crackdown on democracy in Hong Kong. The
crackdown
is deplorable but cancelling educational exchanges will not help.
Third, diplomacy. Trump accused the
Chinese consulate in Houston
of harbouring spies and
closed it
; China retaliated by closing the
American consulate in Chengdu
. The tit-for-tat only hurt ordinary Americans and Chinese seeking to travel. Biden should announce a reopening of China's Houston consulate, conditional on the reopening of the US consulate in Chengdu at the same time.
Fourth, trade. Trump's tariffs on Chinese goods have
punished
American consumers (disproportionately lower-income Americans), farmers and other American exporters. President-elect Biden should announce a reversal of tariffs to 2017 levels – contingent on China also ending its tit-for-tat tariffs.
This action would immediately put money in the pockets of Americans during these difficult times, while more profound trade disagreements will remain the subject of negotiations.
On day one of his presidency, Biden should announce that, outside the national security sector, Chinese investments in American industry are welcome once again, accompanied by rigorous reviews by the Committee on Foreign Investment in the United States and other safeguards to ensure that such investment does not harm national security.
Fifth, public health, diplomacy and the climate. Trump had a point in
criticising
Beijing's lack of transparency early in the Covid-19 crisis, but his relentless demonisation of China has not helped.
As the US
rejoins
the World Health Organisation under Biden, it should begin the process of sending American health care professionals back to US embassy and consulates in China, where they can keep an eye on the public health situation in the world's largest country. The US should begin discussions with the Chinese government to prevent other pandemics.
The State Department has suffered a loss of morale and staff; new and returning diplomats will be needed to rebuild the foreign service. As the new global climate envoy,
John Kerry
should make it a priority to resume US-China cooperation on reducing carbon emissions that began during the Obama administration.
03:05
China vows carbon neutrality by 2060 during one-day UN biodiversity summit
China vows carbon neutrality by 2060 during one-day UN biodiversity summit
Sixth, technology and media. The Trump administration has cost America thousands of jobs by
effectively banning
American companies from doing business with Huawei Technologies. A settlement with Huawei could bring billions of dollars into the US Treasury.
Taking into account national security, such a settlement could clarify what could be sold to Huawei and enter into discussions with Huawei to determine under what circumstances, if any, Huawei could license its 5G technology to an American company. America needs the productivity from 5G technology and we need it fast.
We must protect the data and privacy of Americans, but the Trump administration's ham-fisted attempt to
suspend WeChat and TikTok
from operating in the US punished American users while failing to accomplish its purpose and running afoul of US laws.
The Biden administration should set up a commission to establish how Americans' data should be protected from both American and foreign tech companies.
While subject to the control of the State Council Information Office and the information department of China's Communist Party, Chinese media representatives in the US do their best to educate Chinese about America.
Limiting their access
to the US hurts China's understanding of America. Lifting those restrictions will result in
American journalists
being invited to return to China.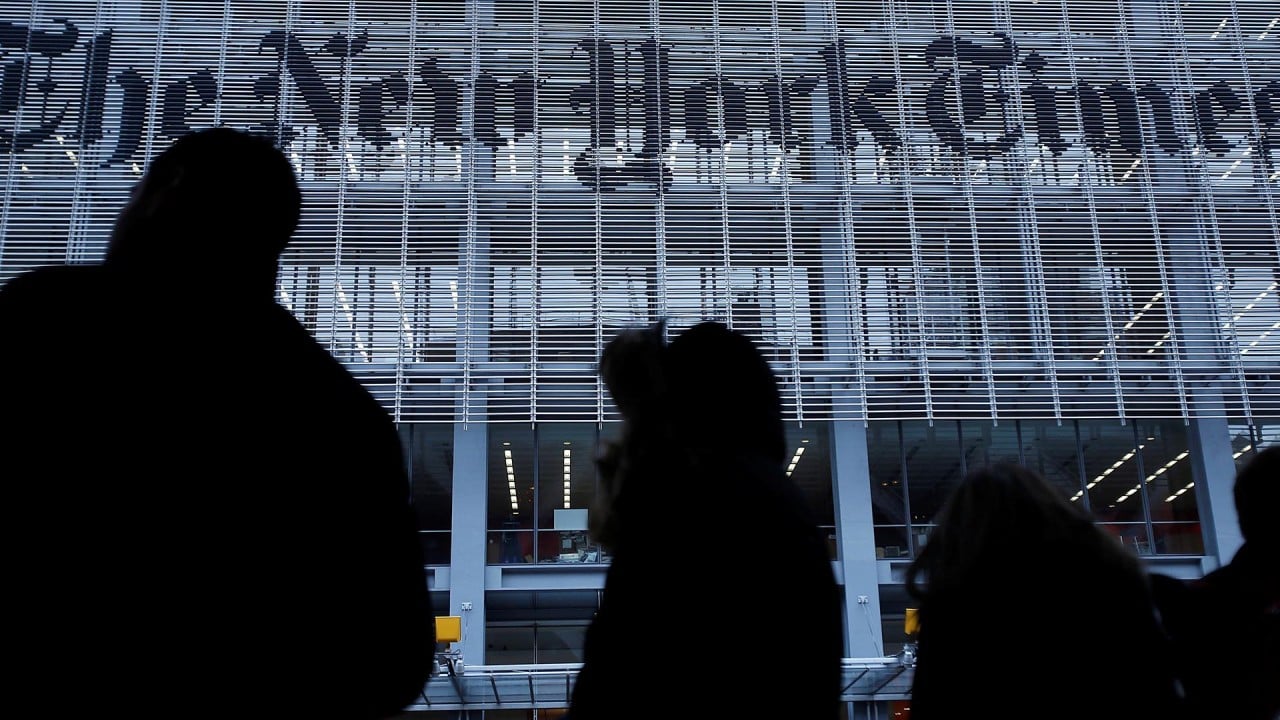 02:24
China expels American journalists from The New York Times, Wall Street Journal and Washington Post
China expels American journalists from The New York Times, Wall Street Journal and Washington Post
None of these proposals deal with the fundamental causes of US-China friction: the world's two largest economies are deeply intertwined, yet rising nationalism and different political systems have led to a serious deterioration in relations.
Such contentious issues as Xinjiang, Hong Kong,
Tibet
,
Taiwan
and the
South China Sea
will not be resolved soon.
Moreover, unfair economic policies and intellectual property theft are real problems that the Chinese will need to address to meet Americans' concerns.
The steps above would help turn the page on a dark period in US-China relations, setting a better tone and allowing both governments the space and time to re-engage and, potentially, improve the world's most important bilateral relationship.
Stephen A. Orlins is president of the National Committee on US-China Relations. The views expressed in this article are his own and do not represent the views of the National Committee