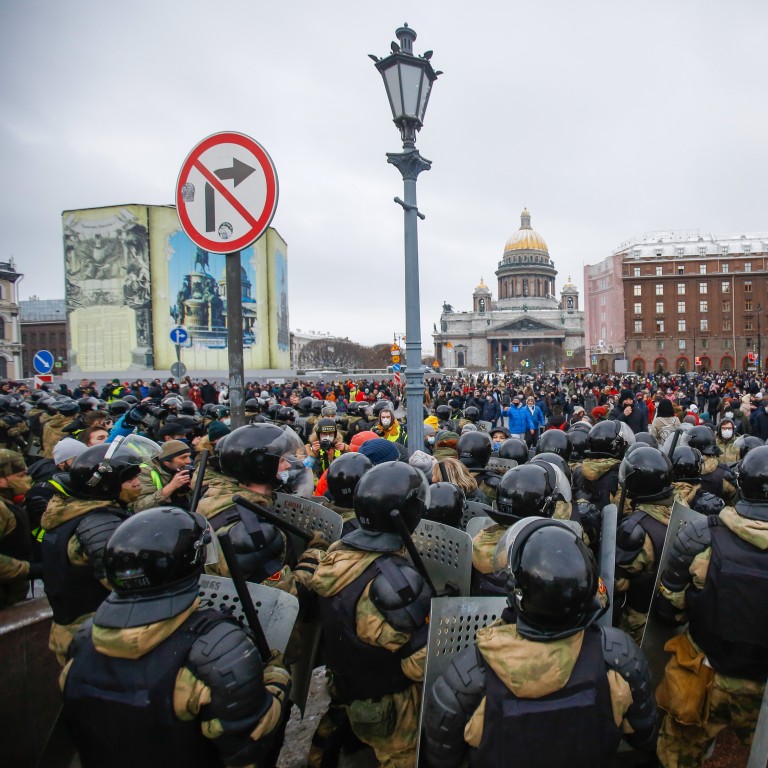 How Western reaction to Navalny arrest and protests fuels Russian fear of 'colour revolution'
The show of popular discontent indicates shared opposition to the state, with calls to liberate Russia and end corruption and violence by security forces
Moscow and Beijing's shared global vision will intensify their opposition to 'colour revolutions' and foreign interference, while reinforcing their friendship
Russia is facing a second week of nationwide protests against the detention of opposition activist Alexei Navalny.
Rallies on January 31
beat modern Russia's previous record in terms of detentions with some 5,000 people detained and 93 journalists apprehended in 142 cities.
The focus of protests has shifted to the central region with a concentration on Moscow and St Petersburg. The police came prepared as most public transport and dining locations in major areas were shut down. The police acted more brutally, resorting to stun guns and service weapons. The EU and the US deplored the "disproportionate use of force", which Russia's foreign ministry called "gross interference".
Criminal proceedings against protesters are mounting. With police becoming tougher and in the absence of new sensational revelations, though, protests could fizzle out soon.
Western media have portrayed the gatherings as Russia's biggest show of dissent in years, with estimates as high as 40,000 protesters in Moscow. Official estimates from police were far lower, putting it short of the 20,000 turnout at a 2019 demonstration.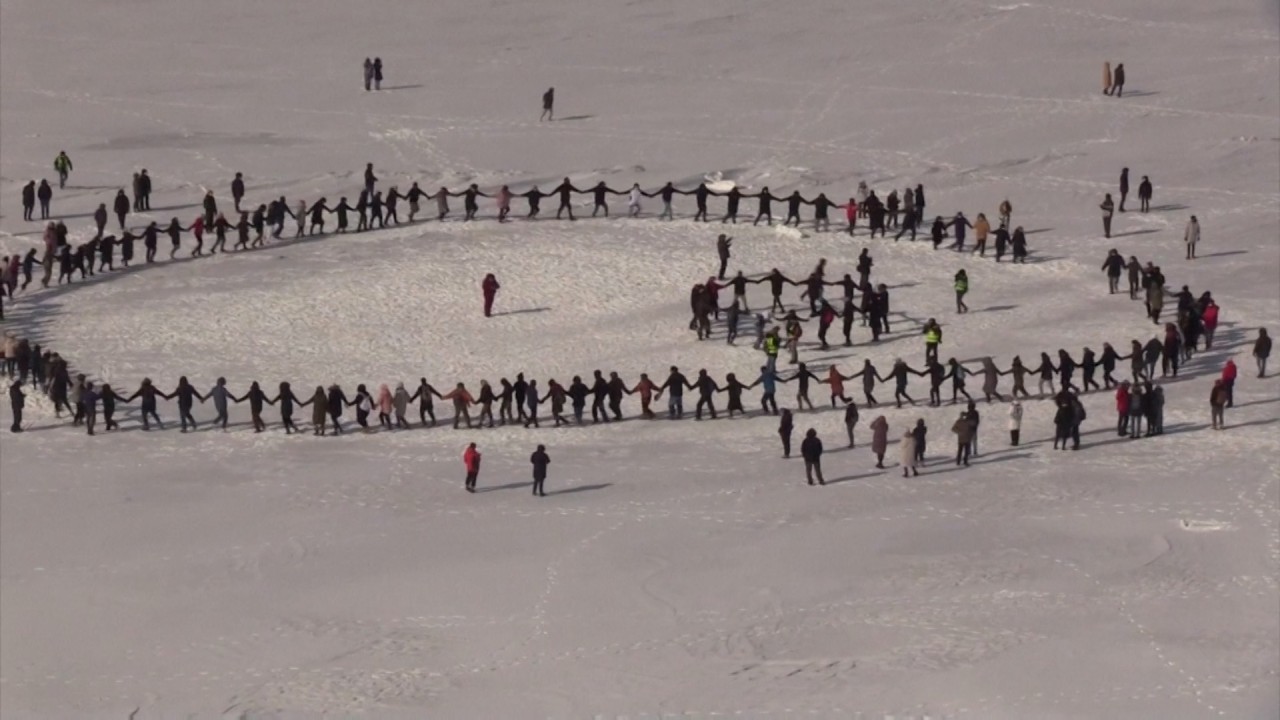 02:58
Russian police detains thousands of Navalny supporters during protests from Moscow to Vladivostok
Russian police detains thousands of Navalny supporters during protests from Moscow to Vladivostok
The reasons behind the protests were not solely Navalny's imprisonment. He is not considered an ideal leader by the opposition or wider Russian society, so his Anti-Corruption Foundation (FBK) seeking help from US President Joe Biden to
sanction Russian officials
does not tarnish his image within Russia.
Instead, this widespread expression of popular discontent signifies shared opposition to the ruling class, with calls to liberate Russia and end corruption and unfair treatment by security forces. Many people do not necessarily support Navalny but use his case as a pretext to show their displeasure with the government.
Navalny's two-hour film about a US$1.35 billion "palace" allegedly owned by Russian President Vladimir Putin has also sparked national discontent. Putin has
denied the allegation
, with Russian oligarch and close Putin ally Arkady Rotenberg claiming ownership of the mansion to deflect attention.
Despite Russian authorities waging a public-relations campaign through state media, other problems piling up in recent months have driven people into the streets. One of the biggest is significant decreases in people's disposable income amid
Covid-19 restrictions
.
The share of people living on less than 15,000 roubles (US$200) per month rose to 45 per cent in June 2020. Last month, official statistics showed the number of people below the poverty line was nearly 20 million, or 13 per cent of Russia's population.
Unemployment in Russia hit 6.3 per cent in October 2020, the highest in eight years. Overall, the number of unemployed people hit 4.3 million in 2020, a 24 per cent increase from 2019. Real disposable income fell 8.4 per cent in the second quarter of 2020 and 5 per cent in the third. No quick recovery is expected in 2021, either, with the 2021 forecast of 2 to 3 per cent GDP growth only covering for 2020's 3 per cent decline.
The Biden administration has
reprimanded Russian leadership
for Navalny's poisoning and political repression, a stark contrast from former president Donald Trump's refusal to comment on Navalny's case. The EU has imposed sanctions and is discussing further action.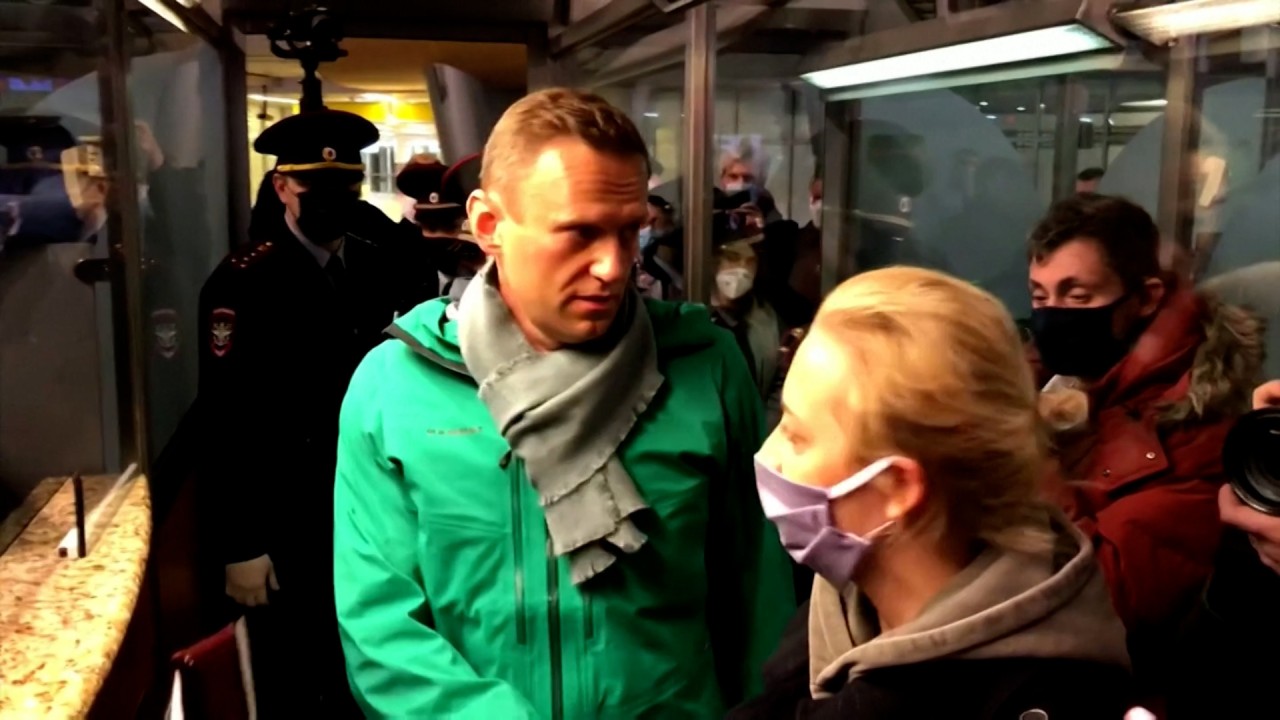 02:05
Kremlin critic Alexei Navalny arrested and detained upon return to Russia after near-fatal poisoning
Kremlin critic Alexei Navalny arrested and detained upon return to Russia after near-fatal poisoning
Russia has questioned prospects for cooperation with the EU over these moves. Meanwhile, the US State Department has issued statements condemning Russia for "harsh tactics against protesters" and suppressing "Russians' rights to peaceful assembly and freedom of expression".
With Biden placing an emphasis on
human rights
, new sanctions could be on the horizon. Washington has launched a comprehensive review of Russia's controversial activities in recent years, and this could become a group activity as the US rebuilds key alliances.
In contrast to the unified position of the West, Chinese media have largely kept a low profile. One post on Sohu was supportive of Russian authorities and blamed protesters for
police brutality
. China's CCTV accused the US of intruding on Russia's internal affairs, citing Russian government accusations that the US embassy coordinated the protests. Foreign Ministry spokesman Zhao Lijian reiterated that China "always opposes external forces interfering in the internal affairs of sovereign countries".
Chinese celebrity Huang An posted that no sooner had Biden become president than he got involved in Russia by masterminding protest movements, repeating Kremlin talking points. He drew parallels with Hong Kong protests where Western governments criticised the use of force by local authorities.
In December, Putin stressed the special nature of Sino-Russian relations and the pair's closely aligned interests on many issues. A month earlier, Russian State Duma chairman Viacheslav Volodin noted the importance of joint action with China against "colour revolutions and attempts of foreign influence".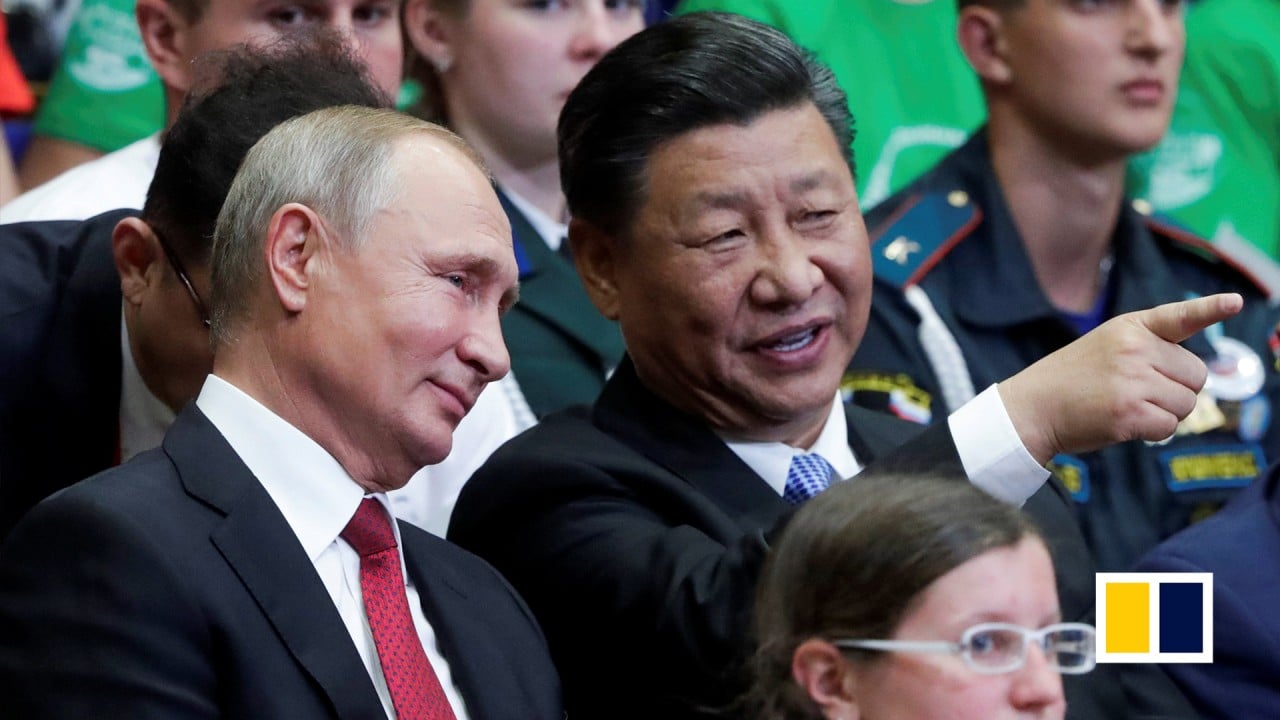 03:19
Why China and Russia are getting increasingly close
Why China and Russia are getting increasingly close
Officially, Russia and China either stay neutral or disapprove of internal political unrest. Moscow refrained from commenting on Hong Kong protests in 2014 and 2019, and China has held off from commenting on Russia's political turbulence.
During November's Shanghai Cooperation Organisation virtual summit, Russia and China both took a firm stance against foreign interference in domestic affairs, likely expecting pressure from the Biden administration on human rights. The two are unlikely to expect improved relations with the US on the matter of democratic values.
Amid the threat of a global "all against all" fight
raised by Putin
last month, Moscow and Beijing's shared global vision is likely to intensify their opposition to "colour revolutions" and foreign interference while reinforcing their friendship.
Danil Bochkov is an expert at the Russian International Affairs Council