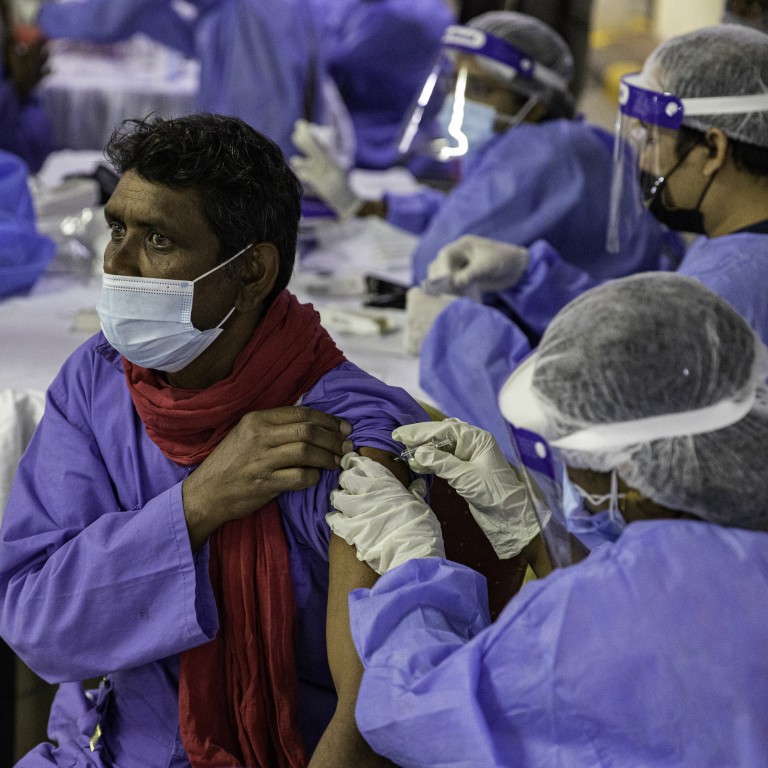 For the UAE, China's vaccine diplomacy is a stepping stone to its own geopolitical ambitions in the region
Far from being a passive recipient, the United Arab Emirates plans to make and distribute vaccines as a regional hub, extending its own vaccine diplomacy
Its vaccine push also benefits its economic plans and tourism
The United Arab Emirates is the third-most-vaccinated country in the world, having administered more than 6 million doses of Covid-19 vaccines, according to the Bloomberg vaccine tracker. China has played a prominent role in this since Abu Dhabi began phase three clinical trials for the Sinopharm vaccine back
in June
.
Last month, the UAE announced a partnership with Sinopharm to manufacture its vaccines locally. For the UAE, "vaccine diplomacy" with China is just one step in a broader project that transcends the
quiet rivalry
between Abu Dhabi and Dubai: it is about building the UAE's manufacturing capacity while boosting Emirati geopolitical influence.
Since 2016, the UAE's efforts to diversify its economy beyond the oil trade have focused on local manufacturing, which would address unemployment among the well-educated, younger portion of its population as well. Manufacturing is also an opportunity to facilitate technology transfers from China that will align with each emirate's industrial strategies and economic vision.
Most of these vaccines will be distributed through the rival vaccine logistic alliances that have emerged respectively in Abu Dhabi and Dubai. Some developing countries that are long-standing partners of the UAE, such as Indonesia and Jordan, have already bought Sinopharm vaccines distributed through the Emirates.
Given the UAE's vaccination push and its supply capabilities, Dubai is also hoping to keep its  Expo 2020 on the books for 2021. Now expected to open in October, the expo is expected to draw business deals and 25 million visitors.
So far, the UAE plans to either donate the Sinopharm vaccine, export it for profit, or sell it to tourists. In early February, the Britain-based "travel and lifestyle" members club Knightsbridge Circle made the news for claiming that its members – paying £25,000 (US$34,800) a year – could book a jab for the Sinopharm vaccine in the UAE.
It would appear that Dubai's "vaccine tourism" is yet another lucrative way in which the UAE can capitalise on the pandemic while keeping higher-efficacy jabs for its own use.
It is too early for such deals to generate financial returns for the UAE but its donation choices will have political ramifications across the region.
For China, its engagement in the Gulf is so decentralised and nation-specific that any discussions of vaccine diplomacy must consider each nation's historical and trade relationship with Beijing. In the Middle East, the UAE boasts the most diversified trade portfolio and the least dependence on trade with China.
Still, the feasibility of the UAE's manufacturing endeavours with Sinopharm remain to be seen. The Sinopharm vaccine takes longer to produce than others such as the Pfizer vaccine, and this could lead to lags in the UAE's global vaccine distribution plans.
But China's vaccine diplomacy in the UAE should not be seen as a one-way street; it is symbiotic with the Emirates' long-term strategy to develop manufacturing and bolster political capital. Significantly, the leaders of the Gulf Cooperation Council looked to China, Russia and India for vaccines when there was limited availability from the US, British and European manufacturers.
In the face of vaccine nationalism in the West, the UAE is embarking on a unique vaccine distribution model that could improve vaccine access across the developing world.
Sophie Zinser is a researcher and Schwarzman Academy Fellow at Chatham House in the Middle East-North Africa Programme (MENAP) and the Asia Pacific Programme