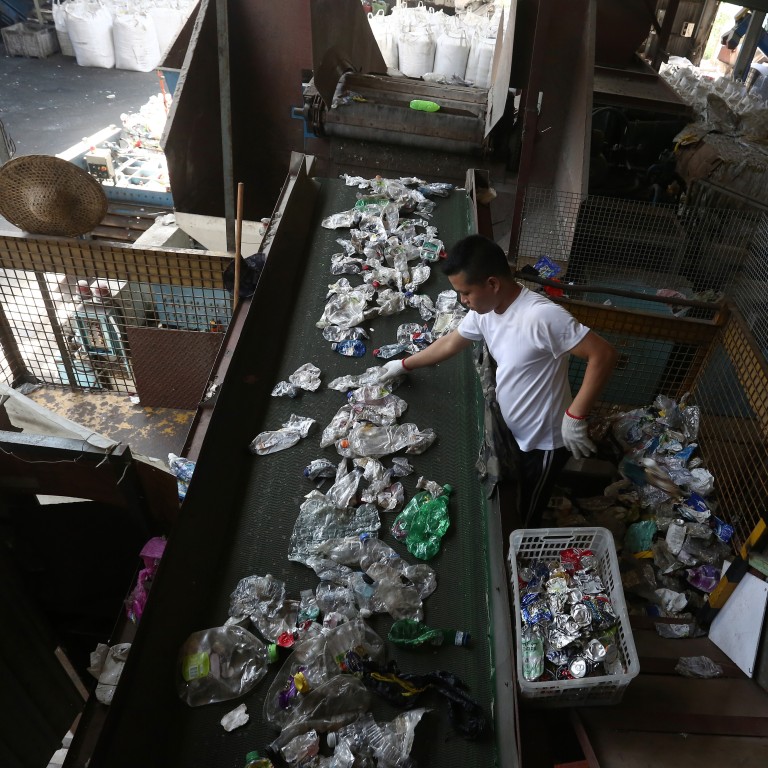 Opinion
Von Hernandez and Marcy Trent Long
Von Hernandez and Marcy Trent Long
False promise of disposable plastic recycling obscures firms' role in global waste crisis
The evidence shows most of the plastic waste exported by rich nations to Asian countries is not recyclable and ends up polluting the environment
Recycling alone will not solve the plastic pollution crisis as the real solution lies further upstream in reducing the amount of plastics being produced
March 18 is Global Recycling Day. Can we really celebrate it here in Asia, or is it time to reckon with the myth that disposable plastic can be recycled?
Before the advent of plastic packaging, neighbourhood variety stores throughout Asia provided goods in small portions for customers who brought in their own reusable containers. Now, those traditional stores are filled with products in plastic packaging, including multilayer packaging, small sachets and single-use pouches that are not recyclable.
In urban centres, these traditional stores have been replaced by convenience stores that promote quick and easy takeaway goodies with a handy rubbish bin at the front door for the waste. 
Most urban centres in Asia can ill-afford waste management and recycling systems that tackle
single-use packaging
. The situation is worse for the region's island nations and rural communities that lack even proper waste collection.
For much of Asia, they have landed in open dumpsites, polluting incinerators, and contaminated rivers and oceans. This track record of plastic recycling failure does not inspire confidence in the promises many companies continue to make to improve recycling.
Despite the collapse of the recycling sector in many parts of the world, in part because of plastics overproduction, the plastics industry is still intent on expanding production in the coming years. Meanwhile, it is still promoting the mantra of recycling as the solution to plastic pollution.
Estimates suggest the cumulative plastic production in 2050 will be 34 billion tonnes, four times that of 2017. Virgin plastic production is not going away any time soon. 
It is lightweight with low transport costs, easily modified for consumer marketing purposes and incredibly cheap. Still, most recycling operations in the region are actually just "downcycling".
The recycled plastic is converted into another product whose quality is inferior to the original material. Little actual recycling takes place because of the challenges of food contamination in waste collection systems and varying packaging standards used by manufacturers.
For the past three years, the global movement Break Free from Plastic has completed a brand audit of the top global plastic polluters. Seven of the audit's top polluters – The Coca-Cola Company, PepsiCo, Nestlé, Unilever, Mondelez International, Mars, Inc and Colgate-Palmolive – have joined the Ellen MacArthur Foundation's New Plastics Economy Global Commitment. They have established the goal that their plastic packaging will contain 50 per cent recycled content by 2030.
It is clear that recycling alone will not be enough to solve the plastic pollution crisis. The real solution lies further upstream in reducing the amount of plastics being produced. This would be good for climate change as the feedstock for plastic is fossil fuels.
It might also compel consumer goods companies to reduce their plastic footprint and invest in alternative reuse or refill systems to deliver their products to the consumer.
According to a recent McKinsey report on sustainability in packaging in Asia, more than 65 per cent of consumers in Indonesia, India and China surveyed said they were willing to pay for more for sustainable packaging. In India, respondents indicated they perceived paper and glass packaging as more sustainable.
Isn't it time global brands consider that maybe the sustainable packaging consumers really want is refillable and reusable containers? Then we might have more to celebrate on the next Global Recycling Day.
Von Hernandez is global coordinator at Break Free from Plastic. Marcy Trent Long is a host and producer at Sustainable Asia Podcasts