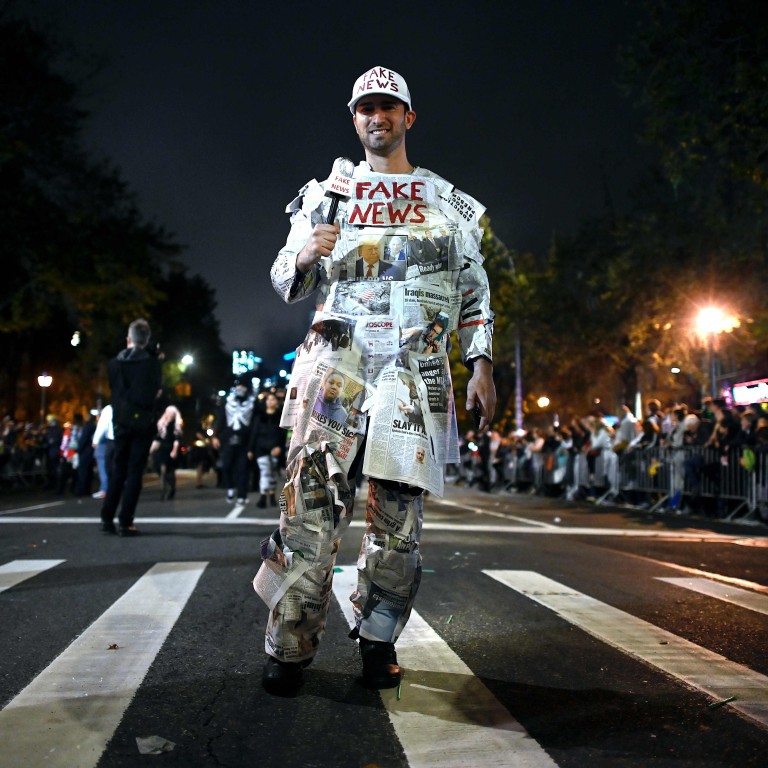 With blockchain, Joe Biden can rebuild trust across America
Blockchain allows information to be verified, making it a powerful counter to conspiracy theories, voter fraud and deepfakes, enabling trust to be repaired
After the turmoil of the final weeks of Donald Trump's presidency, there was a sigh of relief across the world as Joe Biden finally entered the White House. But despite a
flurry of executive orders
from the new president, we have yet to get a clear reading on how he intends to repair the divisions in society and bring about lasting change.
Not all the blame can be placed at Trump's door. Across the world, governments and societies are grappling with "
alternative facts
" and their impact on democracy and trust. Social media platforms and their algorithms have created echo chambers, fanned the fires of conspiracy theories and helped to coordinate nefarious activity.
But technology's output is dictated by the intent of the people using it. Instead of making a scapegoat of these people, perhaps it is time we harnessed them as a force for good. With its digital traceability, transparency and immutability,
blockchain
is one such technology that could restore trust in our systems, government and each other.
In essence, a blockchain is a decentralised, digital ledger that holds records in a secure and transparent way. Each record exists on all computers across the system and is designed so the ledger cannot be retroactively altered. While blockchain is most associated with cryptocurrencies, its applications go far beyond that.
So far, blockchain has proved popular with pioneers in
finance
, digital identity and
supply chain
management. However, its potential to counter misinformation in the US has not yet been tapped. This could change.
As the Biden administration sets out one of the most ambitious and transformative agendas in recent US history, the president is bringing in lauded experts to advise on how emerging technologies can be used as a force for good.
Gary Gensler
, the Securities and Exchange Commission chief, has called blockchain and its associated technologies a "change catalyst", signalling its potential in the eyes of the new administration – but how should they use it?
Addressing alternative facts would be a good place to start. An Ipsos poll released in January revealed that 18 per cent of Americans believe that a group of
Satan-worshipping elites
who run a child sex ring are trying to control US politics and media. A 2018 Massachusetts Institute of Technology study found that fake news travels faster than truth across the web.
Social media platforms may add warnings to disputed posts, but they have shied away from becoming the arbiters of truth. Meanwhile,
deepfakes
make it hard to trust the authenticity of anything we see or hear.
The traceable nature of blockchain makes it possible to verify the authenticity of information and the sources that information is based on, effectively rebuilding trust in the media and the wider internet. Blockchain could help to enforce accountability in news outlets as readers would be able to verify content and sources.
The New York Times
' News Provenance Project is already developing a workable solution, storing contextual metadata about photos and videos. Content can therefore be produced, distributed and consumed in an immutable way, curtailing the damaging and
polarising effect
of fake news on society.
Beyond that, there is also the matter of the electoral process. Recently, the House of Representatives passed the "For the People Act". If enacted, the package of voting rights and campaign finance reform would restructure American politics.
However, with one-third of Americans falsely believing that
voter fraud
helped Biden win the election, new systems will face an uphill battle. Here, blockchain could offer a non-partisan, transparent framework that could be monitored at the federal and state level, as well as by individuals.
These kinds of integrations are already happening elsewhere. Switzerland, a country with some of the highest levels of political participation in the world, is using blockchain to advance its e-voting systems. With blockchain, votes were anonymised and tallied in a tamper-proof way while accommodating secure auditing.
Health care is another crucial area where blockchain has the potential to create groundbreaking efficiencies, especially in the fight against Covid-19. It has been proposed that all vaccinations should be tracked via blockchain, from manufacturer to patient, to ensure that refrigeration requirements, patient details and dose intervals are managed effectively and transparently.
The Estonian government has shown how blockchain can be used to digitise citizens' health records, creating efficiencies across departments. Imagine how that could be scaled up in the context of a nationwide vaccination programme.
The problems facing Biden are global problems. Misinformation, tribalism and the breakdown of trust affect us all. These problems are exacerbated in the digital age, and we need equally smart digital solutions to address them.
The
potential for blockchain
is huge – the question is whether Biden will seize the opportunity to revolutionise crumbling systems in the US and build decentralised trust. The notion of truth itself is at stake.
Danny Phan is chief strategy officer at Wachsman