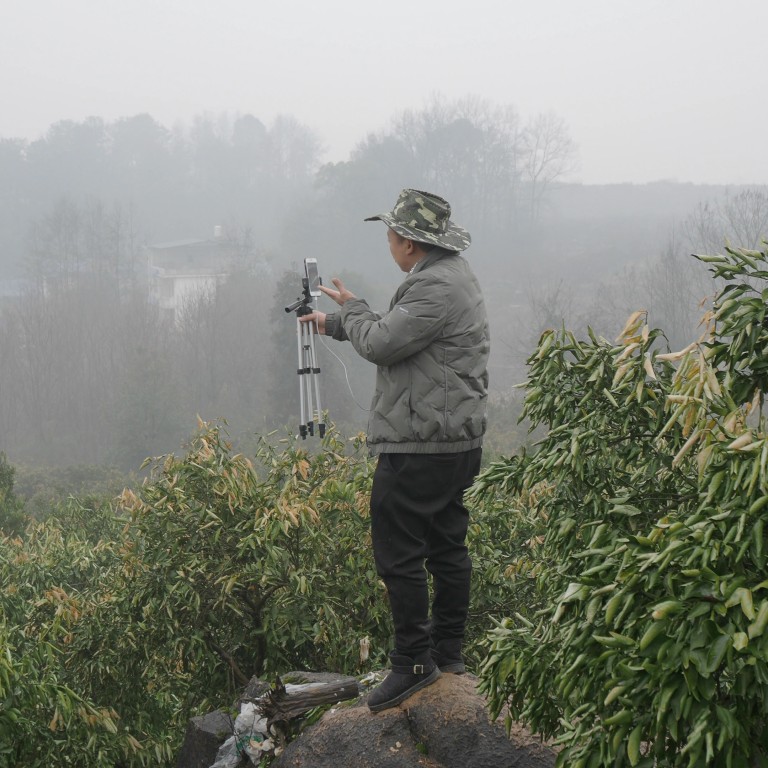 Opinion
The View
by Fiorenzo Manganiello and Nessim Sariel-Gaon
The View
by Fiorenzo Manganiello and Nessim Sariel-Gaon
How blockchain and other digital technology can help China achieve its agriculture and climate change goals
When farmers use smartphones and other technology to access actionable data, it could revolutionise profitability and sustainability
Blockchain platforms could offer farmers complete visibility of seed purchase and crop management, enabling the matching of buyers' needs across the nation
It has been over 40 years since China abandoned its large communal farms. Back when state monopolies procured farm production at fixed prices, farmers' income was capped, giving them no incentive to produce more food.
The system was a failure, and an estimated 30 million starved to death in the 1959-61
famine
. Reforms in the late 1970s, which allowed farmers to keep and sell surplus production, greatly boosted their income and provided an incentive to maximise yields.
Today, China produces about 20 per cent of the world's food – a dramatic turnaround from the struggles in the 1960s and 1970s. The world's largest agricultural economy, China produces 18 per cent of the world's cereal grains, 29 per cent of the meat and 50 per cent of the vegetables. It is the largest producer of pork, wheat, rice, tea, cotton and fish.
However, farmers' income remains low, averaging US$1,200 a year, according to economist Michele Geraci. Rural activity accounts for about half the income, with the rest coming from part-time work and remittances from urban family members.
For rural Chinese, the increased dependence on digital technology during the Covid-19 pandemic could prove to be a game-changer. When farmers use smartphones and other technology to access actionable agricultural data in real time, it could revolutionise profitability.
Farmers can use those platforms to attract larger order volumes for their produce. More transparency and greater demand help farmers to be less dependent on distributors, allowing them to sell directly to consumers.
In addition, such digital platforms can develop user profiles which would provide previously inaccessible market information for farmers. As a result, farmers can enjoy larger orders and lower distribution costs.
This was an increase of 5.9 percentage points from March, the most momentum in digital adoption in the country following the first coronavirus outbreak.
Continuing this trend for the rural population would open the door to the many benefits of greater market transparency.
However, in a McKinsey Industry Digitisation Index for China, the agricultural sector is in the lowest quartile.
Automated farming – for example, using drones to spray pesticides more efficiently – is being tested in parts of the country. Saving on labour costs, farmers can get a return on their investment. While local governments provide subsidies of varying levels to encourage such tech purchases, the use of technology doesn't necessarily improve the sustainability of farming.
The drive for efficiency in food production suggests the government is focused on feeding China, rather than exploring new ways of farming sustainably. China still uses three times more pesticide relative to land size than the United States and Europe.
From 2005 to 2015, average yields of three major crops – rice, wheat and maize – increased from 10.8 per cent to 11.5 per cent, while greenhouse gas emissions from these crops declined by an average of 18.8 per cent. Farmers need to be incentivised to cut the use of harmful pesticides to reduce emissions.
Furthermore, crops could be cultivated to absorb greenhouse gases and earn carbon credits.
To this end, certain seed suppliers have developed drought-tolerant seeds, which can not only increase crop yields but also contribute to carbon capture.
Blockchain platforms are the next big step in the digitalisation of agriculture and the development of sustainable farming. It would allow farmers to have complete visibility of seed purchase and crop management, and buyers' needs to be matched across the nation.
Smart contracts that match demand and supply, make the market more transparent and cut out middlemen will increase profitability and reduce uncertainty.
When crop cultivation reduces greenhouse gas emissions, carbon credits could be issued in the form of tokens to environmentally friendly farmers.
This would benefit both the environment and farmers. Farmers could, for example, redeem the tokens for high-yield seeds from suppliers. Token values could be tied to crop yield and farmland contributing to carbon emission reduction.
With most of the population having access to digital gadgets and the internet, the foundation for such an operation has already been laid. What is left to do is for the government to spearhead an initiative, introducing a reward system to encourage farmers to shift towards environmentally conscious cultivation.
Fiorenzo Manganiello and Nessim Sariel-Gaon are investors and experts in agritech and co-founders of LIAN G