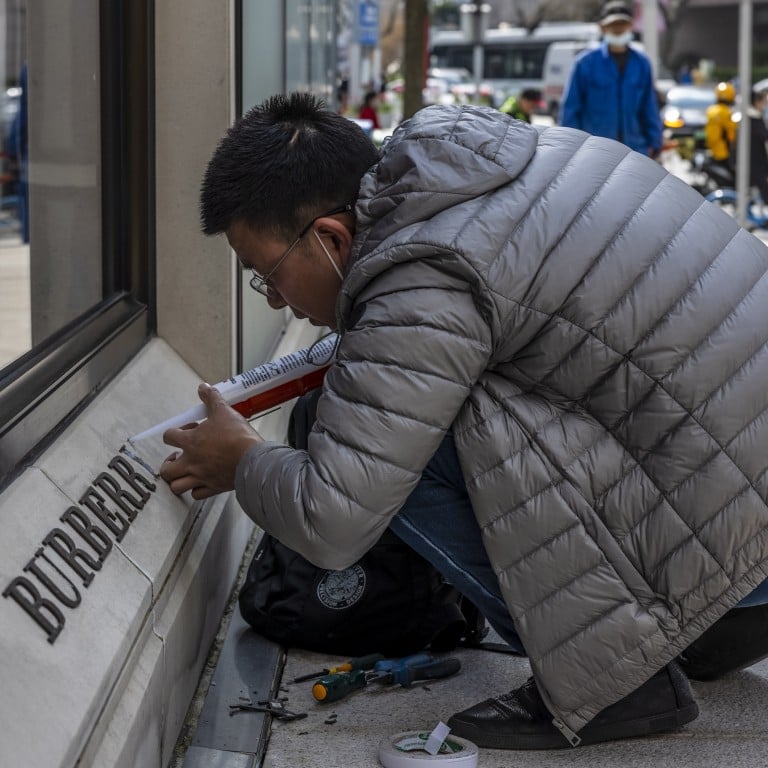 Xinjiang cotton row puts Burberry, Nike and other Western brands in a quandary – and pushes Hong Kong's patriots to walk the talk
With Chinese media and netizens attacking Western brands that have shunned Xinjiang cotton on human rights grounds, Hong Kong's Beijing loyalists are under pressure to purge their wardrobes
Western companies wanting a slice of China's market , meanwhile, face a tough choice between money and morals
Now that Beijing has decreed only patriots can rule Hong Kong by radically overhauling
our election system
, local loyalists have a perfect opportunity to prove their
patriotism
by going through everything in their wardrobes and shoe racks.
Is that a Burberry trench coat, handbag or scarf? Dispose of them post-haste. Is that Nike or Adidas? Shame on you.
Some might shed tears. Others might be heartbroken. Even so, their patriotic duty demands they dispose of and
boycott foreign brands
that mainland officials, media and internet users have named and shamed.
The less well-heeled loyalists need to know that more affordable brands – and I mean no disrespect – such as H&M, Zara and Uniqlo are also on the hit list.
As Hong Kong becomes mainlandised, there really is no need for wealthy patriots to patronise Burberry or Nike. They are spoiled for choice with mainland brands. There are plenty of knock-offs for the less well-heeled.
For patriots scratching their heads over why Burberry, Nike, H&M and other Western brands are now taboo, allow me to explain. These brands have said they will not source Xinjiang cotton they believe is produced by
forced Uygur labour
in what Beijing calls
"re-education camps"
.
Nationalistic Chinese netizens have already demanded a boycott of these brands. They need to remind their nation's athletes not to use Nike or other shamed brands at the upcoming Olympic Games.
Only you can decide if
"sinicising"
Muslim Uygurs is morally right, or if the camps human rights groups say imprison about
1 million Uygurs
are re-education centres or gulags, even though Beijing has denied sinicising or violating human rights.
But local loyalists need not soul-search over such issues. Their mainland compatriots don't. Moral soul-searching is trivial in the nobler quest to prove one's patriotism.
The question is what to do with all those Burberry, Nike, H&M and
other taboo products
. Some on the mainland have reportedly been burning them.
Burning sports shoes will create a polluting stink. I advise against that. Burning Burberry is a wealthy tai tai's worst nightmare. Throwing these items in the harbour is illegal.
How about public trash bins? You could dump them and walk away holding back tears while the
impoverished elderly
scavenge them for resale.  
There is another alternative – auction them to those who are considered unpatriotic. But most of those people are either in jail or detained
without bail
. With hefty legal bills, it is unlikely they will have spare cash.
Besides, if the government feels prisoners should not have
long hair
, it would dismiss as a joke letting them wear Burberry, even as a gift from loyalists. Patriots can donate their pricey possessions to poorer countries. Nothing brings more joy than putting smiles on the faces of the needy.
I don't know whether the mainland boycott will have legs. Wealthy mainlanders and Hongkongers love to flaunt their luxury brands. Some local and mainland celebrities have
cut promotional ties
with the shamed brands, but only local legislator Regina Ip Lau Suk-yee has forlornly vowed to boycott her beloved Burberry brand.
This is not the first time the mainland has weaponised boycotts for political reasons.
Australian wines
and Taiwanese pineapples are the latest victims.
But Beijing's attack on H&M, Nike, Burberry and other Western brands for shunning Xinjiang cotton on human rights grounds is a new ballgame. It has put the brands in a morally
awkward dilemma
.
Standing up for human rights is considered by some as just a Western value. Many Western countries, including the countries of these brands, have made it part of their foreign policy. Prioritising mainland money over the morals of their own countries would earn them scorn in Western democracies, which are also a huge market.
It is time Western companies wanting a slice of China's market search their souls. Money or morals? To make mainland money, they need to sacrifice their morals and bow to Beijing, its state-controlled media and netizens.
If they ask you to jump, you must ask how high. If it's not high enough, expect a boycott by state-controlled nationalistic netizens. The choice is clear. You must do what they order regardless of your conscience or lose your slice of the market.
Michael Chugani is a Hong Kong journalist and TV show host