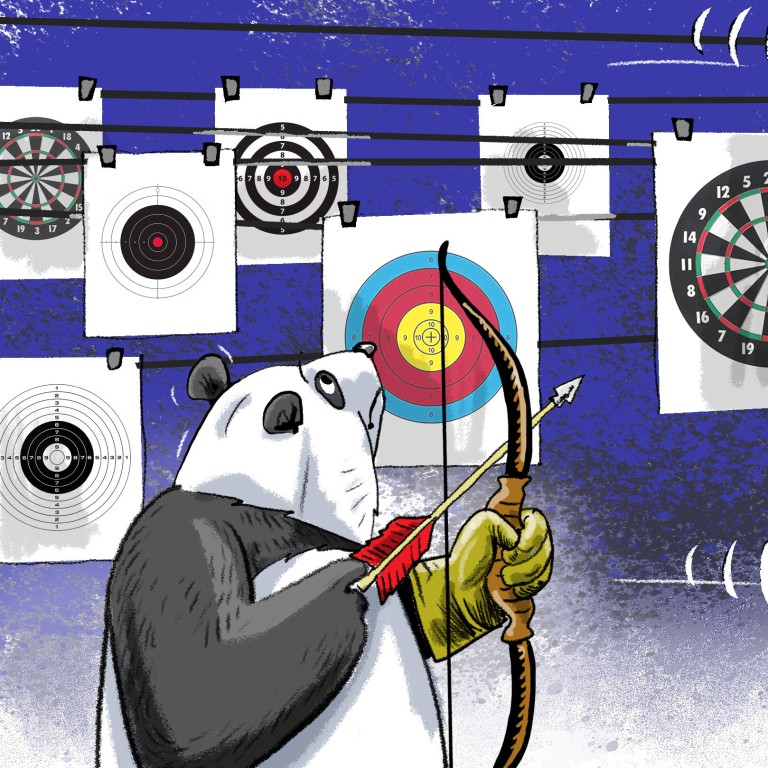 China's economic headache: setting targets for quality development
As Beijing aims for quality growth, it makes sense to dilute or even ditch GDP targets, but this is difficult in practice
Central planners also need to prune the burgeoning list of goals for local governments and grapple with the difficulty of imposing quantitative targets while emphasising quality
When a country is poor, everything is tough, but at least the goal is crystal clear: raise gross domestic product (GDP). But when a country becomes richer, it turns out that problems do not end – they only become harder to pin down, juggle and solve. This is the struggle facing the Communist Party leadership under Xi Jinping today, even as it proudly declares that it has
eliminated absolute poverty
.
At the "
two sessions
", China's annual legislative meetings, Beijing set a GDP growth target of 6 per cent for this year. However, unlike in previous years, it
did not specify
a GDP target for the next five years. This has sparked feverish debates on whether Beijing will abandon GDP targets altogether, and what new targets it will set to achieve its national ambitions.
These debates miss a much deeper problem: as Beijing aims for "
quality development
" – a long-term, overarching vision pronounced in the 14th five-year plan and
medium-term plan to 2035
– central planners are finding it increasingly difficult to set targets. This is true not only for GDP growth but also all other goals.
Since reform and opening up began in 1978, Beijing's singular focus on economic growth has turbocharged the country's rapid economic ascent. From 1978-2018, China clocked an average growth rate of 9.5 per cent, an achievement that the World Bank describes as "the fastest sustained expansion by a major economy in history".
Beijing's shift in emphasis from quantity to quality of development is a natural progression as China grows more affluent. More GDP cannot satisfy the growing aspirations of the Chinese people, nor can it boost China's competitiveness vis-à-vis the United States, an economic and technological superpower.
In the 1980s, township leaders were only assigned six targets, with economic targets taking up the lion's share of evaluation points, all packed into one page. By 2009, the list had ballooned to more than 140 granular targets. Both "speed of development" and "quality of development" were included, and so were targets on conservation, disaster prevention, education, hygiene, public order, petitions, party-building and more. Even "addressing the causes of corruption" was included as a target. As one urban district leader lamented: "We are responsible for everything."
The big question facing Xi's leadership is not just which targets to set – but rather, what should be done about the target system altogether. Quantitative targets are effective for crude goals such as GDP and industrial output, but applying these targets to innovation can backfire. It is also simplistic to assume that the leadership can change bureaucratic incentives simply by adding targets for every new national priority. Chinese bureaucrats can juggle a few targets, but not 140 of them.
The challenges of governance do not end with poverty elimination. As China grows richer and aims for higher goals, Xi's leadership has to contend with conflicting, multi-dimensional objectives that cannot be reduced to a few simple metrics.
Yuen Yuen Ang is the author of How China Escaped the Poverty Trap and China's Gilded Age. She is a professor of political science at the University of Michigan, Ann Arbor