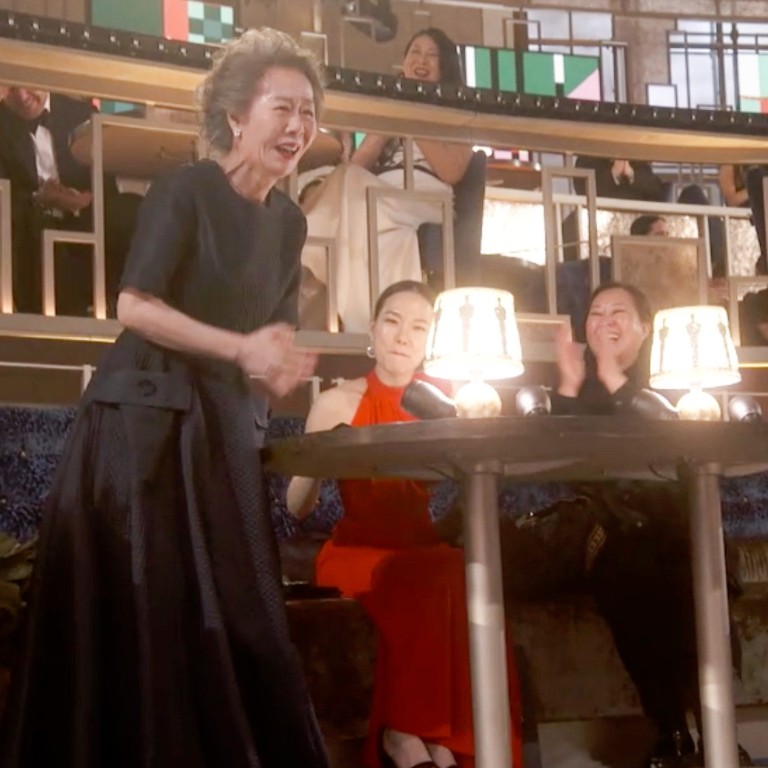 The Oscars are more diverse now, but Hollywood still has work to do in stopping Asian hate
Even as the Academy recognises Asians, we must not ignore the fact that, amid the coronavirus and a virus of hate, Asian stereotypes remain insidious
A connecting line can be drawn from the images Hollywood has created of Asians as perpetual foreigners to the all-too-real news images of attacks on Asians
The Oscars ceremony was not shown live on Monday morning in Hong Kong for the
first time in decades
. Concerns had probably been raised about what Beijing might have thought should there be a shout-out to Hong Kong protesters (there was) or an expression of solidarity with the Uygur people (there wasn't).
Many in Hong Kong who took to the streets in 2019 might also have been hoping that director Anders Hammer would win an Oscar for  Do Not Split, a short documentary about the protests. (He did not.) Better Days, Hong Kong's first Oscar submission to be nominated for Best International Film since 1993, was also in contention. (It, too, did not win.). 
This year, however, I was not just looking at who would win or lose. I was also paying attention to what had been scripted for this year's Oscar presenters after a year that saw anti-Asian violence increase in the United States, where I have been based during the pandemic.
Five years ago, comedian Chris Rock brought out three children of Asian descent at the Oscars ceremony and used them as props to
make a joke
playing off the stereotype of Asians as good at maths and China as running sweatshops.
Introducing them as "hard-working" accountants at PwC, the firm that tabulates Oscar votes, Rock went on to say, "If anybody's upset about that joke, just tweet about it on your phone that was also made by these kids."
Many, including actors Constance Wu and Jeffrey Wright, did do that, taking to Twitter to call out the comedian on the Asian joke on the very night when Rock and several presenters remarked on the lack of diversity among the Oscar nominees.
A year earlier, the Academy had given all 20 acting nominations to white actors, inspiring advocate April Reign to create the hashtag #OscarsSoWhite that would ultimately spur changes.
Three weeks after the 2016 Oscars, the Academy of Motion Picture Arts and Sciences finally apologised for Rock's joke.
This year, thankfully, there were no inappropriate Asian jokes. Filmmaker Tyler Perry, recognised by the Academy for his humanitarian work, powerfully called on viewers to "refuse hate", including hate against Asians.
When it came to diversity, there was also progress to note in both the stories told on film and the actors recognised. Nine of the 20 acting nominations this year went to people of colour. A total of 70 women also received 76 nominations – the most in Oscars history. 
And, at the end of a reimagined awards ceremony, I celebrated a
diversity of winners
that included a Best Supporting Actor win for Black British actor Daniel Kaluuya for
Judas and the Black Messiah
, and a Best Supporting Actress win for South Korean actress Youn Yuh-jung for
Minari
.
China-born Chloe Zhao won two Oscars, one as Best Director and another as part of the team that produced the film Nomadland.
Yet, even as the Academy and its members recognise Asians, we must not ignore the fact that, especially after a year shaped by the spread of both the coronavirus and a virus of hate, Asian stereotypes remain insidious and are perhaps as old as Hollywood itself. 
The harmful legacy of depictions of Asian women as dragon ladies, timid butterflies or dangerous seductresses, and Asian men as effete, inscrutable or sinister (perhaps all three at once) endures.
A reluctance of Hollywood to cast Asians, as well as anti-miscegenation laws, would ultimately limit the careers of Chinese-American star Anna May Wong and Japanese heartthrob Sessue Hayakaya, two iconic actors who found fame early in the 20th century.
Infamously, Metro-Goldwyn-Mayer was resistant to casting Wong in the leading role of O-Lan, the Chinese heroine of the film version of Pearl S. Buck's The Good Earth.
Instead, white actress Luise Rainer played the role in yellowface, and the Academy would go on, in 1938, to give her an Oscar for Best Actress for the role.
Old-boy networks and outdated views on what viewers want have too often, and for too long, led to closed doors and "bamboo ceilings" preventing recognition for Asian talent both in front of and behind the camera.
This includes underrepresentation among Hollywood's decision-makers.
UCLA's 2020 Hollywood Diversity Report
 found 91 per cent of executives at major and mid-level studios were white, while the USC Annenberg Inclusion Initiative found just 3.3 per cent of directors of the 1,300 most popular films released from 2007 to 2019 were of Asian descent.
A connecting line can be drawn from the images Hollywood has created of Asians as perpetual foreigners to the all-too-real news images of deadly attacks on Asians: a
Thai grandfather
in San Francisco,
Korean and Chinese women
in the Atlanta area.
The social media hashtags already exist – #StopAsianHate, #StopAAPIHate, #StandWithAsians – and have helped build awareness of the physical and verbal abuse Asians and Pacific Islanders in the US have long faced.
We now need for all in the film industry to pause for some introspection and then become part of the solution: increasing Asian representation and including Asian people in conversations and actions about diversity. 
From advocacy to fundraising and building resilient communities in the midst of hate, there is much that Hollywood can do. It's time the stories of a diverse and complex community were told. And that is no joke.
Curtis S. Chin, a former US ambassador to the Asian Development Bank, is managing director of advisory firm RiverPeak Group, LLC. Twitter: @CurtisSChin