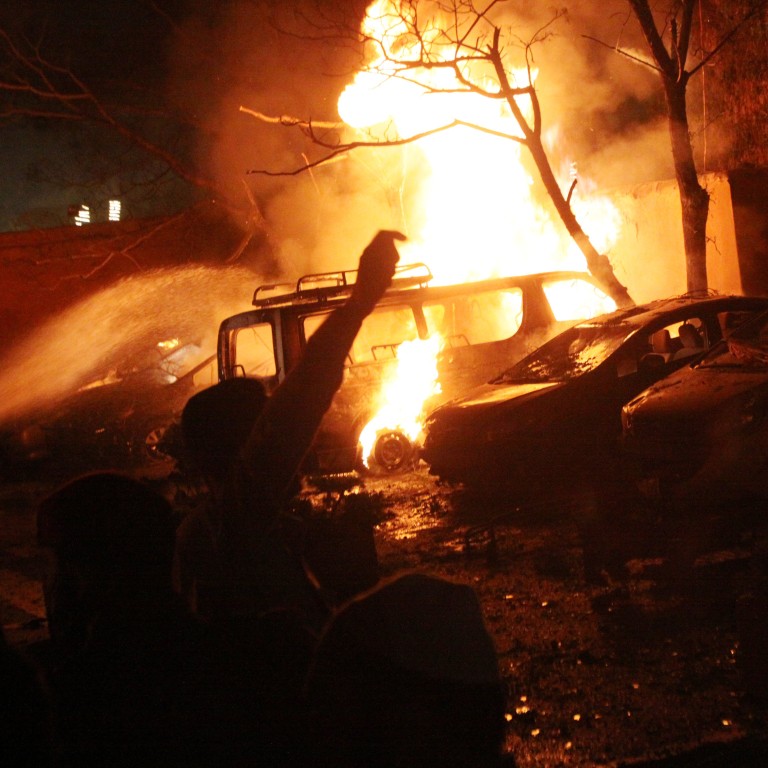 Afghan retreat: why Pakistan must not agree to a US military base in Balochistan
A US base will be deeply unpopular in Pakistan and stress ties with its neighbours. Critically, it will produce a new generation of militants in Pakistan
As the US withdraws from Afghanistan, its demand for a 
military base in Pakistan
to gather intelligence on groups such as al-Qaeda and Islamic State, and to execute radar surveillance counterterrorism operations on Afghanistan, has left Pakistan in a bind.
Though desperate to maintain its relevance to the US post-Afghanistan, Pakistan cannot afford to alienate China, its partner in the US$62 billion 
China-Pakistan Economic Corridor
. Also, Pakistan cannot afford to antagonise the Afghan Taliban.
After the media leaked news of secret military base negotiations, Washington said the talks are deadlocked, while Islamabad portrayed the impasse as a "no".
Yet Pakistan has a history of covertly giving military bases to the US. It denied giving the Peshawar Badaber airbase to the US in the 1960s until Russia shot down a US surveillance plane that took off from it.
It also denied giving the US the Shamsi airbase until the 2011 Nato attack in a US-led clash killed 24 Pakistani soldiers, and an unhappy Pakistan expelled US forces from Shamsi. Given this history, few are taking Pakistan's denial seriously.
Giving the US a military base in the southwestern Balochistan province will have far-reaching political, diplomatic and security implications for Pakistan.
But refusing may mean further diplomatic isolation from the US, more pressure through multilateral institutions such as the International Monetary Fund and the Financial Action Task Force, and a shifting of the blame of US policy failures in Afghanistan on Pakistan as the principal backer of the Afghan Taliban.
Pakistan will also face a severe backlash from its public, who are highly antagonistic towards the American war in Afghanistan, and pressure from Iran, China and Russia, who all see US presence as the major cause of the forever war and a direct threat to their regional interests and national securities. 
China, in particular, will be highly uncomfortable with a US base in Balochistan, where most of the China-Pakistan Economic Corridor projects are. The Shamsi airbase is just 400km (250 miles) from 
Gwadar port
.
While the US presence and its counterterrorism efforts could secure China's investments in Balochistan, Beijing is still likely to be perturbed, given US hostility towards the 
Belt and Road Initiative
.
For Pakistan, giving the US a base would set back its efforts to broaden bilateral ties away from Afghan-centric and security-driven transactions – and pose serious security implications.
The Afghan Taliban has warned nearby countries against hosting a US military base, threatening "misfortunes and difficulties" for "those who commit such mistakes".
Though Pakistan still provides sanctuary to the Taliban's Quetta Shura and has substantial control over the insurgent group, this influence has weakened over the last few years. The Taliban's territorial gains and diversified diplomatic ties have lessened its dependence on Pakistan.
The Afghan Taliban can easily expand its violent campaign into Pakistan through Tehreek-e-Taliban Pakistan, better known as the Pakistani Taliban.
Reunified last August, the Pakistani Taliban recently carried out a high-profile suicide attack on a luxury hotel in Quetta, Balochistan's capital.
After September 11, Pakistan's decision to join the US-led war on terror attracted jihadist violence, including suicide attacks on president Pervez Musharraf.
Drone attacks from the Shamsi airbase and strikes in the former Federally Administered Tribal Area (FATA) bordering Afghanistan only fuelled suicide terrorism in Pakistan.
Many suicide bombers were victims of drone attacks avenging family killings. Giving the US a base now will produce a new generation of militants in Pakistan – the Pakistani Taliban was a direct fallout of Pakistan's decision to join the US war in Afghanistan and allow US troops in FATA. 
Finally, the decision will be a lifeline for the depleted and organisationally weakened al-Qaeda. It will use the pretext of American military presence to legitimise its militant violence in Pakistan and attract fresh recruits. It will revitalise jihadist violence directed from Afghanistan towards Pakistan.
Continued US military footprint, even limited to radar surveillance from a military base, is a recipe for perpetual conflict.
Instead of giving the US a military base, Pakistan should work with the US and other countries to force the Taliban to cut ties with al-Qaeda and roll back its footprint in Afghanistan.
Abdul Basit is a research fellow at the S. Rajaratnam School of International Studies, Singapore. Twitter: @basitresearcher