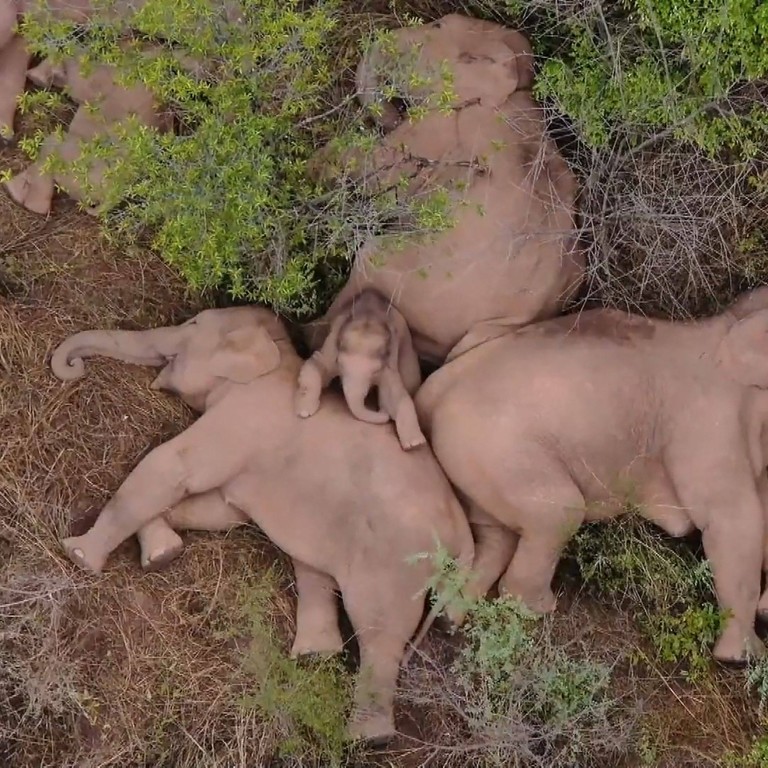 Opinion
Editorial
by SCMP Editorial
Editorial
by SCMP Editorial
Vagabond elephants put spotlight on underlying issues
The wandering herd has provided a much-needed distraction from Covid-19 restrictions, but the animals have also highlighted the squeeze being put on habitats by human activity such as the rubber industry
Elephants, like people, value their families. There is understandable curiosity about the herd of the giant animals wandering the roads of southern China's Yunnan province, hundreds of kilometres from their nature reserve home.
The normal behaviour of lying on the ground to rest, adults encircling their young for protection when sleeping, walking in a line tail-to-trunk and entering farms to search for food are fascinating to onlookers.
In the midst of Covid-19 restrictions, the seemingly aimless trek is much-needed relief, but there are important issues that have been highlighted; the squeezing of habitats by humans, what happens when conservation efforts are too successful and that ultimately, food and a safe place in which to live trump all else.
Migration is typical behaviour for elephants, but the 15-strong herd believed to have left its forest home in Xishuangbanna prefecture in the province's southwest in April has ventured north far beyond the usual range.
Where it is headed is a mystery and for many on social media, a matter of speculation. Efforts to turn the animals back have so far failed. Their scrawny appearance and search for food says much; they are hungry.
The encroachment of human activity on habitats, usually to grow rubber, means less of the 130 or so kilograms of roots, grass, bark and fruit that a grown adult requires each day.
Protection efforts in the region have been remarkably successful, with the endangered elephant population believed to have almost doubled to at least 300 in recent decades. Conservation of rainforests has led to taller, broad-leafed, trees and fewer shrubs and grass, reducing food sources.
All creatures need nourishment to survive, so leaving reserves and habitats for nearby corn and sugar farms and villages is inevitable. So, too, are the resulting close encounters with people that can lead to deaths of both and property and crop damage.
Balancing human activity and protection of animals has always been challenging. Control zones to limit elephant movement, regenerate vegetation in forests and capping development of the rubber industry are ideas with supporters and detractors. The vagabond herd is a distraction from the coronavirus, but has also brought to the fore underlying issues.