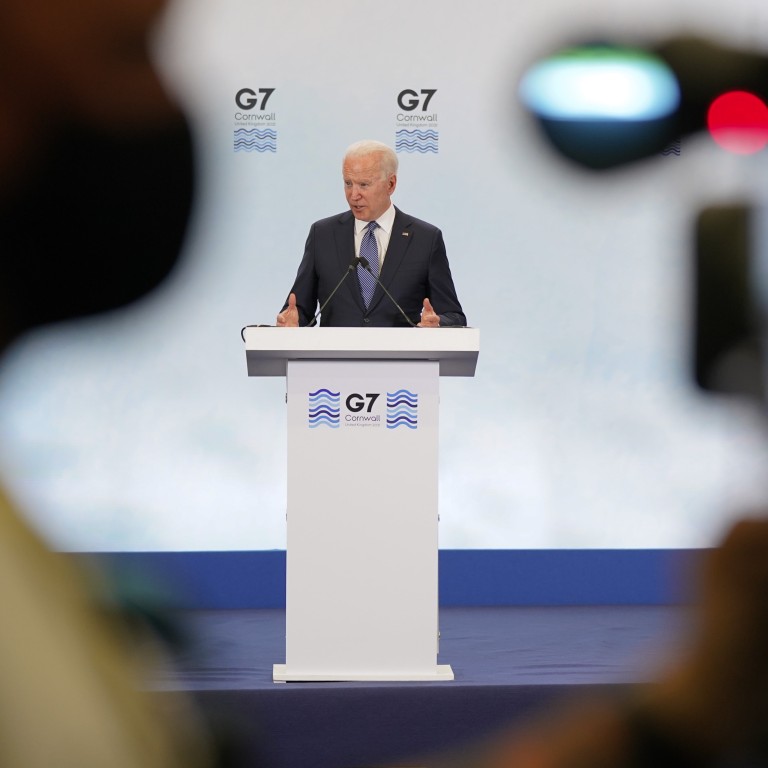 Opinion
Editorial
by SCMP Editorial
Editorial
by SCMP Editorial
Biden should follow G7 pragmatism in approach to China
Despite Beijing being the subject of a strongly worded final communique, not all group members shared the views of the US president as highlighted by disagreement over funding for an alternative to the Belt and Road Initiative
The Group of Seven, comprising the world's most developed economies, has the financial and technological clout to take on the greatest global challenges of our times. Most immediate is the Covid-19 pandemic, and close behind is climate change. But its recent summit, the first in-person gathering of leaders since the coronavirus crisis began, seemingly had China above all else on its mind, worries about the nation's rise stalking many discussions.
US President
Joe Biden
's presence and his desire to push his country's agenda of rivalry with Beijing had much to do with that, but differing opinions among members showed that pragmatism is more important to some than sowing geopolitical discord.
Biden used the summit to announce the return of his country to multilateralism after the four years of his predecessor, Donald Trump, who had adopted an insular foreign policy. There was obvious relief among the leaders of the fellow member nations, host Britain, Canada, France, Germany, Italy and Japan. The last time they met in person, in 2018, Trump withdrew support from the group's final communique.
But there was another noticeable difference; while China was not mentioned in the statement that year, this time it featured prominently, being referred to four times in 25 pages and often alluded to. The G7 urged
Beijing to "respect human rights and fundamental freedoms"
in Hong Kong and
Xinjiang
, sought a fresh investigation into the origins of the coronavirus and announced a rival project to the Belt and Road Initiative. China was not directly referenced in a strongly worded statement on forced labour, but the way the language was used made it clear who it was aimed at.
But while the G7 is more united with Biden at the helm of the United States, its leaders do not speak with one voice on China. The hawkish language of the US and Canada is not shared by Europe and Japan, which favour a practical approach towards the important trading and investment partner. They have divergent views on the depth of the Chinese challenge, apparent in disagreement over funding for the belt and road alternative plan. They also failed to come up with a
timeline for eliminating coal for power generation
, and the 1 billion
Covid-19 vaccine
shots pledged to poorer economies was considered inadequate by health experts.
Beijing's denunciation of the G7 communique
was to be expected and it pointed out that the Group of 20, which includes China and next meets in October, was a more appropriate forum to address the world's problems. That gathering will provide an opportunity for President Xi Jinping and Biden to finally meet in person. By then, it is to be hoped, Washington will have followed most other G7 members in seeking a more realistic approach towards China.