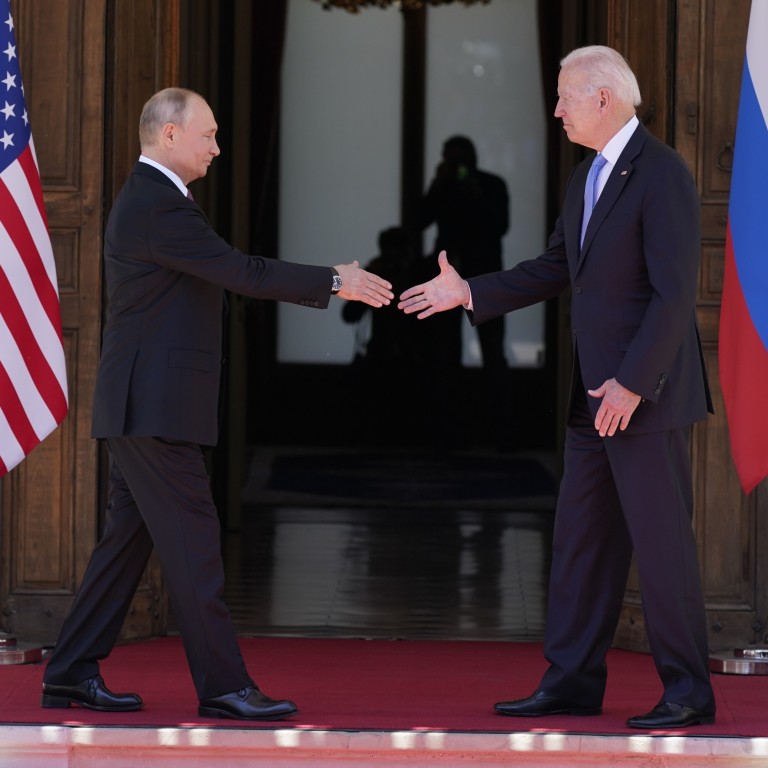 Opinion
Editorial
by SCMP Editorial
Editorial
by SCMP Editorial
Biden-Putin summit a promising start
Even if their meeting in Geneva does not have an immediate outcome, it can be deemed a success if suspicions have been lessened
Relations between the United States and Russia are at their worst for decades, so there was little chance of a significant breakthrough when presidents
Joe Biden
and
Vladimir Putin
held their summit in Geneva on Wednesday.
But as low as expectations were, their willingness to meet despite so many areas of disagreement was in itself a positive development.
Their after-talks remarks revealed differences of opinion as to what had been achieved and the most concrete agreement would appear to be a return of ambassadors withdrawn following undiplomatic American rhetoric.
However, the world does not need the nations with the most nuclear warheads to be at loggerheads, so it is to be hoped that the leaders' discussions have engendered greater understanding that in coming weeks and months leads to an easing of tensions and efforts for cooperation.
The talks capped Biden's first overseas trip as president and followed gatherings with allies of the European Union, North Atlantic Treaty Organization and Group of Seven most developed nations.
His stated aim was to shore up foreign ties eroded by his predecessor, Donald Trump, with an eye on strengthening defences against China and Russia.
Yet no mention of Beijing was made during the three-hour meeting with Putin, who had said in an interview with an American television network earlier in the week that his country's Chinese relations remained at an "unprecedentedly high level" despite efforts by Washington to destroy them.
Circumstances were far removed from the summit in 1985 also held in Geneva between predecessors Ronald Reagan and Mikhail Gorbachev; those talks ultimately led to the end of the Cold War.
But sentiment against China and Russia runs strong in the US and sanctions have been imposed against both countries along with accusations of cyber-spying and threatening military behaviour.
A much-anticipated meeting of Biden and President Xi Jinping is bound to be as tough as the talks with Putin. But Washington's recent renewal with Moscow of the START nuclear arms limitation treaty shows rivals can strike meaningful deals.
Mistrust is the biggest obstacle. Even if the summit does not have an immediate outcome, it can be deemed a success if suspicions have been lessened.