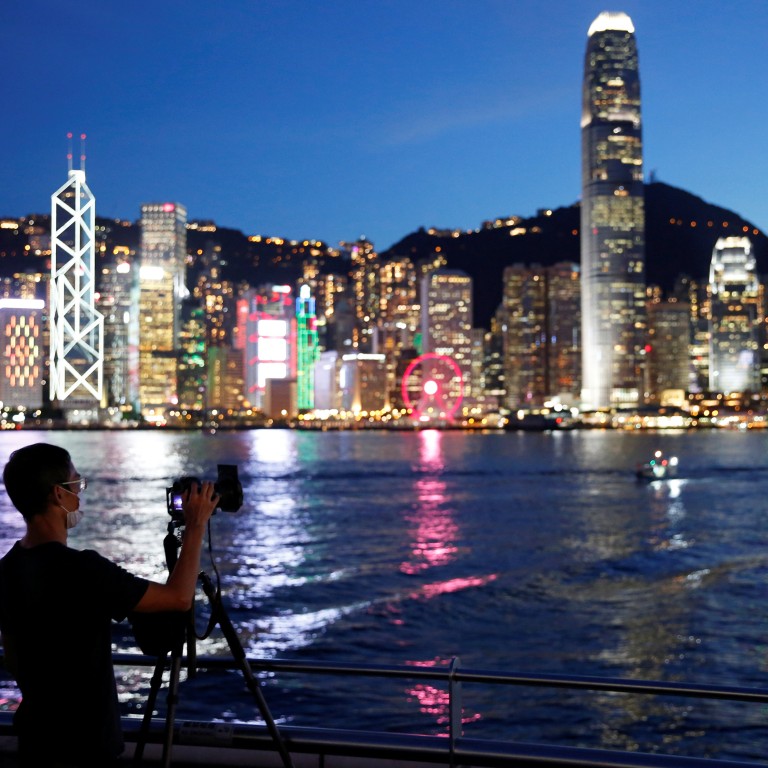 Even amid a pandemic, Hong Kong is in a better place than most
The government has been gradually regaining respect as the coronavirus is brought under control
The city's unique strengths – proximity to mainland China, common law system and top universities – mean it has a bright future as it continues to welcome global citizens
Last year, the "death" of Hong Kong was again declared in the Western media, as the Hong Kong government lost Hongkongers' trust.
But not so fast: the government has been gradually regaining respect as it brings the coronavirus pandemic under some semblance of control. At the same time, Hong Kong's unique position as a gateway to and from mainland China, along with the city's world-class infrastructure and institutions, continues to appeal to talent and business from around the world.
So far in the pandemic, Hong Kong has had a flatter epidemic curve than most others – not to mention other major economies
in Asia
– which is remarkable given its status as an international transport hub. Hong Kong has achieved zero local Covid-19 cases for
two weeks
now.
With regard to vaccination, Hong Kong is likely to reach
herd immunity
by early next year. In terms of virus containment and vaccination, Hong Kong's achievements are probably second only to mainland China's and Macau's.
Compared to Taiwan, another Asian Tiger, Hong Kong has done even more impressively. The Taiwanese, like Hongkongers, got into the habit of wearing masks in public during the severe acute respiratory syndrome epidemic of 2003. In the ongoing pandemic, the Taiwanese authorities were also quick to implement strict border restrictions.
Such containment measures did work for a while for Taiwan, as they have for Australia and New Zealand. But partly due to the authorities'
complacency
and hostility towards mainland China, Taiwan has seen an abrupt surge in community cases. Taiwan has been pursuing vaccine supplies
directly from BioNTech
, rather than Fosun, the mainland company with exclusive rights to distribute the vaccine in the Greater China region.
In contrast, the Hong Kong government's early deployment of vaccines and prudent actions have laid a good foundation for rebuilding trust.
Meanwhile, global capital keeps flowing into Hong Kong, a mark of confidence in the city's status as an international finance hub. Throughout 2020, the Hong Kong dollar exchange rate remained in the strong half of the convertibility zone, and the total amount of banking deposits also rose. Instead of voting with their feet,
Goldman Sachs
,
Citigroup
and other international financial institutions have expanded their headcounts in Hong Kong.
The Hong Kong economy is getting into better shape.
In the first quarter
, the economy grew 7.9 per cent year on year, in a V-shaped recovery. Most of Hong Kong's key industries – financial services, trading and logistics, professional and producer services – have continued to grow. Moreover, Hong Kong is emerging as a technology and innovation centre.
Hong Kong continues to play a vital role in connecting investors, companies and markets around the world. It is keeping up with other major financial centres – London, New York and Singapore – in terms of financial infrastructure, regulation and law, while it has close links with mainland China, the world's second-largest economy.
This unique position constantly powers Hong Kong's economy. The city was the second-largest fundraising centre in the world last year, after Nasdaq, and it has taken the initial public offerings crown in seven of the past 12 years. Riding on Hong Kong's international reach, Tencent,
Meituan
and Kuaishou are among the Chinese tech companies which have gone public, and global.
Hong Kong remains an international trade, maritime and logistics hub. Hong Kong International Airport has been the world's busiest international airport since 1996, and Hong Kong is one of the world's busiest container ports. According to the World Trade Organization, Hong Kong was the sixth-largest exporter of goods in the world in 2020, two places up from 2019.
Hong Kong's common law system is more directly related to the Anglo-American-led international financial system. Compared with the civil law system, the common law system has advantages in financial litigation, arbitration, mediation and dispute settlement.
The 2021 International Arbitration Survey Report, released by Queen Mary University of London in partnership with White & Case, ranked Hong Kong as the third-most-popular arbitral hub in the world. It noted that Hong Kong's rising popularity was affecting the standing of London, Paris and Geneva.
With regard to Hong Kong's emergence as an innovation hub, the city has a high density of top universities. It may have a population of only 7.5 million, but it also houses five of the world's top 100 universities, according to QS World University Rankings 2022. So it is no wonder that Frank Wang – founder of DJI, the world's biggest consumer drone company – built flight controllers
out of his dorm room at Hong Kong University of Science & Technology
.
Through closer cooperation with Shenzhen, Hong Kong will contribute more inventions to the world and commercialise them swiftly.
What's more, Hong Kong's most precious intangible assets – openness, international flair and cultural diversity – remain intact, and the city continues to welcome global citizens seeking to study, work and live here. Hong Kong is well placed to achieve more in the years to come.
Fang Zihao is studying for a PhD in economics at Koc University in Istanbul