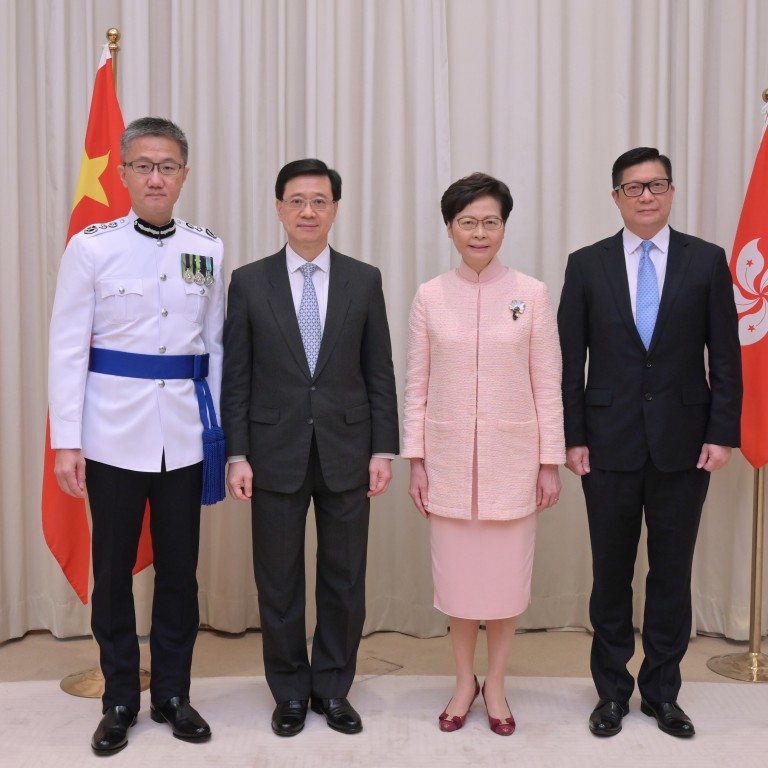 Opinion
Editorial
by SCMP Editorial
Editorial
by SCMP Editorial
Tough choices face daunting law and order challenges
Carrie Lam has dismissed fears that the latest cabinet shake-up involving security officials may result in disciplinary figures having greater influence on the leadership
With the current administration barely having a year to go, the elevation of two security officials in the
second ministerial reshuffle in 14 months
is another significant step in governance. The new line-up of former security minister John Lee Ka-chiu as chief secretary and ex-commissioner of police Chris Tang Ping-keung as security minister shows Beijing's determination to tighten its grip on cross-border integration and law and order through the hands of the tough and trusted. However the challenging local and international environments has made the work of the revamped cabinet even more difficult, and it must strive to live up to the expectations of Beijing and the Hong Kong public.
Flanked by the latest appointments and together with new police chief Raymond Siu Chak-yee, Chief Executive
Carrie Lam Cheng Yuet-ngor
told a press conference yesterday that the ministerial shake-up in the wake of the
national security law imposed by Beijing
may help the city seize new opportunities in a more effective manner. But from a central government perspective there is still a long way to go and, although the violence at the height of the 2019 social unrest has largely disappeared, the outlook is far from clear.
The appointments have raised concerns that disciplinary figures may exercise greater influence on the leadership, but Lam dismissed fears of the city turning into a "police state", saying it will continue to be governed by the law. She sidestepped the question of whether Lee and Tang were hand-picked by Beijing, but stressed they were the best choices at the moment.
Lee has had his fair share of criticism, having handled the
unpopular and now withdrawn extradition bill
and controversies related to national security, the latest being
the freezing of Apple Daily assets
that led to the newspaper's closure. He faces a sterner test in his new role as government No 2 overseeing the fight against the Covid-19 epidemic, cross-border affairs, executive-legislative relations, poverty alleviation and general cross-bureau coordination.
Tang faces equally daunting challenges. The former police chief once brushed off calls to step down, saying political accountability did not apply owing to his status as a civil servant, but this will no longer be the case following his promotion to the cabinet. The security portfolio goes beyond the operational level, covering all disciplinary services and highly sensitive security-related policymaking, including legislation for offences under Article 23 of the Basic Law.
Siu also has big shoes to fill. Police relations with the public are still at a low and he will have a hard time rebuilding the force's image and trust while upholding national security and law and order.