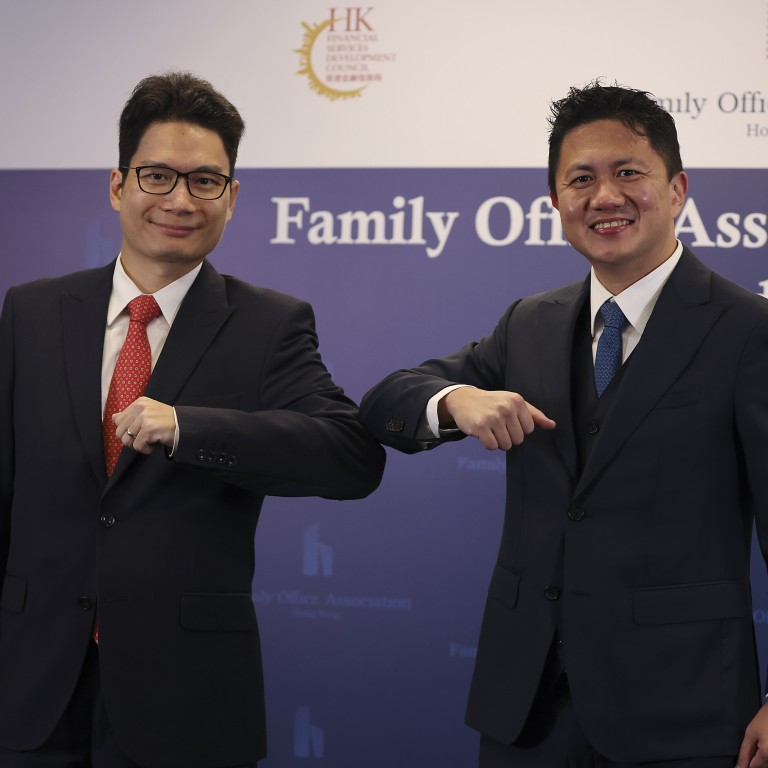 Opinion
 Stephen Christopher Phillips
 Stephen Christopher Phillips
Why Hong Kong is the ideal global hub for family offices
For decades, Hong Kong has been a popular investment platform for ultra-high net worth individuals
The city is now making a concerted effort to attract even more family offices, with Asia – and mainland China in particular – experiencing rapid growth in the number of very wealthy residents
The Chinese saying fu bu guo san dai suggests that family wealth rarely lasts beyond three generations. As wealthy families around the world look to ensure succession, this is an exciting opportunity for Hong Kong, and family offices have a vital role to play.
The city is already well placed to attract the family offices of the world's growing population of ultra-high net worth individuals, particularly in Asia and
especially in China
.
Around the world, there are around 520,000 such individuals – each with a net worth of over US$30 million – and the number has increased by 2.4 per cent from a year ago, according to a Knight Frank report. Asia is expected to see the fastest growth in this group over the next five years, at 39 per cent against the global average of 27 per cent. By 2025, Asia is set to host 24 per cent of all ultra-high net worth individuals, up from 17 per cent a decade earlier.
Asia is also home to 36 per cent of the world's billionaires, more than anywhere else. Critically, mainland China's population of very wealthy residents is forecast to grow by 246 per cent over the 10 years to 2025.
Hong Kong has a tremendous opportunity to expand as a global family office hub and to excel at it, and its government, regulators and family office industry are making a
collaborative effort
to do so.
For decades, Hong Kong has been a popular investment platform for ultra-high net worth individuals. It offers a business-friendly environment with a simple and competitive tax regime, free capital flow, a common law system underpinned by "
one country, two systems
", and a long history of monetary stability.
As a dynamic metropolitan city with a vibrant lifestyle, beautiful scenery, beaches and hiking trails, great food, arts and cultural experiences, Hong Kong also attracts the talent that family offices need to thrive.
Crucially, Hong Kong is well placed for access to investment opportunities. Family offices are increasingly sophisticated and require the talent and infrastructure to invest in complex financial products and alternative asset classes, such as private equity, venture capital and private credit, beyond philanthropic and legacy considerations.
Hong Kong's special economic connection with the mainland is also a big draw. As its unique and dominant gateway to the world, Hong Kong captures the largest share of the mainland's investment flows.
These flows are set to grow alongside the
Greater Bay Area
, a planned economic and business hub in one of China's most prosperous regions, home to about 70 million people with a gross domestic product of around US$1.6 trillion. This integrating cluster of financial services and innovation notably includes the much-anticipated
Wealth Management Connect scheme
.
Other recent developments have made Hong Kong even more attractive. A
bill
was recently passed to provide tax concessions for carried interest distributed by eligible private equity funds.
Carried interest refers to payments, often in shares or other equity-linked benefits, to reward the general partners and managers of private equity funds and venture capital funds for managing their portfolio. The tax exemption will attract more private equity funds to Hong Kong, thus increasing investment opportunities for family offices.
Hong Kong also offers a growing class of alternative investments popular with family offices, including
green investments
, wine and fine art. In short, Hong Kong's experienced talent, deep capital markets and strong deal flow make it an ideal location for family offices.
That is why the government investment promotion arm InvestHK has set up a
dedicated team
with specialists in Hong Kong, Guangzhou, Beijing and Brussels to attract and support family offices in Hong Kong.
This team will work alongside InvestHK's network of more than 30 global offices, the wider government, financial regulators and industry stakeholders.
For Hong Kong, the benefits include new jobs and a deeper capital pool, including for ventures related to the
Greater Bay Area
.
Stephen Christopher Phillips is the director-general of investment promotion at InvestHK