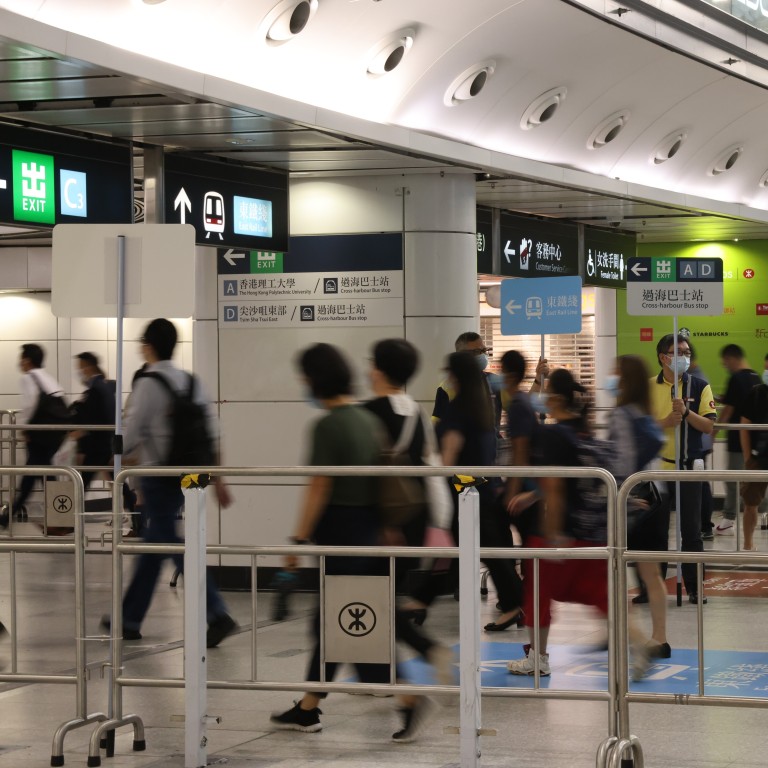 Opinion
Editorial
by SCMP Editorial
Editorial
by SCMP Editorial
Opening of Tuen Ma line light at end of scandal-hit tunnel
Construction of city's longest rail corridor, which was plagued by shoddy work and cost overruns, is finally fully operational after passing safety checks
Construction of the Sha Tin-Central link seems to have had as many twists and turns as a new trailblazing transcontinental railway. As a result, it is the city's most expensive rail project, at HK$90.7 billion, so far. To hundreds of enthusiasts who rose at or before dawn on Sunday to ride the first new train to run on a key section of the link, it was worth every cent. To the MTR Corporation and the government, the commissioning of the Tuen Ma line is a light at the end of a tunnel of a public works nightmare.
It creates the city's longest rail corridor at 56km by connecting existing lines via two new MTR stations, Sung Wong Tai and To Kwa Wan, for 27 stops in all. The first phase opened in February last year. The rest of the line running from Kai Tak to Hung Hom, through Sung Wong Tai, To Kwa Wan and Ho Man Tin, opened on Sunday.
The new link is expected to shorten commuting journeys and enhance connectivity, and will do no harm to nearby property values. But construction, which began in 2012, has been plagued by shoddy work and cost overruns. The Tuen Ma line was planned to open in 2019 after an earlier target had already been pushed back from 2018 because of engineering problems. It was further delayed to this month for structural reinforcement at Hung Hom station following an engineering scandal. No other rail line has suffered more setbacks, which also included a HK$2 billion cost overrun and missing safety documents. A commission of inquiry that cost taxpayers HK$92 million finally concluded the railway was structurally safe. We trust lessons have been learned so that such inquiries need not be held again.
One of the setbacks has turned out to have a silver lining. Excavations at Sung Wong Tai station unearthed a vast trove of relics that sheds new light on our history, and finds suggest the area near Kai Tak may once have been home to a sizeable settlement dating back more than seven centuries. Among the highlights are several wells and structures typical of the Song dynasty. The station now includes a display of artefacts, including ceramics, coins and the remains of buildings found during the work.
More delays cannot be ruled out during completion of the cross-harbour section of the Sha Tin-Central link between Hung Hom and Admiralty, already pushed back to the first quarter of next year. But the opening of the Tuen Ma line hopefully closes a dark chapter of the MTR Corp's history, marked by engineering and management problems that also affected the cross-border high-speed railway, compounded by the costs and loss of patronage attributable to the social unrest of 2019 and the pandemic.
This article appeared in the South China Morning Post print edition as: Opening of Tuen Ma line light at end of scandal-hit tunnel