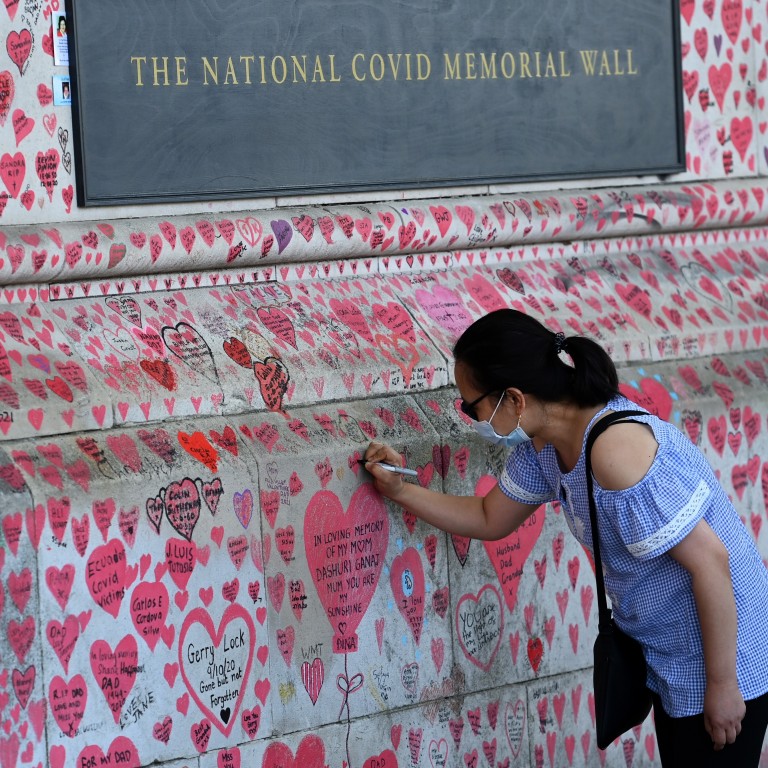 Opinion
Editorial
by SCMP Editorial
Editorial
by SCMP Editorial
City has little choice but to ban British flights as variant cases rise
Long-awaited summer reunions may have to be put on hold, but public health must come first for the sake of economic recovery and the reopening of borders
This is a time families and friends count the days to arrivals from Britain and long-awaited reunions, especially with holidaying students. The authorities would not lightly get in the way of those. But, with a surge in mutated coronavirus infections forcing the country to be relisted as extremely high risk, the government had little choice but to
once again ban all flights from there from tomorrow
, leaving thousands stranded. Public health comes first, not to mention the need to safeguard prospects sooner or later of border reopenings with the mainland and Macau.
With Chief Executive
Carrie Lam Cheng Yuet-ngor in Beijing for centenary celebrations
of the Chinese Communist Party, border reopenings could be on her mind. But Hong Kong will need to demonstrate sustained control over new infections. In that respect, passengers from Britain pose a heightened risk, with it reporting more than 20,000 new cases on Monday. Moreover, the more infectious Delta variant is prevalent. Hopefully, while the window remains open to flights, authorities will tighten airport health checks.
The coinciding of the summer holiday with the virus resurgence in Britain comes at a critical juncture for Hong Kong's efforts to prevent another major community outbreak. If that were to happen, border reopenings with our neighbours would remain distant prospects. Economic recovery depends so much on the mainland and the
Greater Bay Area
that infection control must be the priority, whatever it takes. Top mainland respiratory expert Zhong Nanshan believes Hong Kong and the mainland may be able to reopen their border for quarantine-free travel as early as next month if conditions to do so safely are met. So far, Zhong said, Hong Kong had done well to prevent a community spread of the Delta variant.
Meanwhile, Britain has been reporting single-digit coronavirus-related deaths only on some days. This reflects two different approaches and Britain's much higher vaccination rate. Inoculation reduces symptoms, hospitalisation and mortality. As a result, despite the resurgence of infections, the government is still going ahead with
plans to end social-distancing regulations in England
next month. It seems to believe that through greater take-up of vaccine the danger of Covid-19 is now comparable with that posed by common flu. In this part of the world, authorities are still not convinced.
In any case, Hong Kong's vaccination rate in particular remains very low, a factor to be taken into account in any further relaxation of restrictions. Vaccination is still the key to shaking off social and travel restrictions. Even then the ever-evolving virus may produce a variant that could reduce the effectiveness of vaccination.
Only time will tell whether the British approach is premature.
This article appeared in the South China Morning Post print edition as: City has no choice but to ban British flights as variant cases rise