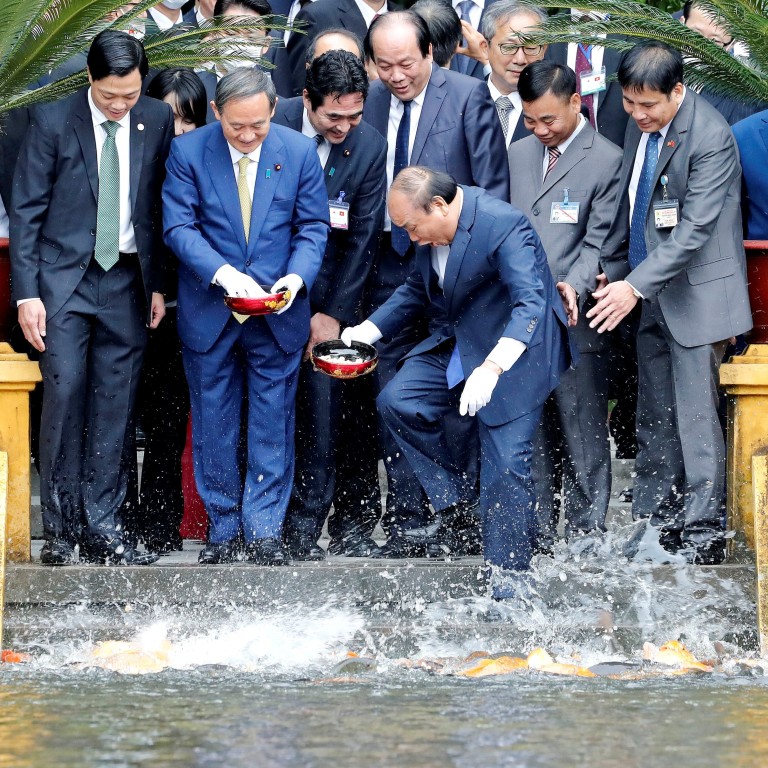 Japan can be a dynamic alternative to superpower hubris – just ask Southeast Asia
As a pre-eminent middle power with sufficient autonomy and resources, Japan can help prevent superpower conflict
Not only did Japan, under Abe, rescue the Trans-Pacific Partnership, it has offered a constructive alternative to China's Belt and Road Initiative
"The vision I am aiming for is that of 'a beautiful country, Japan'," declared Shinzo Abe in his maiden speech as prime minister before the Diet in 2006. As the first Japanese leader born after the Second World War, Abe envisioned his country's re-emergence as a global force, one that is "filled with charm and vitality" and "open to the world".
The upcoming
Summer Olympics
in Japan, which were
postponed last year
due to the Covid-19 pandemic, would have been his crowning achievement, capping
more than a decade
of transformational leadership. And his long-time right-hand man and hand-picked successor, Prime Minister Yoshihide Suga, seems determined to push ahead with the games despite
opposition at home
and scepticism abroad.
In many ways, the forthcoming Olympics are a metaphor for Japan's steady re-emergence, one that has been clouded by controversy but may yet be game-changing in an era of uncertainty and upheaval. Although much subdued, this would be Japan's ultimate comeback party following the
"lost decades"
of economic stagnation, demographic decline and political infighting.
In stark contrast to its dark imperial past, and as far more than just an addendum to a declining American empire, Japan can now truly become a force for prosperity and stability in Asia. And as a pre-eminent middle power, with sufficient autonomy and resources to independently shape its strategic environment, Japan can also help prevent superpower conflict between the United States and China.
It's easy to write Japan off as a has-been. After all, few countries have experienced as dramatic a decline as Japan's in contemporary history. Up until the 1980s, the Asian country was seen as America's biggest rival, with Japanese conglomerates gobbling up studios and real estate from Hollywood to New York.
In 1990, Japan's economic output still represented about 15 per cent of global gross domestic product and close to 70 per cent of regional GDP; it also accounted for around half of Asian trade. Despite its pacifist constitution, Japan's defence spending was 60 per cent more than China's.
In vital states such as the Philippines and Vietnam, where Chinese projects have moved at a snail's pace and have been shrouded in controversy, Japan has remained a dominant economic player.
Collectively, these projects, in which Japan plays a key role, could provide a constructive alternative to China's Belt and Road Initiative, creating much-needed healthy competition to fill a trillion-dollar spending gap in infrastructure in Asia.
Unlike the US, Japan has had to grapple with its bitter and traumatic experience of defeat during World War II, its deepening economic interdependence with neighbouring China, and the liminal vision of pan-Asian solidarity among its leaders and the broader population.
Richard Heydarian is a Manila-based academic and author of "Asia's New Battlefield: US, China and the Struggle for the Western Pacific" and the forthcoming "Duterte's Rise"