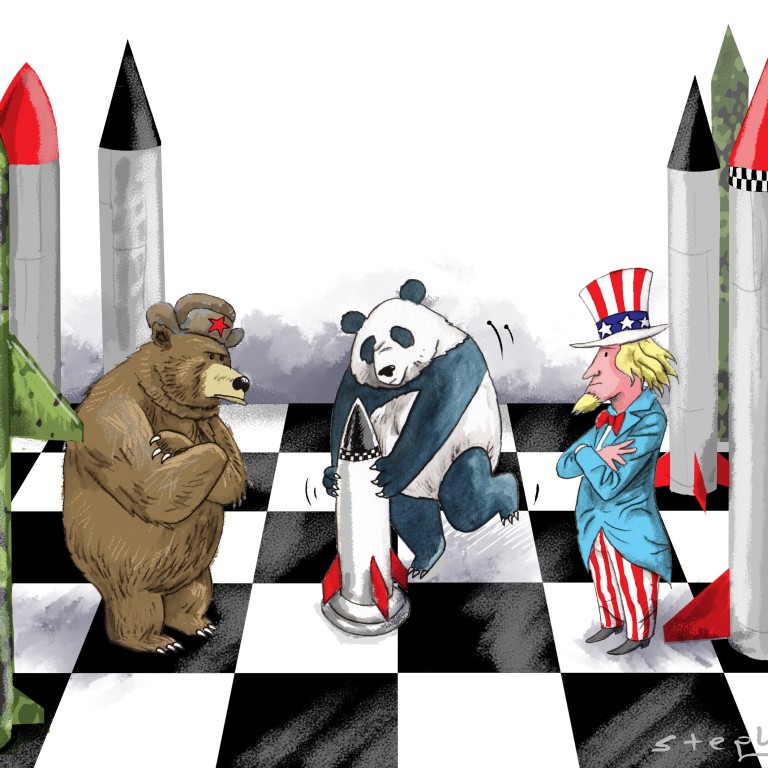 How China can benefit from joining US, Russia in nuclear arms talks
Engaging in arms limitation talks is a chance to show Beijing's commitment to nuclear restraint, a global public good that would be universally supported
Being part of the conversation would also allow China to press for more stringent restraints on both the US and Russian nuclear arsenals
The discovery last week of 119 probable missile silo sites under construction in western China has
rung alarm bells
in Washington. US military personnel and analysts were already raising eyebrows over China's modernisation of
its nuclear weapons
and delivery systems.
But even with these new silos and various other programmes, China's nuclear arsenal will remain a fraction that of the United States and Russia. In fact, the silos appear to be part of a process of China guaranteeing that its nuclear deterrence is effective against larger, more sophisticated rivals.
Nevertheless, despite the disparity in nuclear arsenals, Beijing should change its policy on
strategic arms limitation
negotiations. Until now, these have been entirely bilateral between the US and Russia. For China, there are various benefits to entering into these negotiations for what would undoubtedly be a public good.
The silos were spotted by satellite imagery. They are thought by analysts to be either for a significant expansion in the number of land-based intercontinental ballistic missiles (ICBM) China can field – currently about 100, according to the latest US Department of Defence report on China's military capabilities – or to offer Beijing the ability to obfuscate the location of its missiles by moving them between silos.
By diversifying its delivery vehicles, including submarine-launched missiles that are difficult to track, increasing the warheads per missile with MIRV technology and developing road-mobile missiles that are also more challenging to locate and destroy, Beijing appears to have improved its second-strike capability.
Now, Washington is keen to ensure Beijing is part of that conversation. As it sees its competition with China develop into a rivalry and watches China's military and nuclear development, the US wants to avoid any nuclear arms race in the long run and keep China's nuclear capabilities in check. This would entail not just agreeing to the number of warheads and launchers, but also some form of verification of those capabilities.
Moreover, being part of the conversation would allow China to press for more stringent restraints on both the US and Russian nuclear arsenals. As an outsider, Beijing has no influence on the size and sophistication of the two largest nuclear arsenals in the world. By opening negotiations, it would have a say on how these two powers maintain their nuclear deterrent.
It might not be currently likely that Beijing will choose to open negotiations with the US. But over time, with the evident benefits becoming clearer and as China becomes more confident in its own nuclear deterrent, non-proliferation efforts could be an easy win for Sino-US cooperation.
Christian Le Miere is a foreign policy adviser and founder of Arcipel, a strategic consultancy