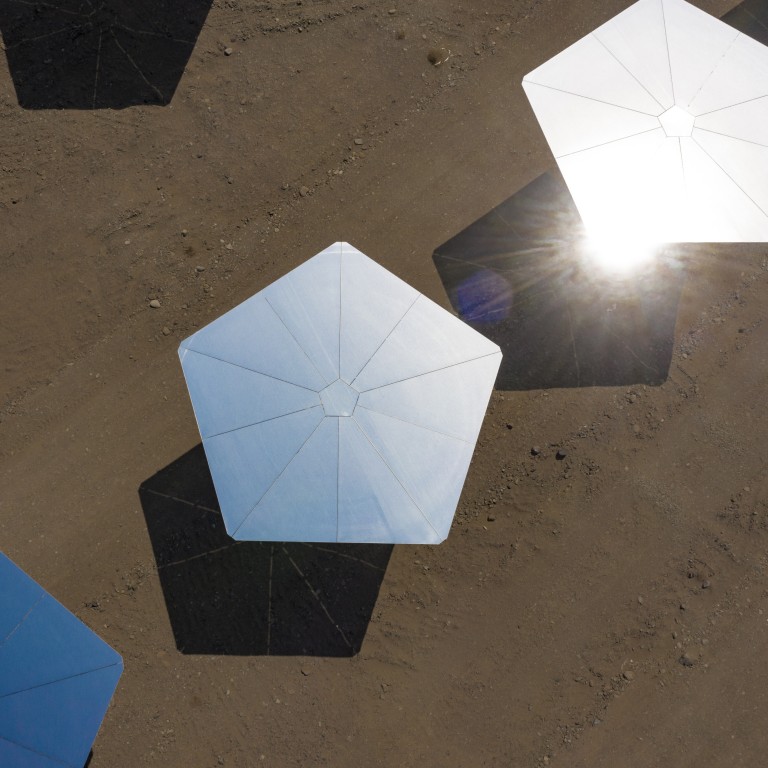 Even with US ban on Xinjiang silicon, the future looks bright for China's renewables
Washington's ban may cause some near-term supply chain disruption for solar panels. But, with Beijing's carbon neutrality goal, solar and wind energy manufacturing and installation can only accelerate in China
Last month, the Biden administration announced an
import ban
on solar products by manufacturers based in
Xinjiang
, a timely reminder to global investors that the Chinese region produces roughly half of the world's supply of polysilicon, a key material for solar panels.
With the move, US solar panel producers will have to search for alternative sources of polysilicon. This may cause some near-term supply chain disruptions but, longer term, the supply-demand balance may well tilt further towards China's burgeoning domestic market.
China's renewable energy industry has achieved remarkable growth over the past decade, with aggregate capacity growing by a compound rate of 14 per cent annually since 2012, with the share of renewables rising from 9.1 per cent to 15.9 per cent of total energy consumed over the same period.
To achieve that goal, solar and wind energy will be the main drivers, due to their undeniable advantages in terms of scalability, cost and safety. They are also the clear favourites of the central government.
The government's explicit target includes raising the combined installation of wind and solar power to at least 1,200 gigawatts by 2030, an increase of over 200 per cent from 2020. Beijing has also vowed to increase wind and solar energy's share from the current 9.7 per cent to 16.5 per cent of energy consumption in 2025.
To achieve this goal, the state recently ordered power transmission firms to accelerate the connection of wind and solar capacity to the power grid, which would enable more clean energy access.
No wonder that, in 2020, solar and wind energy accounted for over 86 per cent of newly installed renewable capacity in China.
It's the solar industry where Chinese manufacturers are particularly competitive, having made major efficiency gains in both the production process and in the electricity generation of solar modules themselves. China now produces 78 per cent of the world's solar cells, and 72 per cent of solar modules.
Over the past decade, the average cost of newly commissioned solar systems fell by over 70 per cent, and the International Renewable Energy Agency estimated that around 40 per cent of that capacity deployed in 2019 had costs (excluding any financial support) lower than fossil-fuel-fired capacity.
Costs of renewable energy are expected to continue to decline due to improvements in energy efficiency, economies of scale, and reductions in cost.
The government has made clear its intention to phase out subsidies altogether, albeit gradually and with public support through other incentives.
The National Energy Administration is consulting the market about a grid capacity auction mechanism which gives priority to solar and wind power generators that are willing to lower power rates or accept a haircut on subsidy payments.
The National Development and Reform Commission has also announced that it will stop giving subsidies to certain types of new solar and wind projects from August 1.
Looking ahead though, these projects are likely to face steepening investment costs due to the need to develop further inaccessible areas, while the indirect social costs of resident displacement and ecosystem damage add to the government's reservations about pushing for more hydro dams.
There's no reason to expect that wind and solar manufacturing and installation will slow in China any time soon, given both the attractive economics of the sector and government support. The key issue to watch in the near term is how the government strikes a delicate balance between reducing subsidies yet promoting renewable energy development.
By all accounts, Beijing's policy support remains unwavering, but the planned reduction in subsidies could create some near-term volatility.
These shifts could, in turn, create opportunities for industry leaders to consolidate smaller players and thus improve economies of scale. Indeed, the winds of change will only blow stronger, and the sun is still rising for renewables in China.
David Chao is Invesco's global market strategist for Asia-Pacific