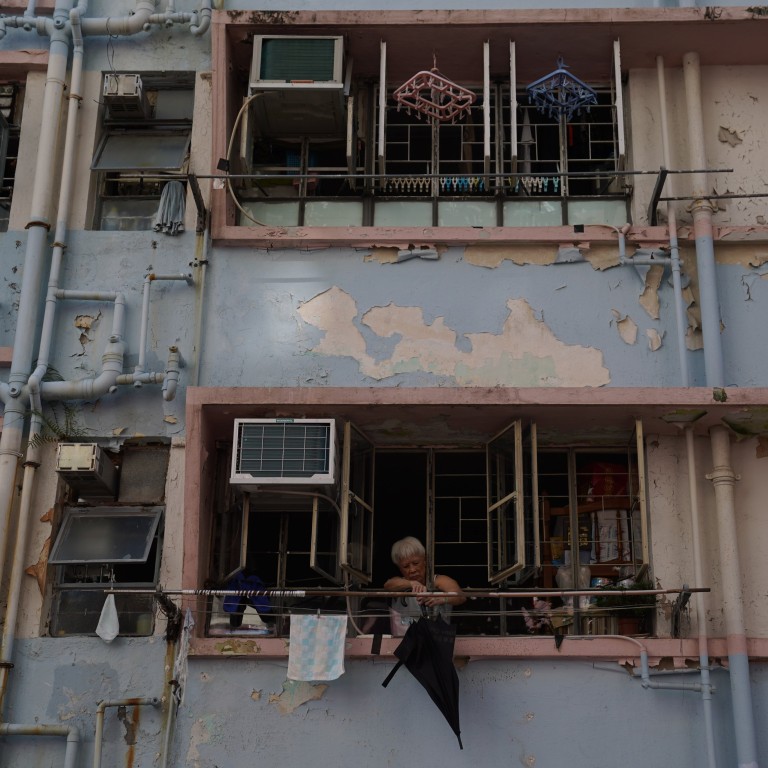 Hong Kong is failing its elderly, and they deserve better
The government's plan appears to be to offload its problems elsewhere and encourage elderly Hongkongers to retire to mainland cities
Covid-19 has confirmed that our elderly are seen as burdens instead of human beings who deserve to live happy, rewarding lives regardless of their age
Hong Kong's first chief executive, Tung Chee-hwa, having made "care for the elderly" a policy directive, set up the Elderly Commission in 1997 to advise on the formulation of comprehensive policies. Its remit included improving the quality of life for our elderly and providing them with a sense of security, belonging, health and worthiness.
Fast forward to 2021 and how far have we come in addressing their needs and tackling our
ageing population
? We've done pretty poorly, to say the least.
At last count, some
516,000 elderly people
– more than 44 per cent of the total elderly population – are impoverished. The poverty rate for the elderly is more than double that of the overall population, and those are 2018 figures.
The latest government figures show that the city's population aged 65 or above has grown to almost 19 per cent. That is expected to balloon to more than 30 per cent by 2039 and
34 per cent
by 2049. Also, for the first time, there were
more deaths than births
in the city last year.
And yet, such figures are apparently not alarming enough. When Chief Executive Carrie Lam Cheng Yuet-ngor was recently asked about the double whammy of Hong Kong's declining and ageing population, she said she was not too worried.
Lam appears to believe she has a good strategy to tackle the issue. Her plan is to make up for the shortfall of young people by luring others to relocate to Hong Kong. So far so good, except not that long ago she said she wanted our young people to
leave Hong Kong
for better opportunities in other cities in the
Greater Bay Area
.
Her strategy also includes getting elderly Hongkongers to retire to
mainland cities
. The plan is, in essence, to offload our problems elsewhere. What is disheartening is how our elderly are talked about as if they are a burden. So much for providing them with a sense of security, belonging, health and worthiness.
And it is disgraceful that our elderly have paid a disproportionately high price in our fight against Covid-19. How many
care home
residents have been unable to see any visitors during the pandemic?
Given that they are more susceptible to severe illness or death if they contract Covid-19, it was necessary to ban visits. However, what has really been done to protect them as opposed to merely treating them as a burden on the public health system?
We did not even care enough to encourage vaccinations or make it easier for them to get a jab. Hong Kong's inoculation rate among the elderly has been described as "the lowest in the world". That's disgraceful.
In Singapore, government officials are fretting over raising the vaccination rate for the elderly despite 71 per cent of Singaporeans over 70 having received the vaccine. Teams of volunteers have been deployed to knock on doors and reach out to the remaining 29 per cent, encouraging them to get a shot while addressing their concerns.
Hong Kong's policymakers clearly need to find ways to support our ageing population, beyond the HK$2 (US$0.25)
public transport fare scheme
.
It is often said that large-scale crises reveal social truths. Covid-19 has, unfortunately, confirmed that the elderly are too often treated as social burdens. They are hidden away, or packed up and shipped off with other seniors to retire elsewhere, or left behind when their children
emigrate
to start new lives.
Hong Kong's elderly do not need to be offered what Lam called "better locations to retire". They deserve more than that. We should be worried about them, not as statistics but as human beings who deserve to live happy, rewarding lives regardless of their age. They are not superfluous and we need to stop making excuses for our failures in addressing their needs.
Alice Wu is a political consultant and a former associate director of the Asia Pacific Media Network at UCLA