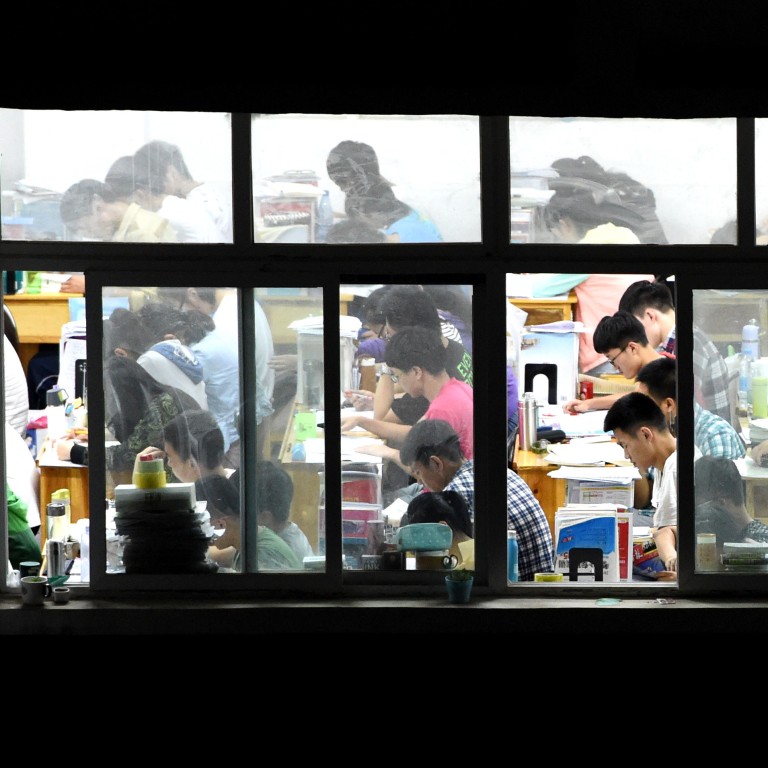 Why China's cram school crackdown is a welcome and needed reform
Wall Street investors surprised by Beijing's regulatory changes have only themselves to blame for not heeding the years of complaints and discussion around the sector
China is no democracy, but its policymaking process is transparent and follows a clear pattern, and its policies largely benefit the people
One morning five years ago, Shenzhen-based businessman Zhang Hua took his 11-year-old daughter Emma to school. Emma was sleep-deprived and grumpy. "I know you have lots of unfinished homework. Let's get it done during the weekend. Just be happy," he said.
"How can I be happy without top scores? They are the only thing that matters at school!" Emma replied.
Zhang – who asked that his real name not be used – knew this well. Academic scores are key to getting
into top universities
and also affect the way your fellow students and teachers treat you at school. Emma had been humiliated more than a few times as her school ranked students based on their scores.
That conversation hurt Zhang, and he vowed to lobby for change. On social media he became an advocate for cutting students' workloads. He and millions of other parents scored a small victory in July when Beijing announced a ban on
off-campus cram schools
.
This followed a similar victory three years ago when China
banned kindergartens
from raising funds in global capital markets. Stock analysts and investors were quick to blame Beijing for a heavy-handed approach and regulatory about-face. However, a closer inspection shows the stock market players have fooled themselves in their echo chambers.
The writing was on the wall. In official and social media, reports of poor-quality cram schools were all over the place.
Unscrupulous operators
have engaged in bad behaviour such as inflated promises about their instructors' abilities to improve students' academic performance. There are also fly-by-night merchants who charge advance fees and then vanish.
Wall Street should take note that the ban has been warmly received by the public. If their beef is with Beijing's regulatory opacity, they only have themselves to blame.
As early as 2018, President Xi Jinping had warned about regulatory intervention. In his book The Governance of China, he said excessive after-school tuition was causing too much distress to students, parents and the formal school system.
Additionally, the off-campus training sector is heavily commoditised. The way they have to operate – via heavy marketing and fee cuts – means they will never make a profit.
All players are recording heavy losses and their valuations are ridiculously high even after the recent collapse.
Gaotu
, for example, was valued at more than US$30 billion at the peak despite its, and the whole sector's, broken business model. Investors can speculate on anything, but they should not blame regulators when things turn sour.
China is no democracy, but its policymaking is transparent and follows a clear pattern. First, there are noisy discussions in the media that might last several years. Then, some noteworthy academic or official will propose a regulatory change. Finally, one day a discussion paper or set of official guidelines will be released.
Given the state of Sino-US relations over the past five years and Beijing's concerns about
data privacy
, I am surprised the taxi operator Didi Chuxing chose to defy Beijing's instructions not to
rush a public listing
in the United States. I am also surprised by the surprise expressed by investors at Beijing's investigation and expected punishment of Didi Chuxing.
It was the same for Ant Group's forced cancellation of its
initial public offering
in Hong Kong and Shanghai last November. It is true the government has handled the whole process poorly, but it has two valid concerns.
First, tens of millions of consumers are struggling to
discharge their debts
. Second, fintech operators have had unsustainably high leverage, and that is a threat for the banking system.
Is the regulatory overhaul an assault on free enterprise? I think not. Big Tech as a whole has long engaged in monopolistic behaviour in China. One only has to browse the media to get a taste of popular disenchantment and anger.
China's authorities are far more hands-off than those in the West when it comes to
regulating Big Tech
. The current overhaul in China is long overdue and should go much further to reach the sophistication and strictness
seen in the West
.
Finally, let's talk about the peer-to-peer (P2P) credit sector. When P2P credit first stormed into China, the authorities did not regulate it at all because they did not know enough about it. Many even encouraged bold innovation and risk-taking. They
turned doubtful
only years later after many cases of fraud had come to light.
While some on Wall Street have condemned Beijing for having destroyed a few Nasdaq-listed companies and
a vibrant industry
, most of the Chinese public has applauded the ban on off-campus tutoring.
Some Western observers attribute the high approval rating of the Chinese government to propaganda and brainwashing. There might be elements of truth to that claim, but the dominant reason is that Beijing's policymaking, by and large, benefits the public. As Ray Dalio of Bridgewater noted in a blog post on July 30, capital markets are just not at the centre of China's policymaking.
Joe Zhang is co-chairman of SBI China Capital