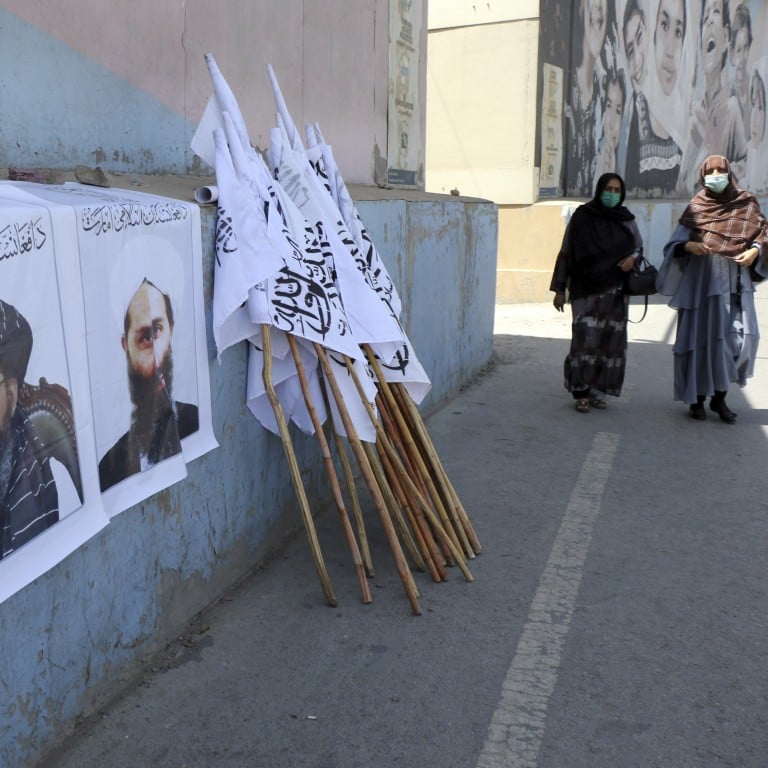 The women and girls of Afghanistan need hope for the future after Taliban takeover
If the Taliban wants to ease the fear of half the population and build trust, it has plenty of opportunities
Afghanistan's new leaders need to set a precedent with their actions to convince capable, qualified people to stay and help build a peaceful society
Along with millions of others, I am trying to wrap my head around what happened, what is happening and what will happen in Afghanistan. The grief is overwhelming.
People are frightened. While the people of Afghanistan have internalised adaptation as a survival strategy – perhaps like no other nation in the world – most of those who are under 25 years of age know the past only through the stories of their parents, which were usually horror stories.
These young people, with whom I have lived and worked for many years, are scared. I try to ease their anxiety, but how can I tell them that everything will be all right when I am in a stable environment
in Germany
while they are in agony and too polite to tell me to shut up?
In Afghanistan, people are grappling with yet another
regime change
– eight in less than 50 years. Some are dying trying to escape. But whether inside or outside Afghanistan, we continue to try and find a little bit of hope.
As a woman, as one member of half of the population of Afghanistan, I can say that if the Taliban wants to ease the fear of half the population and build trust, it has plenty of opportunities every single day.
Its leaders can encourage women from the former Afghanistan National Security Forces to provide assistance alongside the men – who have partially resumed their work alongside Taliban fighters – to ensure Afghan women are not mistreated.
Moreover, Taliban commanders and local
mawlawis
(Islamic religious scholars) can ask elderly women and mother figures from local communities to assist in creating a safer environment for younger women to continue their work and for girls to continue
their education
.
Traditional rules and customs of Afghan society provide a variety of solutions to ensure safe passage for women from A to B. Even if many Taliban soldiers do not know how to treat women, the men in the wider population do.
These initial steps of the Taliban are crucial if it wants to govern a country. Telling half the population
to stay at home
because a few foot soldiers misbehave cannot be the solution.
If the Taliban wants the qualified, capable people of Afghanistan to remain and help
build a peaceful society
, it needs to set a precedent with the right actions. As a woman, a researcher, an analyst and social entrepreneur in Afghanistan, I – like many other Afghan women and men – want to be able to remain and continue my work.
I want to be able to live without fear of losing my life because of my opinions and my gender in the country of my birth and where my parents taught me to work and contribute when I grow up. I want to be able to leave my house without my brother, husband or a male relative accompanying me as if I have something to fear among my own people in my land.
I want to interact with male and female colleagues in professional environments to push for development and progress in Afghanistan through innovation and creativity without fear of being sanctioned. I want the same freedoms that millions of other Muslim women in almost all Muslim countries have, and nothing different.
I don't want to be scared of getting beaten or tortured because my Afghan way of dressing or Islamic hijab does not fit the standard of a specific group. I don't want to be shamed, humiliated and threatened or
treated violently
when I voice my concerns. I don't want to be victim-shamed. I don't want my daughter and the daughters of others to be deprived of their dreams.
Moreover, I want to see my sisters on television and hear their voices on the radio. I want them to represent my interests and those of other women and men in the political space. Most importantly, I want them to voice the apprehension and possible solutions of half of Afghanistan's population at the negotiating table with
Mullah Abdul Ghani Baradar
, Anas Haqqani, Abdullah Abdullah and Hamid Karzai. Give us hope.
Maryam Baryalay heads the Organisation for Social Research Analysis in Kabul, an Afghan data-driven research NGO