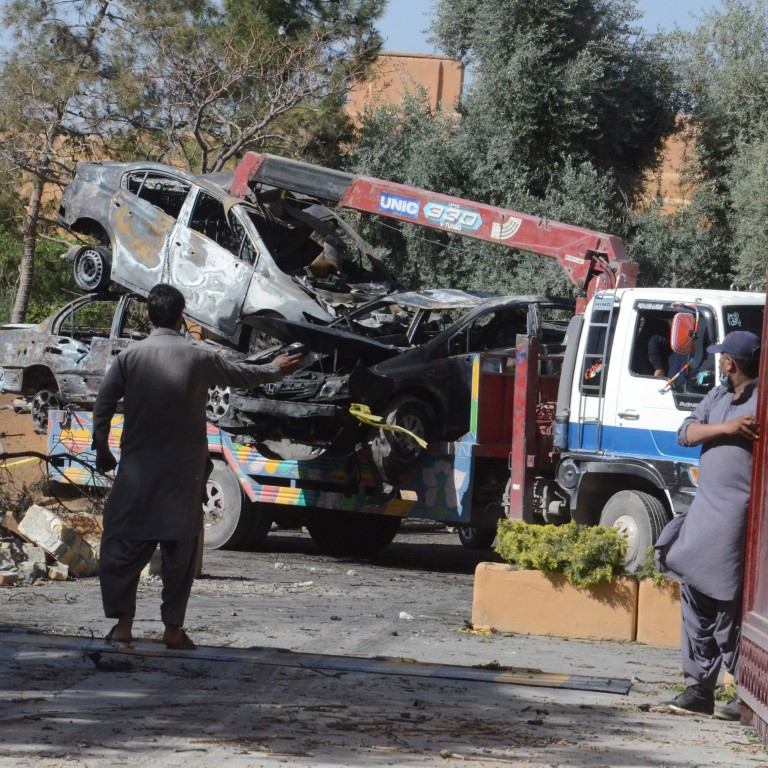 How China's growing global reach raises the terrorist threat to its interests overseas
Beijing's increasing international commercial presence has led to jihadist organisations seeing China as a new colonial power
The threats are likely to multiply and the question will be how China secures the safety of its citizens and interests
With the withdrawal of US forces from Afghanistan complete, Beijing is warily eyeing the situation, concerned that instability after the Taliban's takeover might lead to the growth of Islamist or Uygur insurgents. But it is next door, in Pakistan, where recent events have highlighted the non-state threats China faces overseas.
On
July 14
, a suicide bomber drove a vehicle into a bus carrying Chinese engineers who were working on the Dasu dam project in Khyber Pakhtunkhwa province, in northwestern Pakistan. Thirteen people died, including nine Chinese nationals.
On
July 28
, a Chinese national was shot and wounded in a car in Karachi by a gunman on a motorcycle. Another suicide bombing
on August 20
, targeting a bus carrying engineers working on the Gwadar East Bay Expressway in southwestern Pakistan, killed two Pakistani children and injured one Chinese national.
Two of the attacks targeted labourers working on projects associated with China's Belt and Road Initiative, and in particular the US$65 billion China-Pakistan Economic Corridor (CPEC). Beijing's growing presence in Pakistan, particularly through the CPEC, has led to China being increasingly seen as a viable and desirable target for militants.
But it is not just the parochial interests of the Balochis that have been disturbed by China's overseas investments. Beijing's growing international commercial presence has led to jihadist organisations seeing China as a new colonial power.
Pakistan has been a particular hotspot for anti-Chinese terrorism, but it is far from the only location where Chinese interests have been attacked. Given the transnational nature of global jihadist movements, it is unsurprising that militant groups inspire and motivate attacks elsewhere.
These attacks demonstrate how the threats to China are now geographically diverse and ideologically diffuse. Recent violence has come from Baloch separatists, Uygur separatists and international jihadist groups spanning Central Asia, South Asia and East Africa.
As China's overseas interests grow, these threats are only likely to multiply. The question will then become how China will react to secure the safety of its citizens and its interests.
It seems probable that, as the attacks continue, Beijing will try to exert greater pressure on local governments to deliver uncompromising counterterrorism campaigns. But, if this fails to stem the rising tempo of attacks, Beijing might take a more hands-on approach to delivering security of its overseas interests.
Christian Le Miere is a foreign policy adviser and founder of Arcipel, a strategic consultancy