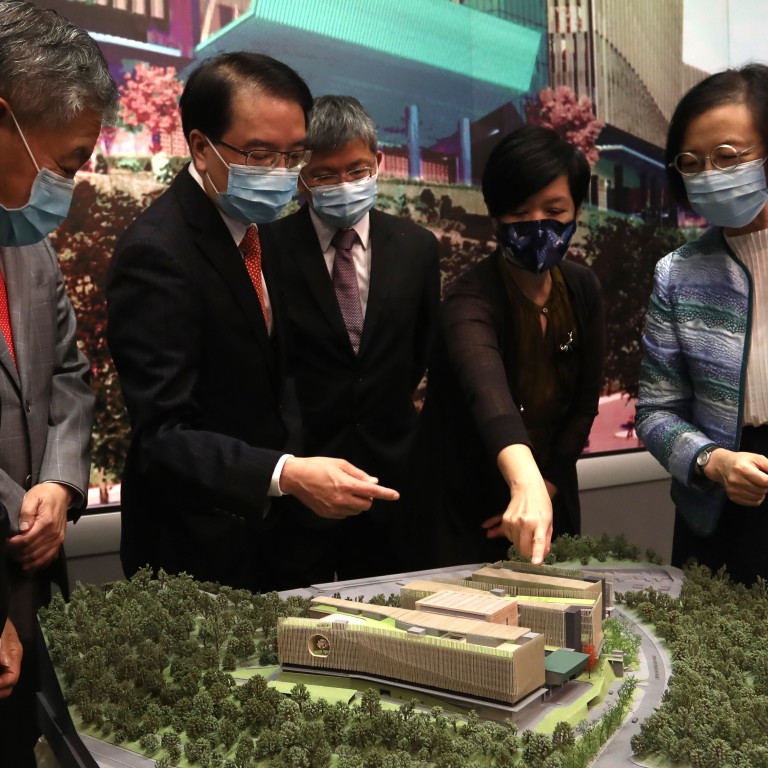 How the Chinese Medicine Hospital can strengthen TCM integration in Hong Kong public health care
The new hospital, due to open in 2025, will advance training and research to make Hong Kong an international model in delivering integrated Chinese-Western medical services
Such integrative medical care can contribute to the blueprint for a citywide primary health care system
As Hong Kong anticipates the announcement of a government blueprint for primary health care development, with public consultation set to open later this year, Baptist University has recently been appointed operator of the
Chinese Medicine Hospital
project, to be completed by 2025.
What are the implications of this project on primary health care development in Hong Kong?
Inpatient care in Chinese medicine is a new concept to many, and the new hospital aims to function rather differently from a typical hospital. It will not provide emergency care but will offer specialised services such as stroke rehabilitation and for elderly degenerative diseases.
It is worth noting that the hospital will provide a whole spectrum of services, from primary to secondary care, complementing the 18 Chinese Medicine Clinics cum Training and Research Centres in the community.
The integration of Chinese and Western medical services is not novel, and there is growing evidence that this care model can improve a health system's efficiency. Research shows that integrative practices such as post-orthopaedic surgery acupuncture have strong rehabilitative and pain-relief effects. Hence, it has the potential to mitigate the shortage of physiotherapists in Hong Kong's public sector.
A more recent study showed that early treatments using traditional Chinese medicine (TCM) significantly shortened the recovery time and length of hospital stay for Covid-19 patients.
In January, the Hospital Authority started offering Chinese medicine services through teleconsultation to Covid-19 patients staying in community treatment facilities and at the North Lantau Hospital Hong Kong Infection Control Centre, after patients had undergone an assessment by Western and Chinese medicine experts.
After being discharged, they were eligible for up to 10 fully subsidised outpatient Chinese medicine treatments.
Despite growing evidence of the rehabilitative effects of integrated Chinese-Western medicine, Hong Kong's efforts in researching implementation and promotion in public health have been somewhat slow and incremental.
Although a pilot programme for integrated Chinese-Western medical care began in 2014 – for inpatients in seven public hospitals who had suffered a stroke, had cancer, lower back pain, or shoulder and neck pain – a policy-level framework has yet to be made publicly available.
In contrast, the University of Hong Kong-Shenzhen Hospital in Shenzhen devised a policy for all clinical departments not long after establishing its Department of Chinese Medicine in 2014, highlighting the potential for Hong Kong's public hospitals.
The strong emphasis on integrating Chinese and Western medical care in the planning of the Chinese Medicine Hospital will help support the implementation of such integrated care at the community level, which could redistribute the health care burden from hospitals to community facilities such as the Chinese Medicine Clinics.
For example, the Chinese Medicine Disease Prevention and Health Management Centre, set up by the Hong Kong Jockey Club and Baptist University, offers services ranging from health promotion workshops and health assessments to membership access of a cloud platform to manage health and learn about Chinese medicine.
The setting up of district health centres and the smaller, interim express centres brings hope that our public health system can move from being treatment-focused towards being led by primary care. Still, a multifaceted approach is needed to improve Hong Kong's primary care provision, and that includes tapping the potential of Chinese medicine services.
The integrative medical care proposed in the planning of the Chinese Medicine Hospital should not remain within its walls – it can contribute to the blueprint for a citywide primary health care system.
Pamela Tin is head of health care and social development at Our Hong Kong Foundation, where Emily Ma is an assistant researcher