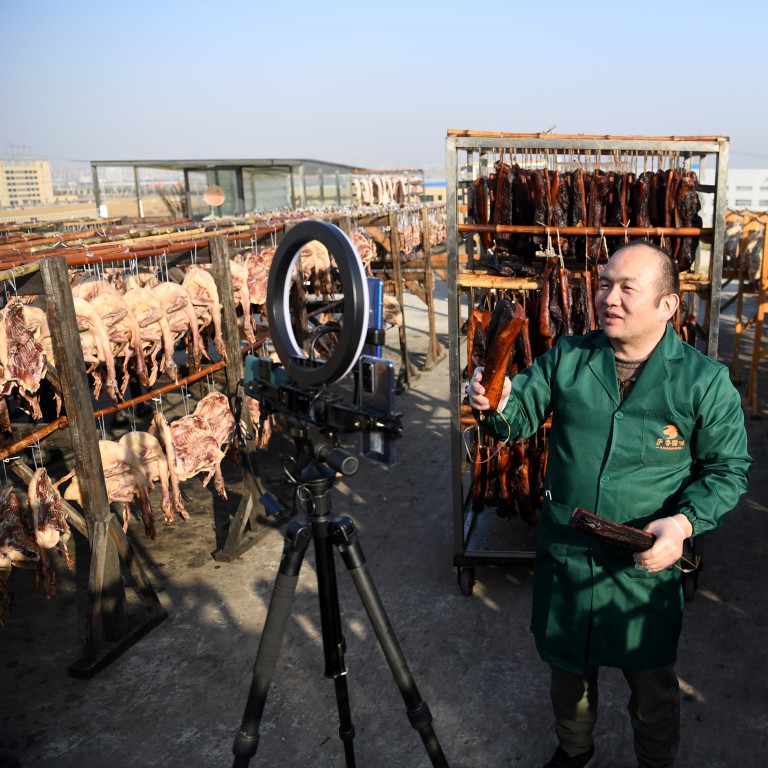 Pandemic survival: G20 must help small businesses transform digitally
Digital transformation in the corporate world has yet to realise its full potential for boosting global economic recovery
It is vital for the G20 to help small businesses understand the benefits of digitalisation, and offer training and funding aid
As an organisation born to tackle a global crisis, the Group of 20 is now obliged to help the world navigate through the Covid-19 storm and recover economically. While there are many tasks for the G20, helping companies – especially micro,
small and medium-sized enterprises
(MSMEs) – survive this unprecedented crisis should be at the heart of its agenda.
Some governments have taken adequate measures, such as
tax and fee exemptions in China
and direct rent subsidies in Singapore, to help companies stay afloat and salvage the situation via various means, including digital transformation.
The world has reached a turning point on digitalisation like never before, as video conferencing, e-commerce, live streaming and other technologies enable companies to continue their business in spite of lockdowns, social distancing and travel restrictions.
In 2019, the World Economic Forum (WEF) predicted in a white paper that 60 per cent of global gross domestic product would be digitised by 2022. Given that the pandemic has materially increased the speed of digitalisation and permanently changed how people live and work, this figure could well be even higher by the end of next year.
However, digital transformation in the corporate world, which may involve design, production, marketing and sales, has yet to realise its full potential for boosting the global economic recovery due to various constraints.
In our policy paper for the G20 this year, we – the Digital Transformation Task Force of the Business 20 (B20 Italy) – have come up with four recommendations: reducing internet connection inequality; promoting trust in the digital ecosystem; supporting public and private digital advantages; and fostering a digital-ready and inclusive society.
As a co-chair of the task force, I think it is of utmost importance for the G20 to promote use cases sharing, offer training and education, and provide funding aid to MSMEs.
First, we found that many companies, especially MSMEs, are at risk of being excluded from the future economy. The WEF revealed in The Future of Jobs Report 2020 that 38.9 per cent of surveyed companies reported "insufficient understanding of opportunities" as a barrier hindering them from digitalisation.
Thus, we recommend that the G20 should gather and spread use cases widely. These role models can help more companies understand the benefits of digitalisation and technologies such as big data, artificial intelligence, automation, and the internet of things.
Our task force this year achieved a breakthrough in producing a web-based digital use case library. It introduces 80 cases of diversified applications of basic and advanced technologies in countries like the US, China, Germany, Italy, Denmark, Ireland, Spain, Australia and Argentina.
A coffee shop adopted customer relationship management software, resulting in profit increases. An automotive company applied a smart packing system, reducing misplacement and waste dramatically.
The G20 can gather digital transformation cases and also promote the cases collected by the B20. I am happy to see that China's Ministry of Commerce has been collecting trade digitalisation cases.
The ministry expects to find duplicable experiences and promote them to more companies, particularly effective digital measures such as customised production and cross-border e-commerce.
Second, for companies already digitising, one fundamental obstacle is workforce capacity. In the Future Jobs report, 55.4 per cent of companies surveyed cited "skills gaps in the local labour market" as a barrier, and 46.7 per cent reported their "inability to attract specialised talent".
Therefore, the G20 should encourage companies or social organisations to provide not-for-profit training, upskill the labour force digitally, and include more technology courses at school.
Notably, the G20 should accelerate the digital development of rural areas to bridge the digital gap with urban areas. It would help the workforce acquire the latest skills and knowledge, translating into productivity and a more inclusive society.
For example, a second Apec cross-border e-commerce training workshop will be held on September 8 for senior government officials from economies in the Asia-Pacific Economic Cooperation grouping, helping them to translate the latest knowledge into favourable policies for domestic MSMEs.
Last but not least, the G20 should provide more effective digital transformation funding schemes for MSMEs. About 32 per cent of companies cited a "shortage of investment capital" as a barrier to digitalisation in the Future Jobs report.
Several economies have significantly increased the amount of funding available for MSMEs. For instance, Italy introduced an increase of €1.5 billion (US$1.8 billion) in the appropriation of the Central Guarantee Fund for MSMEs. In Hong Kong, there are over 40 funding schemes administered by different government bureaus and departments that support the growth and operations of SMEs in various sectors.
Furthermore, the G20 should consider fostering MSMEs' access to diversified funding sources, including capital markets. Also, it could provide monitoring and evaluating exercises with regard to the impact of the new financial support mechanisms, to build non-market-distorting funding schemes.
All in all, the G20 should further accelerate MSMEs' digital transformation through strengthened public-private collaboration, helping the corporate world grow digitally savvy to recover from the pandemic and be prepared for any future crisis or challenge.
Diane Wang is founder, chairperson and CEO of DHgate, the leading cross-border B2B e-commerce marketplace in China