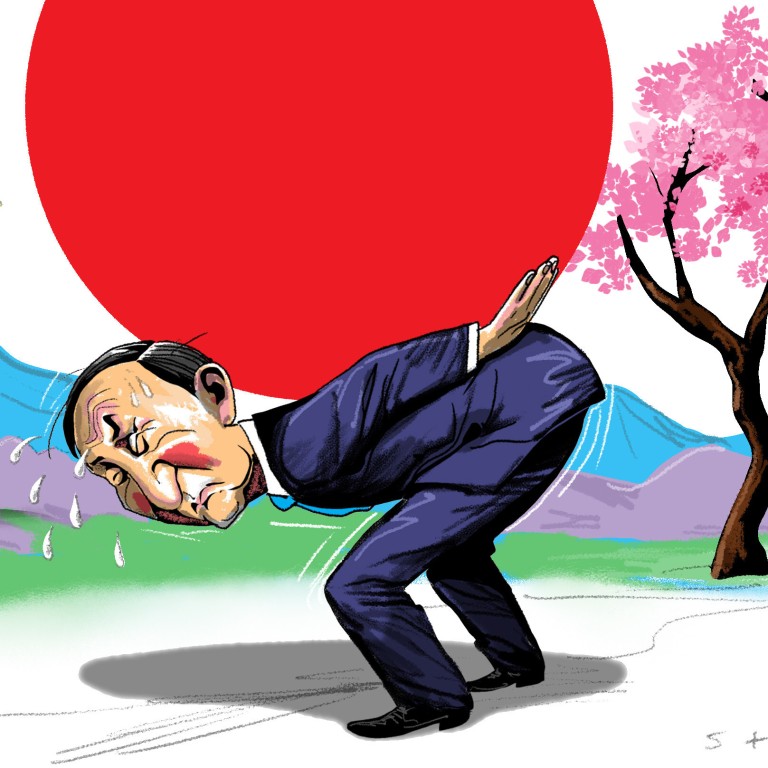 What now for Japan, as Suga steps down as prime minister?
Shinzo Abe, the country's longest-serving PM, was always going to be a tough act to follow, and Yoshihide Suga seems to think the job was too big for him
With his rapid departure, Japan may be facing a return to leadership instability
After less than a year in office, Japanese Prime Minister Yoshihide Suga
announced last Friday
that he would not seek re-election as president of the ruling Liberal Democratic Party. When his term as party leader ends on September 30, his short yet turbulent stint as prime minister will also come to a close.
In his first months in office, he had enjoyed approval ratings as high as 65 per cent. However, his popularity began to decline late last year, before reaching a nadir of 29 per cent during the recent
Tokyo Olympics
.
Suga's handling of the ill-fated "Go To Travel" campaign, which he inherited from predecessor Shinzo Abe and which was meant to kick-start the pandemic-ravaged economy, was widely scrutinised. Amid signs of a correlation between rising Covid-19 cases and domestic travel, Suga was forced to
suspend the campaign
in mid-December, after barely three months in office.
Prior to that announcement, medical experts had already identified a third wave of infections and urged Suga to act. That he took days to concede their point exposed him to early accusations of indecisiveness.
These would grow louder as the Covid-19 situation worsened. Japan topped 25,000 daily cases for the first time last month.
In addition to the pandemic, a series of scandals also left the prime minister increasingly vulnerable. LDP lawmakers were involved in vote-buying scandals, and Suga's son was reported to have wined and dined bureaucrats.
These incidents amplified the damage caused by election losses in Hokkaido, Nagano and Hiroshima. In July, the LDP and its coalition partner Komeito failed to secure a majority in the Tokyo metropolitan assembly election.
Perhaps the most critical of these losses was last month's Yokohama mayoral election. The Suga-backed LDP candidate lost to opposition-backed Takeharu Yamenaka, a former health data scientist who ran on a platform of coronavirus containment measures and opposition to the mooted construction of a casino complex in the city.
Yokohama is considered Suga's home turf. He cut his political teeth there as a lawmaker in the 1980s, and is a forthright proponent of casinos and tourism. The loss was therefore considered a bellwether of public attitudes towards the prime minister ahead of an upcoming general election.
Of course, the multibillion-dollar elephant in the room has been
Suga's insistence
on hosting the
Tokyo 2020 Olympics
and Paralympics. The Games, which came to a close on Sunday, have placed a huge financial and emotional burden on a public who, due to the ban on spectators, have hardly recouped outlays.
Prior to the Games, domestic opposition to the event hovered
near 60 per cent
. Yet, under mounting pressure from the International Olympic Committee, Suga went ahead as planned, despite widespread fears that the Games would become a superspreader event for Japan.
Many interpreted Suga's intransigence as disregard for public safety. In the lead-up to the Games, only about 32 per cent of Japan's population had received at least one
coronavirus vaccine
dose. And while there were no major outbreaks inside the Olympic bubble, cases surged in Tokyo.
Public attitudes towards the Games
grew more positive
as Japan's Olympians performed beyond expectations. But, for Suga, the die was cast. He was now not only indecisive, but also lacked compassion.
Stepping into Abe's shoes was always going to be difficult. Japanese prime ministers since 1989 have lasted less than two years on average. Yet Abe remained in the role for eight years, the
longest-serving prime minister
in the nation's history.
Although his second term was marred by
scandal and controversy
, he retained a loyal base among voters and power brokers. Resigning when he did, Abe managed to avoid further damaging his legacy.
Suga himself, in announcing his resignation, seemed to admit that the job had simply been too big for him. He said: "In the one year since I became the prime minister, I've been doing my utmost to tackle various issues, especially on coronavirus measures. The campaign for the LDP presidential election officially kicks off on the 17th, but I realised it would take up enormous energy working on the coronavirus measures and campaigning – it's impossible to do both."
Whoever becomes the new LDP leader will also, in all likelihood, become the next prime minister. So far, at least four candidates have announced or signalled their intention to run.
Former interior minister
Sanae Takaichi
, 60, a staunch conservative and darling of the party's right wing, could become the nation's first female prime minister. She currently lacks, however, the support of 20 LDP lawmakers necessary to run for the top job.
Former foreign minister Fumio Kishida, 64, has pledged to shorten the terms of LDP executives to three years as a way of injecting youth into the party leadership.
None of the likely candidates, including former defence minister Shigeru Ishiba, 64, and vaccine tsar Taro Kono, 58 – and possibly even a returning Abe, 66 – are exactly at the youthful end of the LDP leadership spectrum.
Shinjiro Koizumi, 40, son of popular former prime minister Junichiro Koizumi, was once considered a likely heir. However, after a series of gaffes as environment minister, he has fallen out of favour.
Whatever else Abe might represent, his lengthy stint at the helm at least made him a safe pair of hands.
With Suga's rapid departure, it is feared that there might be a return to pre-Abe levels of leadership instability.
Will Fee is a journalist and researcher based in Tokyo