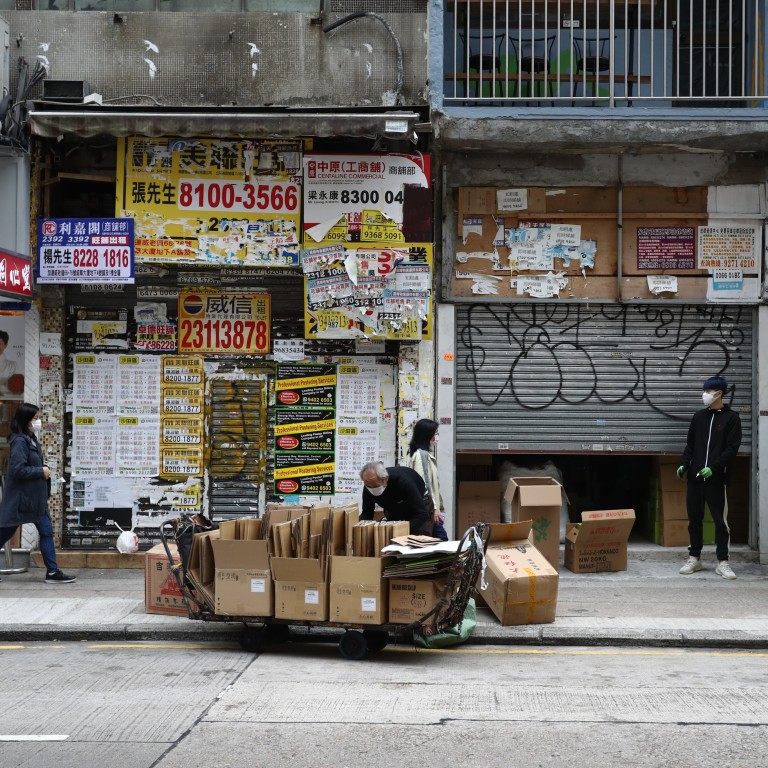 Opinion
Inside Out
by David Dodwell
Inside Out
by David Dodwell
Shaky statistics, absurd quarantine rules: is Hong Kong's economy really on track for recovery?
Positive talk around the city's economy obscures the damage being done to Hongkongers and their livelihoods by the government's quarantine regime
How is it possible for an economy to suffer such massive losses without our statistics reflecting more clearly the harm and pain?
For example, the Hong Kong workforce stood at 3.97 million people at the end of 2018, compared with 3.85 million today – a loss of 112,000 jobs and a 3.2 per cent contraction of the workforce. Hundreds of thousands are still hanging onto jobs by their fingernails, and many are being forced to take weeks of
unpaid leave
every month.
Thousands of small trading companies are effectively
zombie enterprises
with no income or any prospect of it. They are surviving by burning through savings as slowly as possible.
As companies such as Sasa
have shut stores
, talk is that one in four retailers could be set to close. In a sector that employs more than 250,000 people, that implies tens of thousands of jobs on the line. The trade magazine
The Drinks Business
reported in February that 210 bars had shut in the previous six months.
The
Post
itself has reported that about 3,000 of Hong Kong's 16,000 restaurants are on
the verge of closing
, "with an indeterminate number already gone".
Jobs lost in the restaurant sector are difficult to calculate accurately since they are bundled by our Census and Statistics Department with hotel jobs, which have been reprieved by the mass conversion of hotels to
quarantine centres
.
But the department separately reports that restaurant revenues shrunk from HK$120 billion (US$15.4 billion) in 2018 to less than HK$80 billion last year – a 33 per cent contraction, reflecting a colossal impact on jobs and earnings.
The Hong Kong Exhibition and Convention Industry Association says 136 exhibitions and conferences have been cancelled or postponed since February last year. In a normal year, these would have attracted some 99,000 exhibitors and 4.8 million visitors.
Last week, the association
released a survey
of its members that predicted 45 per cent of its businesses faced closure. A majority said they would move from Hong Kong if draconian quarantine measures were not removed soon.
Add to these the
5,900 staff
laid off by Cathay Pacific last year and those employed at the Hong Kong Airport who have either lost their jobs or been put on unpaid leave.
How is it possible for
airport passenger arrivals
to fall from 71.5 million in 2019 to 1.06 million in the 12 months to August this year without catastrophic knock-on effects on the economy? That has to amount to millions of hotel room nights lost, perhaps hundreds of millions of meals not eaten in Hong Kong and a massive contraction in retail spending.
A 2018 report by the International Air Travel Association, called "The Importance of Air Transport to Hong Kong", calculated that aviation services contributed around US$20 billion to the economy, which then amounted to 10.2 per cent of GDP. Tourist spending added a further US$13 billion.
How is it possible for an economy to suffer such massive losses without our statistics reflecting more clearly the harm and pain?
For example, our Official Receiver's Office reports bankruptcies averaging 600 to 700 a month. That is on par with most of the past five years and far below bankruptcies during the severe acute respiratory syndrome outbreak –
around 2,000 a month
– and the 2008 global financial crisis – around 1,000 a month.
Part of the answer is the array of pandemic relief measures introduced in the past 12 months that have injected at least HK$300 billion into the economy since last February, knocking a significant dent in Hong Kong's
fiscal reserves
.
It is right for these reserves to be spent supporting families and businesses through the pandemic trauma. But this support could end up being good money poured after bad if the foundations are not laid for key economic drivers to recover quickly.
Hong Kong's airport might be among the world's best, but the longer it remains a ghost town, the less chance of any meaningful recovery. How long can Cathay, for decades one of the world's most competitive and dynamic airlines, survive when it is losing
billions of dollars
a month?
How will our exhibition and convention sector remain world leading when companies are closing and a significant remainder moving to competitor hubs like
Singapore or Shanghai
?
No recovery can begin while the preposterous 21-day quarantine regime remains in place. Neither will our government's economic statistics make any sense.
David Dodwell researches and writes about global, regional and Hong Kong challenges from a Hong Kong point of view