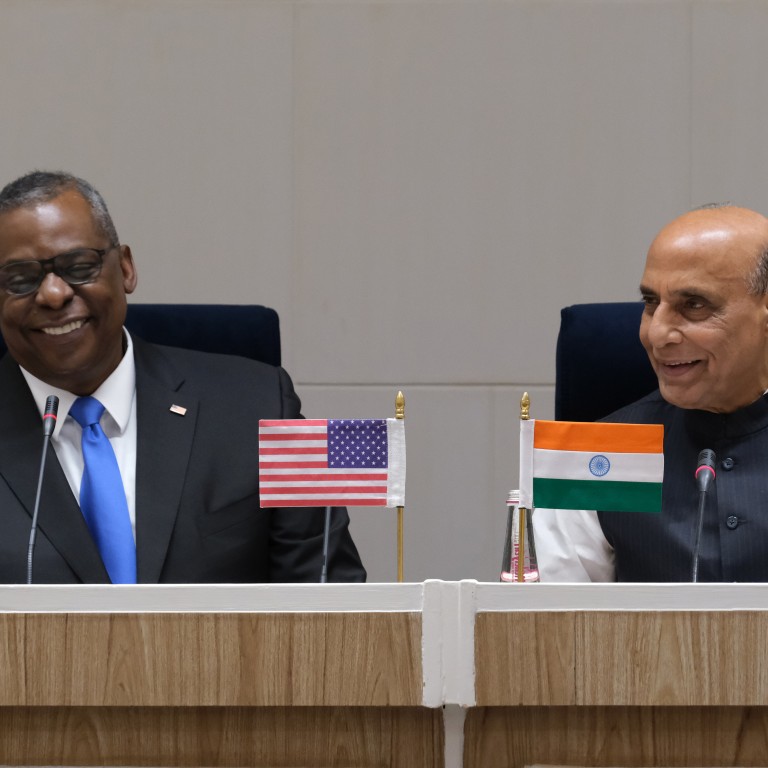 As India aligns itself with the West, is it entering a cold war with China?
After decades of uneasy peace, China has stepped up its territorial claims, while India has abandoned non-alignment in favour of robust ties with the West
An uptick in patriotic populism in China and India has also increased the appetite for territorial assertiveness
"We see the most aggressive form of imperialism functioning across our borders in India," pronounced Indian prime minister Jawaharlal Nehru at the height of border clashes with China in 1962.
Stunned and outraged by Beijing's strategic offensive across the heavily-contested Himalayan borders, he accused China of "invading a friendly country without rhyme or reason or excuse and justifying it by saying that they are being attacked".
After years of courting Chinese support for the international Non-Aligned Movement, Nehru called China "this so called anti-imperialist country becoming itself an imperialist of the worst kind".
For the next five decades, India and China effectively settled for a "cold peace", with bouts of rapprochement amid growing economic interdependence.
And both powers have been rapidly expanding their naval footprint in each other's backyards. As a result, India and China once again find themselves on a collision course amid a new cold war in Asia.
In his oft-cited book, The Post-American World (2008), Indian-American pundit Fareed Zakaria argued that 21st-century India is bound to become "The Ally" of the United States.
As the world's largest democracies, the two English-speaking nations are bound by culture, ideology and a growing convergence in strategic interests, from counterterrorism to nuclear cooperation and information technology.
And the rise of an increasingly dominant China would serve as an impetus for a major recalibration in India's foreign policy.
Nehru reportedly turned down Moscow and Washington's offers of a permanent UN Security Council seat in solidarity with communist China, which would only gain its seat in 1971.
Up until the 1962 conflict, the Indian leader believed in establishing a common cause with communist China, to protect the fragile sovereignty of postcolonial nations. This was on full display during the 1955 Bandung Conference, where Nehru and Zhou Enlai stood together in "Third World" solidarity.
If anything, the West's refusal to assist in India's military modernisation following the Sino-Indian clashes, and the US' growing support for Pakistan, only further alienated New Delhi.
Given its lukewarm relations with the West, and its eagerness to prevent a consolidation of an alliance between China and Pakistan, New Delhi largely pursued stable bilateral relations with Beijing.
In the 2000s, India, led by the descendants of Nehru, hesitated to join the Quadrilateral Security Dialogue – or Quad initiative – alongside Australia, Japan and the US.
For New Delhi, taking part in any thinly-veiled anti-China alliance would not only violate its non-alignment doctrine but also recklessly undermine economically beneficial ties with Beijing.
India's current prime minister, Narendra Modi, is famed for his business acumen as the former chief of the booming state of Gujarat, and he initially pursued warm ties with China to entice large-scale investment.
First came Chinese President Xi Jinping's high-profile visit to Gujarat in 2014, which was followed by Modi's visit to Xi's home province of Shaanxi the following year.
Despite such bonhomie, three factors have undermined the hopes for long-term rapprochement, however.
First, both Asian giants are in the grip of resurgent nationalism, especially as China and India rejoin the ranks of leading economies. Although they ascended to power in radically divergent political systems, both Xi and Modi have presented themselves as world-historical leaders, who are determined to restore their nations to their former glory.
As its home-grown fintech start-ups outpace their Chinese counterparts, India is also presenting itself as an alternative manufacturing hub to China.
After decades of cold peace, the two Asian giants could be sleepwalking into a new cold war, with major consequences for 21st-century geopolitics.
Richard Heydarian is a Manila-based academic and author of "Asia's New Battlefield: US, China and the Struggle for Western Pacific" and the forthcoming "Duterte's Rise"